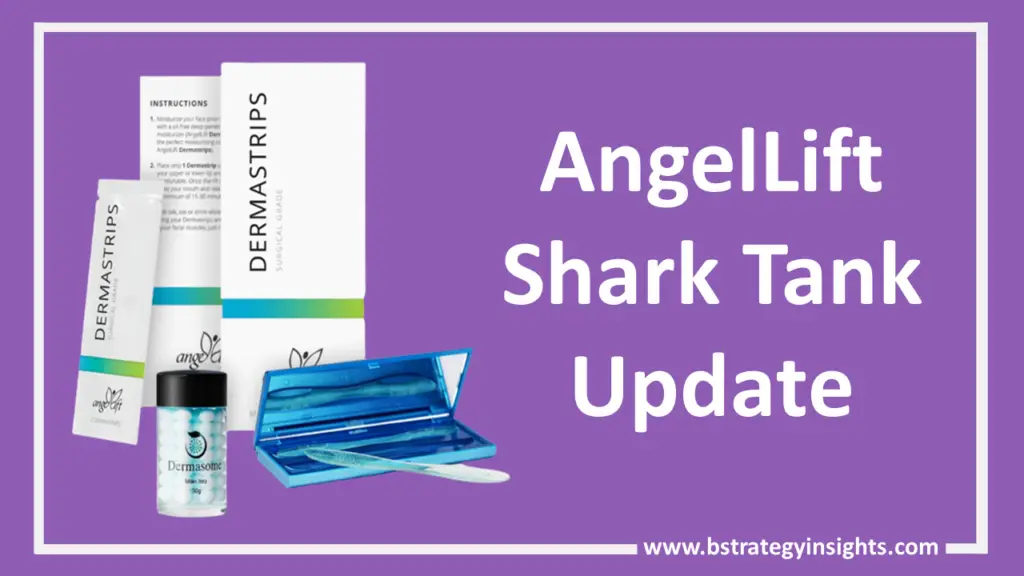 AngelLift was among the most viewed pitch in Shark Tank. The show attracted a viewership of 8.5 million. This viewership could have been due to the focus of the pitch. Kelly and Aaron Bruce were the faces behind AngelLift. The two proprietors presented this anti-aging strip as a perfect option for giving older people a facelift.
The product is the first-ever over-the-counter surgical-grade gum strip available on the market. This strip helps in reversing the aging processing by collecting the deteriorating gums to smoothen wrinkles and smile lines around your lips.
The two proprietors were requesting funding of $500,000 in exchange for a 10% stake in their company. They presented the idea as a potential multi-billion dollar venture with possibilities of high returns to the investors. As such, they wanted the Shark Tank investors to invest their coins in this idea to help the company take off.
Did this happen, and how are AngelLift years after Shark Tank?
AngelLift Overview in Shark Tank 
| | |
| --- | --- |
| Company Name | AngelLift |
| Website           | angellift.com |
| Episode           | Season 5 Episode 27 |
| Product Offering          | Strips that reduce wrinkles and lift the face |
| Founded | 2003 |
| Founder  | Aaron Bruce |
| Required Investment | $500,000 For 10% stake  in AngelLift |
| Closing Deal | $500,000 For 15% stake in AngelLift |
| Shark   | Lori Greiner |
| Current Business Status | Still in Business |
What is AngelLift?
Before getting down to assessing what happened to AngelLift after Shark, it is essential to understand. AngelLift is a set of facelift strips that help people reduce aging signs without requiring some invasive surgical procedures. The company developed this product in 2003. However, there were similar products in the European market
AngelLift promised to deliver the first over-the-counter derma strips. These strips are powerful in handling the smile lines and wrinkles that form around the lips area as one gets older. Unlike other surgical insertions, AngelLift strips are oral and replaceable.
The initial ones required professional interventions, but that is no longer the case today. The AngelLift was a prescription-only strip before evolving and venturing to the over-the-counter market.
The AngelLift package comes with oral derma strips and low pH collagen solution with additional anti-aging properties.
Essentially, this product works without requiring any injections or surgical processes. This aspect makes it one of the safest ways of uplifting your face and smoothening wrinkles and smile lines.
To assess its effectiveness, the company did clinical trials in Canada back in 2007. The results showed that 84% of participants who used this derma strip got a facelift. This study proved that the AngelLift Derma strips were effective.
What is the AngelLift price?
The company offered pocket-friendly prices. An AngelLift Derma strip will cost you between $29 and $109. It is available in three versions basic, essential kit, and solution pH costing $72, $115, and $85, respectively. 
Who were the founder/s of AngelLift
Aaron Bruce is the founder and proprietor of AngelLift. He is a renowned entrepreneur with multiple patents. Aaron is a degree holder from Washington University. He is currently a leading influencer and marketer.
Aaron is the founder and CEO of posse.io, a popular influencer marketing platform. He worked with his partner Kelly on pitching AngelLift in Shark Tank.
AngelLift before Shark Tank
Before pitching on Shark Tank, AngelLift was among the players in the prescription-only derma strip niche. The company took a new dimension in 2011 and started to make the first-ever over-the-counter facelift strips. This aspect offered a non-invasive procedure option to people seeking to reverse the effects of the aging process on their faces.
Customers now found a new option for collecting the effects of deteriorating gums lines. This option was a non-invasive, safe, and non-chemical approach for handling wrinkle lines and sagging skins. AngelLift has low production of the derma strips, and the proprietors came to Shark Tank to find an investor who can help them harness their production.
The AngelLift Shark Tank pitch
Aaron and Kelly made a debut on the Shark Tank season 5 episode 27 to pitch their company – AngelLift. They were looking for an investor to offer $500K funding in exchange for 10% equity in their company.
The duo faces a bench of 5 sharks who pay attention to their presentation. Aaron explains what the AngelLift derma strip is and how it works. He shares how it is helping reverse the aging effects on the human face. Aaron states that the product is a solution to wrinkles and lines that form around the mouth as age catches up.
Aaron states that the product has been in the market for five months and making some sales. However, he required additional funds to step up its production.
The sharks request proof of sales and clinical trials as evidence that the product is effective. Aaron presented an approval certification from Wrinklepedia.com after six months of clinical trials.
Also, they come along with Penelope, who showcases a demonstration of the derma strip in action. AngelLift also gives evidence of making $75,000 in five months of the trial phase. 
The Sharks listening to the pitch had different views about this product. Mark Cuban says that Aaron is talking outside of his mouth. He wonders how you can have a product going for $3 million and make a $1 million profit. For this reason, he views it as unworthy pursuit and is out.
Kevin O'Leary is the next shark to leave the pitch. He wonders why AngelLift can't keep selling while upgrading instead of seeking external funding. He does not see sense in that approach, and he is out too.
Barbara Corcoran has an issue with the packaging. She believes that the packaging fails to demonstrate how the product works. Barbara thinks that it will be hard to promote and market this product. So, she sees no reason to invest in it. She is out.
Despite being one of the considerate sharks, Robert Herjavec too opts out of this idea. He says that the story does not add up, and the venture is not worth his money. He does not see a need to invest in a thriving business that is already making profitable sales.
Lori Greiner is the only shark that falls in love with the AngelLift idea. She sees an infomercial and QVC product. Lori is ready to invest $500,000 in AngelLift. However, she asks for a 25% stake in place of the 10%. Also, she wants a detail of the clinical trial results and revenue proof.
Aaron counters Lori's offer and suggests an exchange of $500K for a 15% stake on AngelLift. Lori accepts the offer but only gives a condition of funding the purchase orders from QVC. Also, the deal could take effect when AngelLift demonstrates $3 million in sales.
They agree. AngelLift secures a deal with Lori, and this episode of Shark Tank is over.
AngelLift Shark Tank after Shark Tank
AngelLift sold derma strip products worth over $3 million after leaving Shark Tank. They opened an Amazon store. The company had an agreement with Amazon to allow the customers to buy products directly from the AngelLift website.
Also, it did not take the QVC route. The agreement with Amazon enabled AngelLift to take charge of its products and customer needs. The Shark Tank Episode does not explain whether AngelLift concluded the deal with Lori.
However, there is a possibility that Lori opted out of the deal upon AngelLift failing to go on with QVC purchase orders. Both Lori and AngelLift are silent on this part.
AngelLift status updates in 2022
Years after Shark Tank, AngelLift is still in business. The company operates an Amazon store that indicates that it has sales amounting to over $5 million in annual revenues. Its website is the exclusive platform for making sales.  
AngelLift offers three versions of derma strips. The basic version is the first option and comes with 2 surgical-grade derma strips. This version costs you $72. Solution pH kit is the second version going for $89, while the Essential Kit is the last version that costs $119. Each of these versions varies in the content and elements contained in each package.   
In March 2022, AngelLift has an average of 4-star rating on both Amazon and its website customer reviews and ratings. This aspect is proof of its effectiveness. Also, it is part of the Better Business Bureau with an A+ rating. These results are confirmation AngelLift effectiveness in offering a facelift to its users.
So, despite Lori dropping the initial deal (assumption), the company is still thriving and making high profits.
Wrapping up
AngelLift remains among the crowd-pulling Shark Tank episodes. The Aaron Bruce innovation of bringing a new non-invasive facelift product transformed the anti-aging product market forever.
Despite many Shark Tank investors failing to fund it, the opportunity opened a door for this company. The appearance enabled the company to thrive and secure an agreement with Amazon.
As noted, the pitch received a viewership of over 8.5 million. Some of the viewers might have turned out to be its current recurring customers.
Though Lori had shown interest in the product, it is possible that she did not continue with the funding deal. The information or update of their conclusion is not available on either AngelLift or Shark Tank. In either case, AngelLift is still in business and ranks among the top player in its niche.
To date, it has been making an annual revenue amounting to over $5 million on both its website and Amazon store.