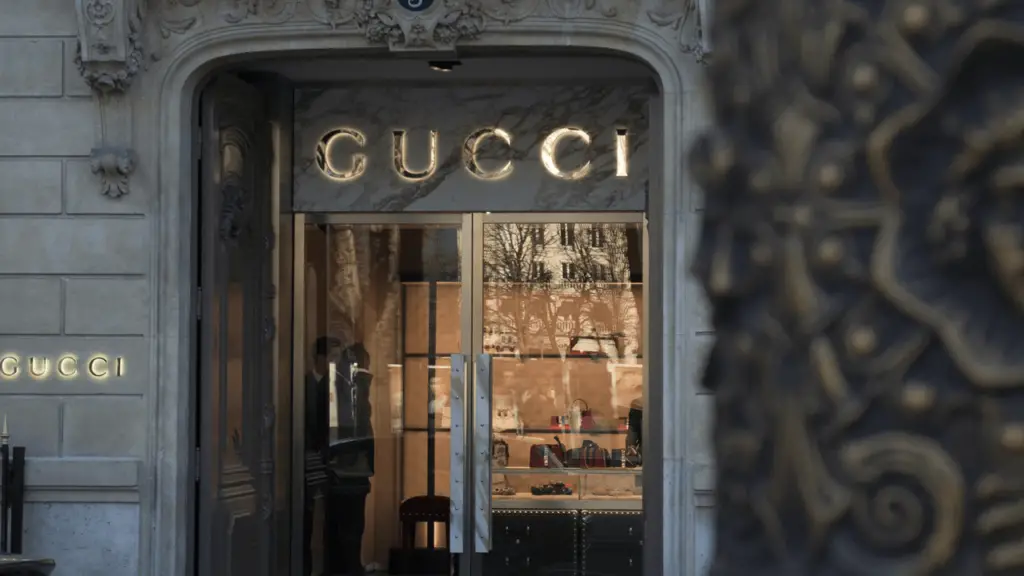 Gen Z is very peculiar about their fashion, style, what they wear, look, and feel. However, what has not changed over the decades is the recognition and admiration for iconic brands having a power-figure persona in the fashion world. Gucci is also among those few names that resonate with prestige in the dazzling high fashion world.
Gucci has lived a long journey of success, challenges, and achievements. From the double-G logo to the luxurious craftsmanship of Gucci, fashion lovers worldwide admire the brand. It wouldn't be wrong to say that Gucci is a symbol of timeless elegance and innovation. Many people wonder who is behind the exquisite designs and aesthetics we see in Gucci's products.
Although it is understood that world-class designers are there to take care of these matters but what about the ownership of the brand that empowers these designers to curate amazing designs and products?
In today's blog, we will dive into the brand's ownership structure and the prestigious brand's historical tapestry. How the brand belonging to an immigrant from Florence became the world's sensation, and who are the current shareholders of Gucci? You will find answers to all these questions. So let's get into it.
About Gucci
Gucci, the iconic Italian fashion house, has been synonymous with luxury, style, and innovation for over a century. Founded in 1921 by Guccio Giovanbattista Giacinto Dario Maria Gucci, the brand has evolved from a small leather goods shop into a global powerhouse in the fashion industry. Gucci has experienced significant transformations throughout its history, reflecting each era's changing cultural and societal landscapes.
As of 2019, Gucci had 487 stores with over 17000 employees and EUR 9.6 billion in sales. During all the years of the brand's existence, Gucci has grown to deal in handbags, footwear, accessories, ready-to-wear, and home decorations. Gucci has also licensed its name and branding for fragrance and cosmetics under the name Gucci Beauty to Coty.
Gucci is a subsidiary of Kering, and the online store can be accessed at www.gucci.com. Gucci's headquarters is in Tornabuoni 73/R 50123, Florence, Italy. The company's current CEO is Marco Bizzarri, and the creative director is Sabato De Samo.
Who Own Gucci?
Unlike a private company or a sole ownership business, Gucci is owned by the shareholders who own the shares in stakes of the company. Therefore, you're wrong when you ask who owns Gucci or consider that Guccio Gucci's family is still the company's owner.
The owners of a publicly traded company are those who own the stakes in the company's assets. In this case, Gucci is a subsidiary of a French company Kering, which purchased $8.8 billion stakes in Gucci in 2004.
Although Gucci was a family-owned and operated company after the death of the original owner Guccio Gucci in 1953, the shares were transferred to his five sons. However, after the death of his two sons, his surviving son Aldo and grandson Maurizio remained the company's shareholders. In the 1980s, when Rofoldo was convicted of tax evasion, Maurizio took control of the company.
The difficulties of Gucci didn't end, and there was more to come on financial avenues resulting in 48% of the company's stakes being sold to a Bahrain-based investment firm and Investcorp in 1988. In the 1990s, Prada took around 10% of the company's stakes, and Bernard Arnault took over 34% of the company's stakes.
A lot of things kept going, and finally, Kering was ruled to be the controlling shareholder of the present-day Gucci. If you wonder about the major shareholders of Gucci, we will break it down in further sections of the article.
History Of Gucci
Gucci celebrated its centenary in 2021, and in the hundred years since, the brand has witnessed many events, ups & downs, challenges, and achievements. Here is what you need to know about the history of Gucci:
1921-1930: Genesis in Florence
At the heart of Florence, 1921 marked the inception of a brand that would transform luxury fashion. Guccio Gucci founded Gucci as a modest leather goods shop focusing on equestrian gear. Guccio, influenced by his time in London, melded the finesse of English sophistication with the handcrafted mastery of Italian artisans. The 1920s saw early brand icons emerge, notably the horse-bit and bamboo-handled bags, which were symbols of innovation rooted in functionality.
1931-1940: Crafting a Distinct Identity
Gucci's ascent in the fashion world during the 1930s was swift. Under the stewardship of Guccio's sons, the brand solidified its image. The creation of the now-iconic double-G logo amplified its brand recognition. Expanding beyond Florence, Gucci made its debut on Rome's fashion streets, tapping into an elite clientele that soon linked the brand to Hollywood's glamor.
1941-1950: Creativity Amidst Adversity
The backdrop of World War II cast shadows over many industries, with Gucci facing material scarcities. However, the brand's indomitable spirit turned adversity into opportunity, leading to the birth of the iconic Bamboo Bag, crafted ingeniously from accessible materials like bamboo and hemp. Even amidst the turbulence of war, Gucci's commitment to craftsmanship ensured its position as a beacon of luxury.
1951-1960: Global Ambitions Realized
The 1950s were instrumental in launching Gucci onto the international stage. Its signature green-red-green stripe, reminiscent of equestrian influences, made a splash in the fashion world. The Florence outlet became a must-visit for the international elite, celebrities, and influencers. With store openings in Milan and New York, Gucci's international aspirations were no longer just dreams but tangible achievements.
1961-1970: A Mix of Triumph and Tribulation
The 60s saw Gucci solidify its position in luxury fashion. Crafting the exquisite Flora silk scarf for Princess Grace of Monaco showcased the brand's finesse. However, it wasn't all smooth sailing. Internally, the brand faced discord. Family feuds, fiscal concerns, and the passing of its patriarch, Guccio, in 1953 presented challenges. Yet, resilience defined Gucci's journey, ensuring the legacy remained intact.
1971-1980: The Bold "Gucci G" Era
Under new custodianship, the 1970s heralded a fresh aesthetic for Gucci. The prominence of logos in fashion was rising, and Gucci wasn't left behind. The bold "Gucci G" emblem became an undisputed symbol of opulence. Even amidst a backdrop of controversies, Gucci embodied the pulse of the disco era, holding its ground firmly in the luxury segment.
1981-1990: Renaissance Under Maurizio
The 80s marked a transformative period for Gucci. Under Maurizio Gucci's leadership, the brand underwent a significant makeover. Gucci was focused on minimalism and sophistication for the brand. Therefore, partnerships with industry stalwarts like Tom Ford breathed new life into the brand. This decade saw Gucci pivot towards an aesthetic of modern elegance.
1991-2000: The Sensual Splendor of Tom Ford
Tom Ford's entrance in the 90s reinvented Gucci. Ford's audacious designs, coupled with his sensual approach, rekindled Gucci's allure. The brand was revitalized, with designs like the Gucci loafer with the horse bit and the daring "Gucci G-string" capturing global attention. This era confirmed Gucci's return to the zenith of high fashion.
2001-2010: Merging Heritage with Modernity
The dawn of the new millennium for Gucci was characterized by innovation while respecting its storied past. Under the creative guidance of Frida Giannini, there was a harmonious confluence of contemporary designs with heritage symbols. Collaborations with luminaries like Mark Ronson and fresh takes on classic designs ensured Gucci remained a powerhouse.
2011-2020: Pioneering Sustainable Luxury
In the 2010s, Gucci responded to global calls for sustainability. Through initiatives like the Gucci Equilibrium program, it underscored its commitment to the planet and its people. Alessandro Michele's appointment brought a whimsical touch to designs, dismantling traditional fashion norms and making waves with gender-fluid collections.
2021-Present: Trailblazing into the Future
Today, Gucci stands not just as a fashion titan but as a brand that respects tradition while fervently innovating. Under the visionary Michele, it fuses past and present, ensuring every collection is a testament to Gucci's enduring ethos of creativity, luxury, and audacity.
From its Florentine beginnings to its present global dominance, Gucci's century-long journey has been spectacular, adapting and evolving with each passing decade.
Shareholders of Gucci
Kering took over Gucci in a complete buyout in 2004 for $8.8 billion. Currently, Kering owns 99% of the company, making them the owners of Gucci. However, Kering has purchased the brand through its investment firm, Artemis, which the Pinault family owns. Therefore, it wouldn't be wrong to say that Francois Pinault is the leading shareholder of Gucci as well as Kering. However, we can further break down the ownership of Kering to help you understand the companies or individuals having stakes in Gucci.
The major shareholders of Kering SA at the time of writing are as follows:
Pinault Francois Family
The Pinault family, with François Pinault at the forefront, stands as one of France's most influential and wealthiest families, with a vast empire spanning from luxury fashion to art. The family is led by Francois Pinault, who was born in 1936. He started his first company Pinault SA and kept on expanding the business. His son officially took over the business in 2005 and contributed to the solidification of Kering. The family is Gucci's major shareholder and owner, with over 42% stakes in the company, giving them controlling powers and voting rights in the company's decisions.
The Vanguard Group, Inc.
The Vanguard Group Inc is a registered investment advisor with worldwide recognition as an investment management company. The firm provides a broad investment selection to serve individuals, institutions, and financial professionals. Vanguard Group Inc. has a portfolio of $6.2 trillion in global assets under management. Currently, Vanguard Group holds around 1.975% assets of Gucci, making it a notable institutional shareholder of Gucci.
Norges Bank Investment Management
Norges Bank Investment Management also holds a notable stake in Gucci's assets in terms of institutional shareholders. The company is the asset management unit of the central bank of Norway, Norges Bank. The unit's main role is to manage one of the world's largest sovereign wealth funds, the Government Pension Fund Global(GPFG). Norges Bank Investment Management holds 1.752% of Gucci's stakes at the time of writing.
Schroder Investment Management Ltd.
Schroder Investment Management Ltd. is also an active investment manager based in the UK with broad expertise in public as well as private markets. The firm recognizes itself as the investment manager for investors with long-term financial goals. They claim to serve both individual and institutional investors. Currently, Schroder holds around 1.858% assets of Gucci, making it a notable institutional shareholder of Gucci.
Capital Research and Management Co.
The Capital Group owns Capital Research and Management Co and has provided investment advice and selection since 1931. The US-based company has a long-lived reputation as one of the best investment management firms in the world. Capital Research and Management Co. currently holds around 1.747% of Gucci's stakes and is a notable institutional shareholder.
Other Institutional Shareholders
Other notable institutional shareholders of Gucci include Kering France, Baillie Gifford & Co., Harris Associates LP, and Invesco Advisers, Inc, with 1.491%< 0.9267%, 0.9022% and 0.5840% stakes, respectively.
FAQs
Who currently owns Gucci?
Currently, a France-based company Kering has the holding rights of Gucci, with over 99% of shares belonging to the company.
Does the Gucci family still own Gucci?
Unfortunately, No. After the death of the company's founders, the shares were transferred to his five sons. However, after the death of his sons, his grandson took over the controlling rights of the company. It was not long enough before Maurizio, grandson of Guccio Gucci, sold all shares to Investcorp in 1993 that are currently owned by Kering.
How much is Gucci worth today?
As of 2022's figures, the net worth of Gucci was reported to be $18.1 billion in USD. As of 2023 figures, the net worth of the brand was valued at US$17.8 billion, downgrading it to fourth position in terms of global brands.
Who is the brand ambassador of Gucci?
Currently, the Bollywood star Alia Bhatt has been nominated to be the brand ambassador of Gucci at the global level. She also travelled to Korea to attend Gucci's Cruise 2024 runway show in May 2023.