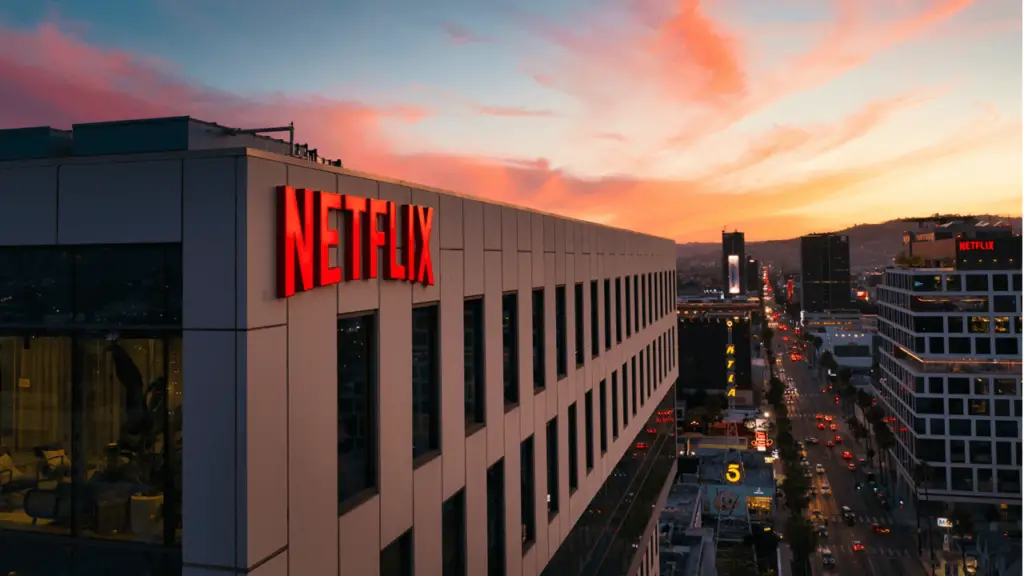 The entertainment industry used to be entirely different from what it is today if we look back before the 2000s. The advent of the video streaming industry in the early 2000s was the groundbreaking of a new era for the entertainment industry. It began redefining how people consume entertainment content, whether TV shows or movies.
Over the Top platforms were yet another enhancement of the video streaming services. These platforms allow users to bypass cable or satellite TV and directly stream content over the internet. Hulu, Netflix, Amazon Prime, etc., are some of the pioneers in OTT services. The platform gives you access to unlimited content for a fixed monthly subscription price. It is a diverse business model that integrates several other business models inside it.
If we specifically talk about Netflix, the idea of video streaming and OTT is often associated with the company. How did Netflix become the identity of OTT services worldwide? Who pulls the strings behind the scenes to run the company? Who has the controlling interest in the company? These are some questions that intrigue any person evaluating the company.
In today's article, we will walk you through the journey of Netflix and break down the company's ownership structure. So let's get into it.
About Netflix
Netflix is an American video-on-demand and over-the-top streaming service that works on a subscription model. Netflix Inc. owns the platform, and it is headquartered in Los Gatos, California. If we summarize the services of Netflix, the platform sells films, original television series produced by Netflix, as well as other content produced and sold by media houses.
Netflix was founded by Reed Hastings and Marc Randolph in 1997 on a pay-per-rental basis. However, the company soon began its DVD-by-mail service in 2008. It has become the most-subscribed OTT service, with over 238.39 million paid memberships worldwide.
Netflix is providing uninterrupted services in almost all parts of the world except China, Syria, Russia, and North Korea. Different subscription plans are available for individuals who want to subscribe to Netflix. You have to register your account, choose the subscription, and get started. Squid Game, Money Heist, etc., are some of the Netflix Originals that became a sensation worldwide.
Who Owns Netflix?
Netflix is a platform that is owned by Netflix Inc., a media company based in Los Gatos, California. Netflix Inc is a public company which implies that the shares of the company are publicly traded and available to the public. Therefore, when it comes to who owns Netflix, we can not take the name of a single individual or institution.
Several institutions and individuals own a certain share of the company's ownership. Some investors might have a controlling interest while others might have a minor interest in company ownership. We will break down the ownership structure of Netflix in later parts of the article.
History Of Netflix
1997-2007: The DVD Era
On August 29, 1997, Netflix was founded by Reed Hastings and Marc Randolph in Scotts Valley, California. Initially, Netflix operated on a pay-per-rental basis, somewhat mirroring the Blockbuster model but with an online twist. Customers would order movies online and have them shipped to their homes.
Recognizing the potential for a subscription model, in 1999, Netflix introduced a monthly subscription service that allowed subscribers to rent DVDs without due dates, late fees, shipping, or handling fees. This was the game changer.
In 2002, Netflix went public, trading on the NASDAQ under the symbol NFLX. But rather than resting on their laurels, Netflix's leadership saw the future was in streaming, not physical rentals. By 2007, they launched their streaming service, allowing Americans to watch instantly on their computers. This marked the beginning of a significant shift for the company and the entire entertainment industry.
2007-2017: The Streaming Revolution and Original Content
Having initiated streaming in 2007, Netflix embarked on rapid global expansion over the next decade. By 2010, Netflix was available in Canada, and by early 2016, it had spread its wings across the globe, making its service available worldwide with the exception of a few countries.
However, streaming wasn't the only focus. Recognizing that relying on other content creators could be a vulnerability, Netflix began producing its own content. In 2013, Netflix took a leap of faith by releasing "House of Cards", its first original series. It wasn't just a show; it was a statement. By releasing an entire season at once, Netflix started the binge-watching phenomenon. This was followed by other successes like "Orange Is the New Black", "Stranger Things", and "The Crown", firmly establishing Netflix as a formidable content creator.
Simultaneously, the company constantly improved its user experience, employing complex algorithms for personalized recommendations and investing in better streaming technology to ensure seamless viewing.
While Netflix was thriving, its DVD rental service, which once was the core business, began to decline and was separated into a different service called "DVD.com, A Netflix Company".
2017-2020: Battle of the Streamers and Embracing Diversity
Post-2017, the streaming landscape underwent significant changes. As the concept of OTT (Over-The-Top) platforms became mainstream, tech giants and entertainment behemoths entered the arena. Apple, Disney, WarnerMedia, and others launched their own streaming services, escalating the competition. Many of these new entrants pulled their content from Netflix to host exclusively on their platforms.
However, Netflix being a pioneer, had a lot in its basket that helped the platform stay ahead of the competition. The portfolio of original content and global presence top the factors that aided Netflix in beating the competition. After the competitors entered the market, Netflix started working on international content and invested in catering to local audiences. The localized content includes Indian, South Korean, South American, and African content. Money Heist, Sacred Games, Parasite, etc., are some of the shows that proved the worth of Netflix and established the supremacy of Netflix.
Besides, Netflix has also worked a lot on its commitment to diversity and inclusion regardless of anything. Therefore, the company has considerably invested in highlighting under-represented communities, LGBTQ+ narratives, unspoken social issues, etc. Moreover, the platform also dabbled in different formats, from interactive episodes like "Black Mirror: Bandersnatch" to feature-length films that got Oscar nods, such as "Roma" and "The Irishman".
2020- Present
Netflix's journey from a DVD rental service to a global streaming powerhouse has been nothing short of spectacular. Their adaptability, forward-thinking strategies, and commitment to content quality have allowed them to stay at the forefront of entertainment. In 2021, the company also won the most Academy Awards nominations of any studio, totalling 36. Netflix won a total of seven awards which is also the most by any studio. In the same year, Netflix won 44 Emmys which is also the most by any studio. After the decision of Netflix to advent in gaming, the company opened its first cloud gaming studio in Southern California. The year 2023 marked the end of Netflix's DVD-by-mail service, which will be discontinued in September.
While the future is always uncertain, given its past, it's safe to assume that Netflix will continue to innovate, entertain, and redefine how the world consumes content.
Shareholders Of Netflix
Netflix is currently a public company that went public on May 29, 2002, by selling 5.5 million shares at $15 per share. Therefore, it is not owned by a single individual. Instead, several individuals and institutions own the shares of the company. In this section, we will share the details of the top shareholders of Netflix. We will segregate the individual and institutional shareholders of Netflix. So let's get into it.
Individual Shareholders
Most of the shares of Netflix belong to institutional shareholders. However, there are certain individual names of the Netflix shareholder. Here is the overview of the top individual shareholders of Netflix Inc:
Leslie J. Kilgore
Leslie J. Kilgore is an American businessman who is a resident of California. She is serving as an Independent Director of the Netflix Inc. He has also served as a Chief Marketing Officer of Netflix from 2000 to 2012. He remained associated with Amazon from 1999 to 2000. Currently, he holds around 0.02% of the company's outstanding shares, which are equal to 35196 shares.
David Hyman
David Hyman is an American entrepreneur who is renowned as a co-founder and CEO of Unagi Scooters. Currently, he is serving as Chief Legal Officer of Netflix and handles all legal and public policy matters of the company. David Hyman is also a notable individual shareholder of Netflix Inc. who holds around 31610 company shares, equal to 0.01% of the total outstanding shares of Netflix Inc.
Greg Peters
Greg Peters is co-CEO of Netflix along with Ted Sarandos on January 19 2023. He is an American businessman who served as Netflix's Chief Product Officer from 2017 to 2023. Greg Peters owns around 13090 shares of Netflix, equal to 0.01% of the company's total outstanding shares.
Wilmot Hastings
Wilmot Hastings is an American billionaire who is co-founder and executive chairman of Netflix. He belongs to Boston, and he also holds shares in Netflix Inc. The company's total ownership held by Wilmot Hastings is equal to 1.142% of the outstanding shares of Netflix Inc.
Institutional Shareholders
Here is the detail of the top institutional shareholders of Netflix Inc.:
The Vanguard Group, Inc.
The Vanguard Group Inc is a registered investment advisor with worldwide recognition as an investment management company. The firm provides a broad investment selection to serve individuals, institutions, and financial professionals. Vanguard Group Inc. has a portfolio of $6.2 trillion in global assets under management. Currently, Vanguard Group holds around 7.66% of the total outstanding shares of Netflix Inc. The ownership equals around 34.052 million shares of the company.
Fidelity Management & Research Company
Fidelity Management & Research Company is an investment advisor to Fidelity's family of mutual funds. FMR has three fund divisions like equity, fixed-income, and equity. The company holds around 21.496 million shares of the company, equal to 4.84% of the total outstanding shares of the company.
Capital Research & Management Company
The Capital Group owns Capital Research and Management Co and has provided investment advice and selection since 1931. The US-based company has a long-lived reputation as one of the best investment management firms in the world. Capital Research and Management Co. currently holds around 4.25% of Netflix's stakes and is a notable institutional shareholder.
BlackRock Fund Advisors
BlackRock Inc. is also one of the major shareholders of Alphabet Inc. It was established in 1998 and currently has a presence in 36 countries. According to the recent proxy statement, BlackRock holds 18.458 million shares of Netflix Inc. This entitles the company to 4.15% of Netflix's total outstanding shares.
SSgA Funds Management, Inc
SSgA Funds Management, Inc. is an investment firm, and the company's services include investment advisory services, portfolio management, financial planning, and related services to individual and institutional investors. SSgA Funds Management Inc. holds 16.195 million shares of the company's total outstanding shares with 3.64% stakes.
Innovations and Impact
Netflix Inc. has been a revolutionary company in the video streaming industry. It wouldn't be wrong to say that Netflix has made a profound impact on the entertainment industry, and here is what you need to know about it:
Streaming Revolution
The video-streaming revolution has been brought to the entertainment industry by Netflix, and the company has redefined how people consume TV shows, movies, and content.
Original Content
The company's investment in original content changed the dynamics of the entertainment landscape, demonstrating that streaming platforms could produce high-quality shows and films that rival traditional studios.
Data-Driven Recommendations
Netflix's sophisticated recommendation algorithms personalized user experiences, shaping how viewers discover new content and fostering a culture of binge-watching.
Global Reach
The platform's availability in numerous countries broke down geographical barriers and contributed to the globalization of popular culture.
Challenges and Controversies
Netflix has been an incredible addition to the entertainment industry worldwide. However, the company has also been exposed to some challenges and remained part of some controversies. Here is what you need to know about it:
Competition
The rise of competitors like Amazon Prime Video, Disney+, and Hulu has intensified the battle for subscribers and content rights.
Content Costs
The company's substantial investment in original content has led to questions about the sustainability of its business model and the need for continued subscriber growth.
Quality Control
As the volume of original content increased, maintaining consistent quality became a challenge, with some shows receiving mixed reviews.
Cultural Sensitivity
As Netflix expanded globally, it had to navigate diverse cultural norms and sensitivities, leading to instances where content has been deemed offensive in certain regions.