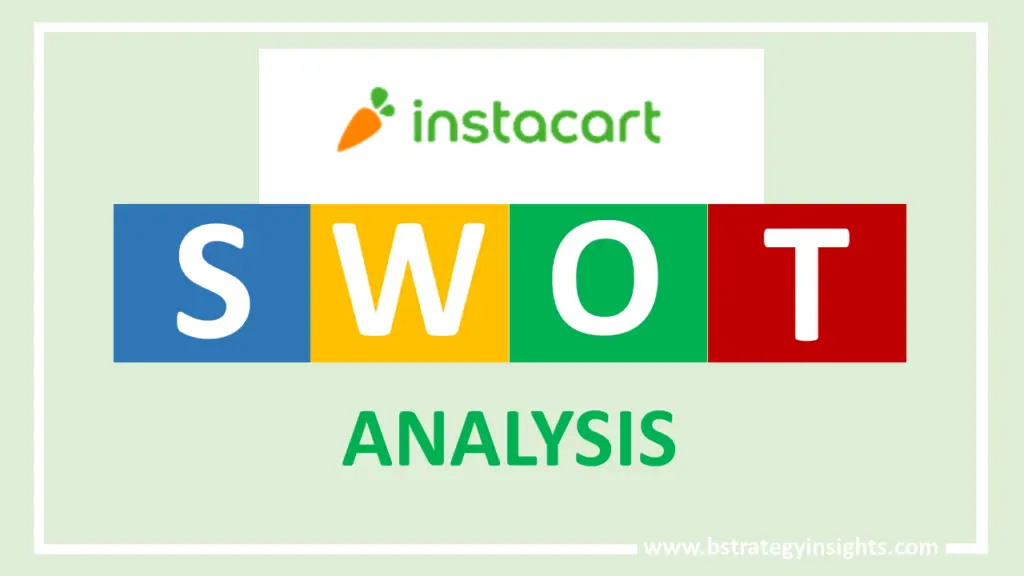 Instacart is an American-based brand that operates a grocery pick-up and delivery service in the US and Canada. Through its website and mobile app, the brand is able to have its customers order groceries from participating retailers. The shopping is usually done by a personal shopper.
Instacart's SWOT analysis is a critical tool that helps the brand be aware of both its internal and external environment and make the most of these two to ensure continuous growth and increased profitability.
Instacart – At a Glance
| | |
| --- | --- |
| Name | Instacart |
| Website | Instacart.com |
| Founders | Apoorva Mehta, Max Mullen, Brandon Leonardo |
| Chief Executive Officer (C.E.O.) | Fidji Simo |
| Headquarters | San Francisco, California, U.S. |
| Year Founded | 2012 |
| Revenues (FY 2020) | $17.7 billion |
| Key Products/Services | Grocery Delivery |
| Key Competitors | Postmates, FreshDirect, Blue Apron, Cornershop and Shipt |
Strengths of Instacart
Strong distribution network
Instacart has revolutionized the grocery shopping industry with its same-day delivery business model and the contact-less delivery model that greatly impacted its service during the lockdown periods of COVID 19.
Before COVID came up, customers used to prefer going grocery shopping on their own. But with the coming of the pandemic, the restrictions had many people stay at home and were restricted from going shopping. Instacart's offer for delivery of groceries was a much-needed solution then and thereafter. To ensure efficiency and effectiveness in delivery, it has more than 25,000 stores from where it distributes its groceries. It has 130,000 full time shoppers and 12,000 part-time shoppers. The brand is targeting hiring more than 300,000 shoppers to enhance service delivery.
Strong customer base
Instacart has a huge customer base. According to supermarket news, the brand caters for over 85% of households in the US and for more than 70% of households in Canada. This is a huge asset for the company and is the main force behind the brand's revenues. Through this customer base, the company has been able to reap brand equity and other network effects that cumulatively position the brand competitively in the market.
Creative revenue model
The brand's revenue model is creative as it makes revenues through five ways: through its monthly subscription service called Instacart Express allows free service to customers for orders exceeding $35. The other option is the yearly subscription that saves the customer 17.42% in fees.  The brand also makes revenues from advertising. This is a self-service advertising avenue where brands advertise their services and products on Instacart's marketplace to Instacart's customers. The cost per click for the advertisement is $0.75 – $1.25 per click.
In December 2020, Instacart raised $200 million to help expand it advertising business. Instacart also earns a commission of 10% and more from its retail partners. The brand partners with huge retail brands like Cosco, ALDI, Sprouts, CVS, Sam's Club, Wegmans, and Kroger among others. It also earns from delivery fees and gift cards. This diversification of its revenue streams ensures synergies in revenue generation.
Strong growth in industry
The grocery delivery industry has experienced serious growth in the recent past. The online grocery report by business insider indicates that the industry is set to experience exponential growth in the next couple of years. This guarantees the brand more lifetimes to experience more growth.
Therefore, it is important that Instacart positions itself strategically in increasing market share to be able to take advantage of this growth and increase its profitability.
Scheduling of orders and great communication
This is a great advantage for the brand as communication is key in getting the right orders delivered to the right persons at the right time. Scheduling is a key feature in the brand's website, where consumers have the advantage of managing the time for delivery to fit into their convenience.
Additionally, customers have the liberty to communicate directly to their preferred retailers so that customer preferences are taken into account and also replacements can be arranged. The quick feedback between customers and the retailers is the key strength that ensures the continuous increase in the quality of the brand's services. It also adds to the combination of the right people, right time, and right shopping experience.
Partnership
Partnership with retailers is a strategic advantage that secures the brand's expansion plan. The brand is able to leverage on the partner's expertise, infrastructure and financial abilities to grow in its service to customers.
Weaknesses of Instacart
Dependency on third parties
Instacart's business model heavily depends on third parties for it to deliver its services. The brand heavily depends on retailers to shoppers. Heavy dependence on retailers means Instacart has no direct control on quality measures and therefore may not be able to regulate desired standards.
Additionally, in an ideal situation, when a customer is shopping, and they lack whatever they want, they are able to decide on what other product to pick as a replacement. The shoppers may not have this privilege; they may pick the closest replacement for an item, but this would come at a cost. This, therefore, compromises the shopping experience of customers.       
Sustainability
Instacart has experienced tremendous growth as a result of COVID. According to Sonnemaker, Its workforce has increased from 180,000 to 500,000. Given that times are changing back to normalcy, this model that worked during COVID may not necessarily work post COVID. Some of the shoppers who signed up for the brand were laid off, and with situations resuming to normalcy, such may quit working for Instacart.
Additionally, people would now be free to go back shopping without restrictions. This would mean a low demand for delivery services, affecting the brand's revenue generation.
Mismatch of customer's preference and actual delivery
While the brand has heavily invested in communication for its delivery service, there is the challenge of mismatch. And as mentioned earlier, instances where the particular desired product is not found, the shopper may not be able to satisfactorily get a suitable replacement. This may lead to poor customer satisfaction
Opportunities of Instacart
New partnerships
The brand has expansion opportunities with creation of more partnerships. And given the brand majorly supports four product categories: grocery, pharmacy, liquor and pet supplies, there is opportunity to expand into new product categories and create more partnerships in those categories. Such areas that have been growing exponentially include food, home garden, clothing and apparel, health and beauty, game and leisure, and flowers and plants, among others.
Expansion internationally
Instacart currently only operates in Canada and the US. The brand has the chance to expand into similar markets globally and also expand into emerging markets.
Threats of Instacart
Competition
The brand is facing competition both directly and indirectly. There is competition from well-established brands like Amazon, Walmart, Kroger, and Target who have established their own delivery service thus eating into the brand's market.
In-store promotions
Many brands are now considering promoting in-store shopping so as to attract back their customers into their stores. This will cut back on the need for home delivery services and therefore cut on Instacart's revenues.
Conclusion
While Instacart is currently thriving in-home delivery and in its market expansion strategies, there is every need for strategic planning that will be conscious of any changes in the market with regards to customer preferences in shopping and adapt in time to the changes.