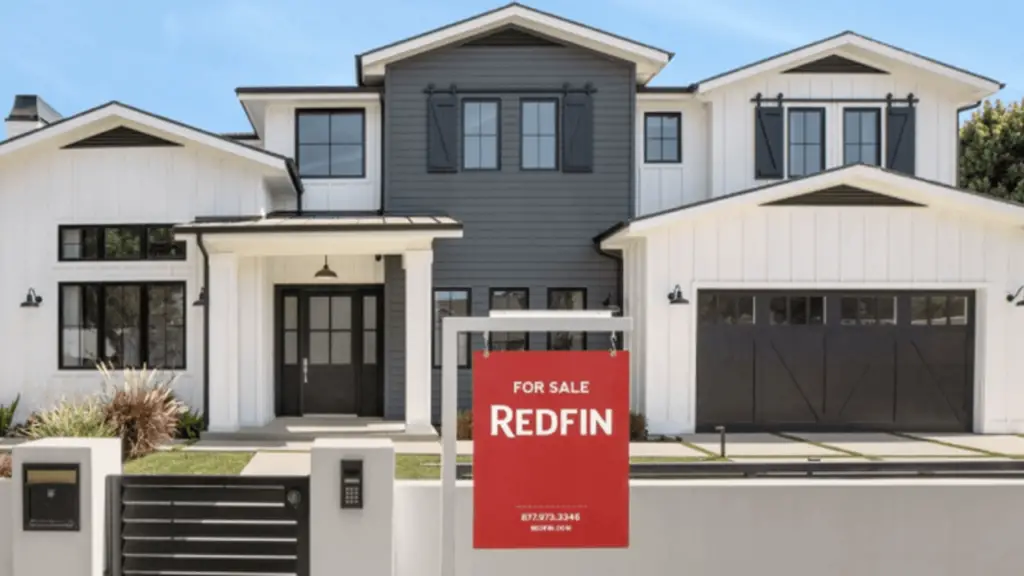 When it comes to real estate, Redfin's mission is to redefine it to benefit the end-users. This firm uses high-end technology to connect buyers and sellers so that they may transact on their created platform immediately.
In 2019, Redfin assisted clients purchase and sell over 235,000 properties totalling $119 billion, which securely benefitting the average consumer $1,850 upon every transaction.
The firm is quickly expanding its market share with a compelling concept of cheaper costs, enhanced customer experience, effortless technological integration, and engaging with agents who serve your best interests.
What is Redfin?
Redfin acts as a real estate broker that leverages technology to make the acquisition and selling home process and experience as seamless as possible.
Each house listed on the company website is charged a listing fee, and that's the company's original concept of their business strategy. It generates revenue by flipping properties, collecting a service charge (through RedfinNow), referring mortgage clients, and providing concierge service.
Redfin was founded in 2002 and has since turned out to be one of the most popular online brokerages in the United States. Today, the firm is worth more than $4 billion and commenced its publicity in 2017.
How Does Redfin Work?      
This real estate company is susceptible to technological change.
Broad ranges of service providers such as property management companies (Planet Rent, Cozy), commercial properties (Costar), short-term accommodation providers (Pillow, Airbnb) and brokerage companies like Redfin are attempting to challenge the conservative real estate market by taking advantage of cutting-edge technology.
When it comes to selling and purchasing homes, the company's customer-centric initiatives are the primary key to success.
In addition, listing fees on the platform range from 1% to 1.5%, depending on the property's location. Then, a closing fee is paid by the buyer. Customers who deal with agents from Redfin are eligible for a closing-cost reimbursement.
Furthermore, sellers who use the platform to advertise their homes get advertising (such as directional signs or a yard sign throughout the neighbourhood), photographs, fliers, 3D scans, and other materials for more outstanding marketing and exposure.
Compared to more typical, full-service brokerage firms, the company has many distinct benefits to offer.
1. Significant Financial Savings For House Sellers
Redfin's minimal commissions are a big draw for most vendors. Numerous sellers using the platform reviews note that the savings they claim to have experienced are genuine.
2. Convenient and Practical Technology
Although many bargain brokers promise to offer user-friendly innovation, Redfin rose to fame and remains the industry's gold grade.
Countless people have installed Redfin's app to find their desired homes. And the vast majority of people give it a positive review, which is also a good tool for consumer measurement.
Sellers benefit from the success of this leading real estate tech as it tries to prioritize their listings whenever customers browse for properties.
3. Less Hazardous Compared To Low-Cost Competitors
Registering your property through Redfin, the dangers of lower quality of service appear less obvious than if you market with another bargain broker.
The application is a mixed property platform that combines technology and human knowledge to facilitate the purchase and sale of properties. The system functions similarly to a typical system for brokers, with the added benefit of assurance that selling and buying parties settle the lowest possible fee per transaction via agents of Redfin.
The company business model relies heavily on countering the 'conventional' property models as an alternative option for modern property platforms. There are two key areas where the company's counter-positioning approach is concentrated:
The traditional industrial strategy of employing independent contractors will be replaced with full-time employees instead;
Decreasing transaction fee – When regular agents of both parties in the industry typically charge around 3% (buyers) and up to 6% (sellers) of the sale price for their services, yet Redfin charges between 1% and 1.5 %.
The company approach efficiently utilises their realtors or agents' resources and innovative technology to perform services and make recommendations to customers with quicker and more cost-effective solutions. To get the most up-to-date information, the Multiple Listing Service facilitates the whole access. 
How Does Redfin Make Money?
The company assisted clients in buying or selling over 310,000 properties, valued at over $152 billion in aggregate transaction volumes (Company's Form 10-K in 2020).
So, how does Redfin profit from all of these transactions?
The goal is to guarantee that both parties leave a contract paying the lowest fee feasible by combining human and technical skills.
These are four main income streams that this hybrid real-estate platform makes the most money:
Commissions on Brokerage Transactions
Fees From Partners
Selling Real Estate via RedfinNow
Additional Services
1. Commissions on Brokerage Transactions
The bulk of the company income streams comes from fees earned from brokering transacted directly on its site. In reality, the commission fees accounted for $607.5 million, equivalent to 68.5% of the company's total commission revenues in 2020. This has increased by 22% y-o-y compared to 2019.
Based on demand and supply of the market and strategic locations, sellers pay anywhere between 1% and 1.5% of the sale price. Once their house is sold, they may either sell straight to their home to the platform or engage with a company realtor to sell their property to another buyer.
For example, sellers will pay a $3,250 commission fee in Dallas whereas the fee in Los Angeles is paid at about $6,250.
Similarly, if the purchaser also appoints an agent from Redfin, the seller is responsible for the buyer's agent charge, which is normally between 2.5% and 3%. As a result, the total commission will be reached around 5% to 6%. The commission will be half distributed to the seller's agency and the other half to an agent from the buyer's side.
2. Fees From Partners
At a 30% commission, the company makes revenue from their partners by charging fees or referring customers to their services. It is possible to employ for the platform directly as the lead agents or contracted independent agents operated as Redfin partners, who split income with the company.
They anticipate seeing a decrease in income from their partners as they grow their in-house staff in lead agencies. Also, they now earn $43 million through their partners. And, this equates to around 5% of overall income.
The company charges these fees on every real estate transaction that has over 6,800 agents collaborating with the company.
3. Selling Real Estate via RedfinNow
Additionally, Redfin generates another income from selling houses extra on its received commission fees. The company released RedfinNow in 2018. Its execution is followed when the company purchases the properties directly from landlords using the RedfinNow service; then, it resells them to other purchasers.
The firm incorporates algorithms to establish an optimal purchase price to maximize income creation. This pricing takes into account any factors that might reduce profitability, like a necessity for upgrades, remodeling, or renovation.
The company's second-biggest income source has generated $209.7 million in 2020, equivalent to 23% of total income, and upsurged by 24% in 2019.
4. Additional Services
Redfin also makes money through title settlement, mortgage origination, Walk Score data, and advertisements, which only account for a minuscule fraction of their total yearly income stream.
Mortgage in Redfin
This application also offers home financing options, whether you're looking to buy a new house or refinance your current one.
Many places have begun to provide it, although it's now only available in several states such as Georgia and Florida.
The interest that the bank charges on the borrower's mortgage are how the corporate generates money. Similar to other lenders, the company generates income when borrowers pay off the interest on their loans. How much money you can get in a loan when you can pay it back, and how much money you need for a downpayment are all depending on your determined interest rate.
It also owns and maintains a mortgage marketplace that displays the rates offered by different banks and lending institutions. Also, it charges a fee for each new customer it brings in due to its marketplace use.
Marketing Concierge Program
The last service offered by Redfin assists sellers in preparing their properties for sale. 3D tour, a tailored home remodeling plan, professional images, and preferential pricing are all included.
These listed services are included as part of the concierge package:
A customized home renovation plan
The platform is in charge of overseeing the seller's activities from beginning to conclusion.
Discounted rates from Redfin's community of verified suppliers
Professional images and a 3D tour are included.
And there are even more. In addition to the standard listing price, a 1% fee will be charged for the company's concierge service if the house is valued at $500,000 or more.
Conclusion
Sellers and buyers are brought together by the expertise of local brokers and the innovative technologies that Redfin employs. The company provides housing statistics regularly, which is subsequently distributed by significant media outlets around the nation, raising the exposure of this brokerage profile.
This hybrid property platform earns money primarily via its brokerage service, but it has also developed methods to generate income through partner agents and house acquisitions from homeowners. But, multiple online real estate agents try to imitate and compete with Redfin, making it more complicated to achieve their future bigger market share.