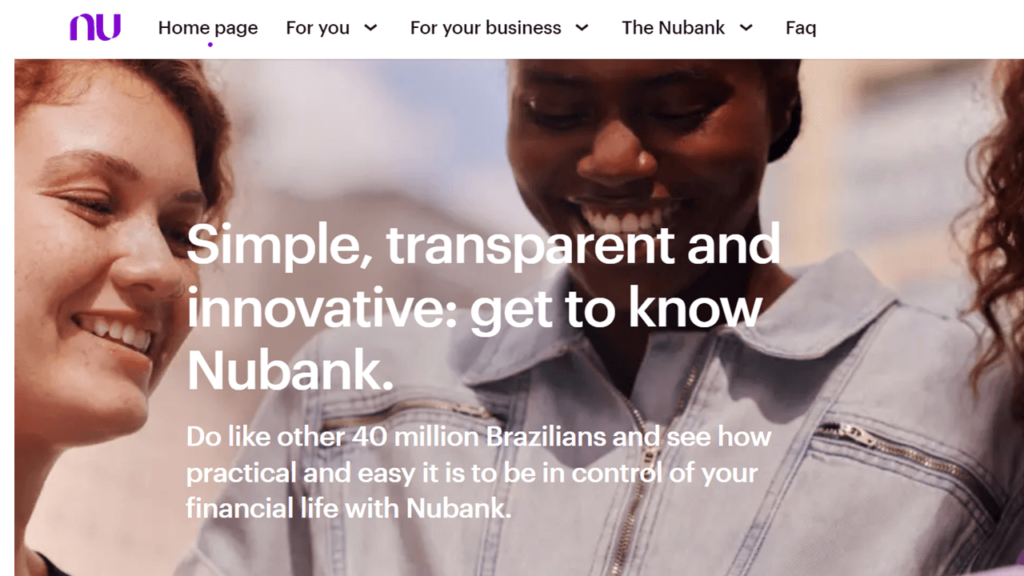 Nubank was founded by David Vélez in 2013. This corporation is a neo-bank that offers many financial products to individual and company users. The term neo-banks refer to financial technology (fintech) enterprises that exclusively operate online or via mobile applications.
Simply defined, they are digital banks that do not have physical locations. No matter how the firm currently has been gathering more millions of customers worldwide. These days, the bank has evolved to be the world's biggest digital bank ever. 
What is Nubank?
Nubank is a fintech firm that provides a wide range of financial goods and services to consumers throughout South America and the Caribbean. The bank, indeed, operates similarly to other regular banks that stipulates a virtual transactional statement, enabling clients to monitor their cash flow.
In addition to the digitized account, customers will get a credit or debit level on their Mastercard, which can be used to purchase things, generate payback benefits, and withdraw money from ATMs. More than that, the corporation provides business account options for companies besides personal ones.
In fact, the business account functions comparably to the personal bank account. It allows clients to inspect their transaction records with the ability to transfer and acquire funds and even more advanced features.
Customers may also apply for personal loans and acquire life insurance via Nubank Life, on top of the services mentioned.
Brazil is the country where the bulk of its clients is located. Users must be Brazilian citizens or have a residency permit to use this neo-bank service. Moreover, they have to be at least 18 years old. They have obtained Central Provident Fund (CPF) status from the Special Department of Federal Revenue of Brazil.
Likewise, the corporation has moved into other key markets such as So Paulo (Brazil), Bogotá (Colombia), Mexico City (Mexico), Berlin (Germany), and Buenos Aires (Argentina). These nations may have standards that are reminiscent of the United States.
Clients may reach the institution by accessing the firm's web page or installing one of its apps on a smartphone, or other mobile device presented both on iOS and Android devices. 
How Does Nubank Work?
Nubank is the leading fintech company in Latin America. It is owned by a private corporation involved in the banking industry. The company includes technical offices in Berlin and Mexico City. It has headquarters in So Paulo, Brazil, and employs thousands of staff worldwide.
According to the firm's statement, users can manage their payment cards via their smartphones, which are available to access 247.
Since the outbreak of the Covid-19, numerous customers have switched to online purchases, resulting in intensification in revenue for the firm in the first half of 2020. From December 2019 until the present, the organization has had a 48% rise in sales growth. Throughout that period, the market size on the launch pad has increased massively.
By 2019, the firm announced it earned 15 million subscribers from Brazilian clients. Experts anticipate that an average of 41,000 new customers join the bank daily, based on the latest statistics.
Nubank made its first acquisition in January 2020, when it acquired Plataformatec, a firm specializing in software development and innovative approaches. Additionally, the business bought Cognitect in July of the same year, which was accountable for Datomic and the Clojure programming language. It also purchased Easyinvest, another Brazilian investment firm in September 2020.
In December 2021, the bank conducted its initial public offering. Berkshire Hathaway invested $1 billion in Nubank's equity before and after the IPO. Cristina Junqueira, the co-founder of the bank, became the second woman in Brazil to achieve self-made billionaire status after the IPO. She controlled 2.9% of the shares.
What is The Nubank Business Model?
Nubank's business model emphasizes developing a monetized ecosystem of beneficial items to consumers.
This strategy is comparable to many of the world's most excellent fintech businesses, such as Coinbase, Robinhood, and RadioShack, which were founded to alleviate a specific client problem. As these firms grew in size and gained masses of customers, they would be able to extend their product and service packages.
For this reason, the bank gives such high-interest rates and access to different accounts for their clients. At the same time, it has also expanded its offerings which consist of loans, business accounts, insurance, and payback benefits.
Like other giant e-commerce, all of these items produce a revolving influence on the organization. The best thing that the bank should implement is to thoroughly study the customer's behavior on their financial management to identify the right interest rate to impose on a specific borrowing amount.
By doing so, the customers may feel comfortable with an optimal or lower interest rate which is a win-win situation for every related party.
How Does Nubank Make Money?
Nubank makes money from its provision, including loans, deposits, insurance, and many more. Therefore, fees on various transactions, such as interests on loans, client deposits, overdraft ATM withdrawal, subscription services, referrals, and insurance rates, are examples of how this neo-bank generates revenue.
Insurance
The bank provides life insurance products to its clients in Brazil via its Nubank Life subsidiary. Clients may protect their family members in the event of an untimely death for as low as R$ 9 monthly. It may depend on the actual client's financial circumstances. Additionally, they can purchase maximum coverage to pay healthcare costs, funeral expenses, or extra financial help in the event of a disabled person.
Loans
Customers can apply for personal loans, which can be repaid in various installments in addition to insurance policies. The company makes money from loans by charging interest on a regular basis, which it collects from borrowers. Interest rates are determined by a range of criteria such as loan amount, payback time, and more considerations.
Since the bank can gather limitless data from its clients, such as the amount of their income and expense, it can make a precise assessment of the likelihood that the borrowers will be able to pay back the loan. As it turns out, the likelihood of non-payment should be exceedingly minimal. Because of the seamless user-friendliness, users may get instant offers when they apply for a loan via the bank.
Customers who make deposits into their deposit accounts, on the other hand, are eligible to receive a return on the amount they keep with the bank. The bank utilizes that funds to make loans to other organizations that need financial support. Afterward, the corporation will be able to receive interest on the money that it has loaned out.
Interchange Fee
The moment a consumer makes payment by using their credit or debit card of Nubank, an interchange fee will occur. It is collected for the merchant and the company that issued the debit card. The percentage share is not publicly revealed since it is a piece of proprietary information.
In other words, when a seller accepts a client's money from their transaction, the retailer will charge the interchange fee to receive the billing. The exchange costs amount to around 1% of the total purchase price.
Cash Withdrawals
Anco24Horas and Saque e Pague are two of the company's partners that provide cash withdrawal services. A withdrawal fee is charged to customers who use one of their services. The charge appears to offset the costs associated with the use of its ATM partners. As a result, it is probable that Nubank does not earn revenue on cash withdrawals.
Referrals
Subscription fees are not the only advantage that Nubank can monetize its high-end credit card business. Customers who pay with their card will get a cashback credit.
The bank gets some remuneration which is commonly referred to as referral fees, from its cashback partners in return for pushing clients to make purchases at the partner retailer. Examples include a partnership with Amazon during 2020 to compensate consumers who had bought a product through the company's online shopping platform and other initiatives.
Subscription
The bank released the Ultravioleta, a premium credit card during 2021, to compete with other cards on the market. Customers can use the card's privilege, which contains access to the Black VIP Lounge, travel medical insurance, and purchase protection against possible damages that are valid for up to 90 days after the date of acquisition. 
Conclusion
Today, the corporation has close to 50 million clients, making it the largest neo-bank globally. Although the coronavirus pandemic was a nightmare to most of the world, it served as a boosting catalyst for Nubank's growth. The company offered numerous funds (roughly $3.8 million) to help individuals survive.
Its rapid expansion also provided the opportunity for the company to make its initial acquisitions. And within one year (2020), the organization merged and acquired three separate companies, such as Cognitect, Plataformatec, and Easyinvest, into its own network of enterprises.
Despite the restructuring of the management team, it remained to be a fund-collecting behemoth. In June 2020, it received an additional $750 million in funding from Berkshire Hathaway and other potential foundations.
The capital round enabled the company to undertake three in-house investments, notably in Parças Developers School, TeamHub, and Online Operating System. Over the following months, it also bought three other firms.
Its constant development and expansion efforts enabled the firm to go public on the New York Stock Exchange (NYSE) in December 2021, which supplied it with an additional $2.6 billion in capital funding.