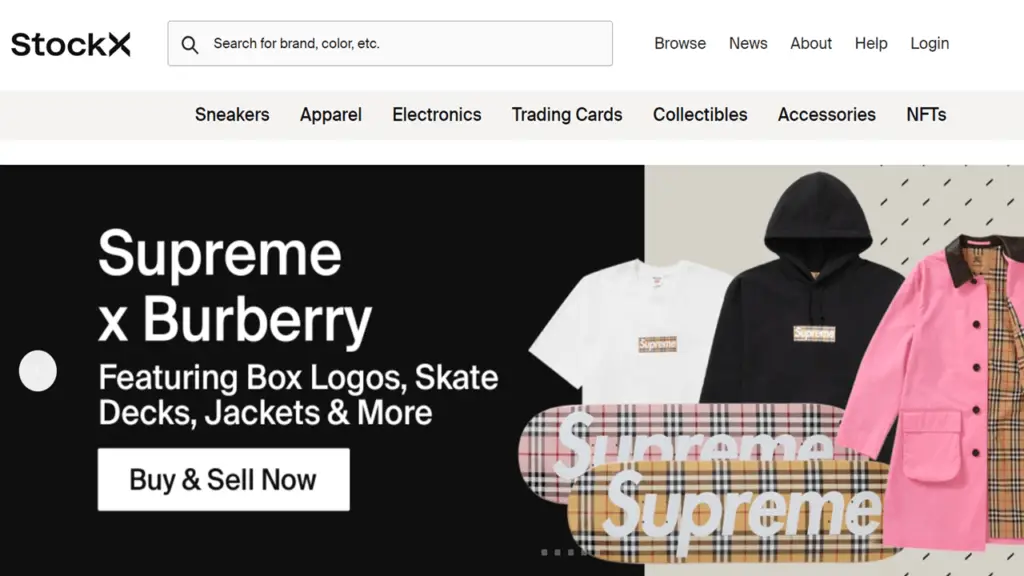 StockX's mission is to make it easier for people to buy and sell rare and unique clothing and collectibles. The fact is the company deals with high-end goods; it also takes care of the authentication process and the proper shipment of the goods. The corporation, founded in 2015 by Greg Schwartz, Josh Luber, and Dan Gilbert (owner of the Cleveland Cavaliers and co-founder of Quicken Loans), has been a tremendous success to date. More than that, the sale of goods valued at more than $1 billion has been facilitated by the firm as of 2019. Most importantly, the company now has over 800 employees spread across five offices worldwide. 
What is StockX?
StockX is an e-commerce platform that is redefining retail's future. The platform is intended to function as a "stock market for things," with sellers listing excellent condition items and allowing buyers to determine the appropriate prices. Early on, the company began as a shoe reselling site but has since expanded into other verticals and released products directly on its website. The company, which is already valued at $1 billion, has proven to be sustainable and scalable in the increasingly competitive reselling space. 
How Does StockX Work?
StockX is an online marketplace, both on a website and app for selling unworn streetwear items like sneakers and other collectibles. The company calls itself "the stock market of things" because its buying and selling mechanism resembles stock markets.
Because of its early success and "sticky" platform design, StockX is poised to maintain its dominance in the resale market despite an increasing number of competitors. In addition, the firm's transparency and simplicity addressed main problems with incumbent platforms (e.g., Amazon, eBay) and continued to distinguish it from newer competitors (e.g., Flight Club, GOAT, and Stadium Goods).
These newly developed platforms charge commission fees comparable to or higher than those charged by the older platforms. Still, they do not offer the same ease of sale for sellers or the same level of information to buyers or as the previous ones. To get started with such internal triggers, the company has been able to keep purchasers from defecting by launching a superior product early and iterating on it continuously over time.
On top of that, StockX has developed features to assist users in remaining on their side. For example, loyal sellers get lower fees according to the transaction fee structure, while sellers can track their goods in "My Portfolio" and decide when to sell. Buyers are also drawn to the portfolio feature for similar reasons, as it allows them to compare their portfolios to those of others. The new IPO feature, on the other hand, limits users to specific shoe releases. Finally, the platform's customer service, financial risk, and authentication capabilities make it challenging to disintermediate. With all of these advantages, it is easy to see why this entity is poised for success in the world of online retail.
This digital marketplace was the first to introduce dynamic price tickers and ledgers that track every sale to the retail landscape. In the beginning, almost every press piece asked, "What is this??"
After several years on the journey, StockX co-founder and COO Greg Schwartz has outgrown the need to start every conversation to explain what his business does. So, with a sigh of relief, he clarified that while the company was founded on stock market mechanics, they now see themselves as the world's leading marketplace for contemporary culture products.
That phrase most likely conjures up one image: sneakers. It was the first item listed by StockX in 2016, and it is the foundation of the company's reputation. The opportunity was obvious five years ago. Against all odds, it is even more apparent now: the North American sneaker market is currently worth more than $2 billion, and Cowen predicts it will exceed $30 billion by 2030.
These numerous new categories are what define the corporation story. From the "world's first sneaker stock market" to a strong e-commerce brand focused on data, authenticity, and transparency. Nasdaq describes the retailer's evolution. In addition to electronics and handbags, the entity remains committed to its original customer segment. The corporation made headlines in April 2021 when it raised a new funding round valued at $3.8 billion. When the firm raised its stock price, the most surprising part was that it had almost tripled its June 2019 $1.3 billion value in less than two years.
One of the retailer's defining moments was when it decided to begin stocking electronics, such as the Xbox Series X, Playstation 5, and the most recent NVIDIA graphics cards, among other items. These three items were complicated to obtain at launch (and remain so, for the most part), so they made sense to be in the company's culture-defined catalog.
But regardless of all that, the decision to include electronics immediately paid off, with StockX reporting $1.8 billion in gross merchandise volume for 2020, nearly doubling the previous year's total of $1 billion. The best is yet to come, active global buyers increased by more than 90% in 2020 alone.
What is The StockX Business Model?
StockX's business model is based on charging sellers a percentage fee for each sale made on the platform. Fees are calculated based on the number of previous items sold.
Before this company's existence, it was nearly impossible to find an authentic pair of sold-out shoes at a reasonable price. In a general sense, purchasers would have to sift through hundreds of unique listings to avoid receiving a fake, and sellers would waste time and money trying to sell items they did not know the actual value of certain things. The business aims to address these concerns by bringing authenticity, transparency, and simplicity to the purchasing process.
Products are listed on the website with an "Ask" price that must be met by a buyer's "Bid" to process the sale automatically. All listings for a given product (Adidas Yeezy 700 V3 Azael shoes) are compiled on a single page where sellers can view outstanding bids/asks and past sale data to inform their submission. These platform's features benefit sellers by removing the need to take photos or communicate with bidders. The firm also verifies buyers by linking purchases to PayPal accounts while guaranteeing no returns.
The implication is that buyers benefit from the site's one-page-per-product layout and detailed information, cutting down search time and alleviating pricing concerns. However, its most important feature is its rigorous post-sale authentication process. "Deadstock" means that everything on the platform is brand new, except for a few luxury items that must be in "excellent pre-owned condition," which means they have been used but are in good shape. All sales are authenticated at authentication centers worldwide by professional in-house authenticators who rigorously verify each product.
How Does StockX Make Money?
StockX makes money as an online marketplace by cutting every successful transaction. However, unlike traditional marketplaces like eBay, StockX simultaneously handles authentication and shipping. This happens because the platform deals with expensive items worth thousands of dollars.
As for every successful sale, the seller comes with a 3% payment processing fee. In addition, a transaction fee ranging from 8 to 9.5 percent is levied. The transaction fee is based on levels determined by previous platform sales that are made on the platform. Furthermore, the company helped sellers generate over $1 billion in GMV during 2019 alone.
A high growth (and possibly loss-making) startup, the corporation does not publish revenue figures. However, a recent funding round revealed that the company had more than doubled revenues from 2018 to 2019. By the same token, the organization reported gross product sales of $100 million per month; with commissions ranging from 9 to 14%, the firm is likely to earn about $10 million every month.
Conclusion
StockX thrives because it makes it easy for customers to get hard-to-find items. It could be Nike's Air Jordan 13 Retro Flint 2020, which sold the most on the platform last year. The seller lists their deadstock (never worn) product on the marketplace, where shoppers can find it and buy it.
Then, the seller sends the sneakers to StockX for authentication, after which they are shipped to the buyer. As a result, this marketplace makes money by charging both seller transaction fees and payment processing fees.
As it turns out, the model is simple enough, but the products' presentation and verification add nuance. The business' product pages resemble a cross between eBay and Robinhood, with a dash of Adidas and Nike thrown in for good measure. There is only one page dedicated to each product, so there is no need to switch between listings with varying descriptions and quality photos. In addition, a 12-month historical chart of the product's sales and a graph of the most recent sales are displayed in the corners of every listing, giving each page a sense of movement is a crucial feature of eBay.
All that said, StockX captured the excitement and tension that comes with constantly fluctuating prices and turned it into a retail model. As a result, the shopping experience is engaging and slightly addictive.