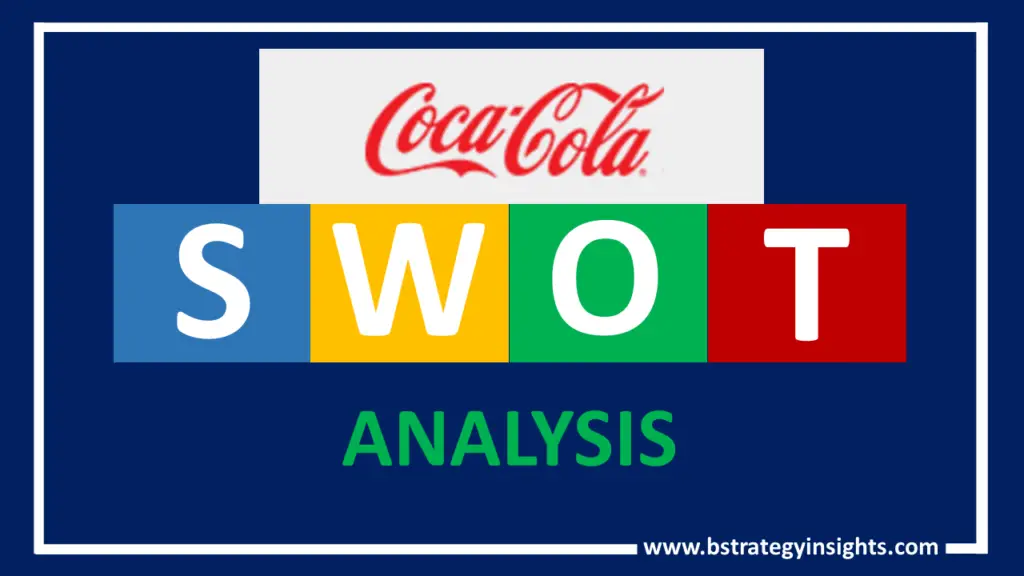 SWOT analysis is a tool used to assess the internal and external factors that can affect the performance of a business. It stands for strengths, weaknesses, opportunities, and threats. By analyzing these four factors, a company can gain a better understanding of its current situation and develop strategies to improve its performance. This article will provide a SWOT analysis of Coca-Cola. It was established by John Pemberton in Atlanta in 1886 and is one of the world's largest and most well-known beverage companies.
Coca-Cola – At a Glance
| | |
| --- | --- |
| Name | Coca Cola |
| Website | https://www.coca-colacompany.com/ |
| Founders |  Dr. John Pemberton |
| Chief Executive Officer (C.E.O.) | James Quincy |
| Headquarters | Atlanta, USA |
| Year Founded | May 8, 1886 |
| Type of company | Public |
| Revenues (FY 2021) | $38.66 Billion |
| Key Products/Services | Zico, Glaceau vitamin water, Sprite, Glaceau Smartwater, Simply Beverages, Powerade, Odwalla, Minute Maid, Mello Yello, Honest Tea, Gold Peak Tea, Georgia, Fair life, Fanta, Del Valle, Dasani, Ciel, Coke Zero, Diet Coke |
| Key Competitors | Diageo, Heineken, Unilever, Parle, Redbull, Nestle, Gatorade, Mountain Dew, Dr Pepper Snapple, Pepsi |
Coca-Cola's Strengths
Strong brand recognition
Coca-Cola is one of the most recognizable and well-known brands in the world; according to Business Insider, 94% of the global population is able to recognize the brand's red and white logo. It has a strong presence in virtually every country. Brand Finance ranked the Coca-Cola brand as the strongest brand in the US in 2021.
The brand scored 91.7% on a brand index score that was based on customer familiarity, staff satisfaction, marketing investment, and corporate reputation, among others. This strong brand recognition translates into a strong customer base and loyalty, which is a major advantage for the company.
Additionally, this strong brand recognition allows the brand to charge premium prices for its products and gives it a competitive advantage over other beverage companies in introducing new products in the market.
Wide product range
Coca-Cola's product portfolio is incredibly diverse, with products ranging from carbonated soft drinks to fruit juices, teas, and water. Statistics indicate that more than 10,000 Coca-Cola soft drinks are consumed every second, every day on average. This diversification allows the company to mitigate the risk associated with relying on a single product or market and helps them to better weather economic downturns or shifts in consumer preferences.
Strong distribution network
Coca-Cola has a strong distribution network that allows it to reach consumers in over 200 countries around the world. The brand employs an intensive distribution strategy with 225 bottling company partners and 900 bottling plants in the world. These bottling partners produce, package, and distribute their products. It has a fleet of trucks and a network of vending machines that make it easy for consumers to access its products wherever they go.
Strong financial performance
Coca-Cola has consistently achieved strong financial performance, with consistent growth in revenue and profits over the years. In the 2022 third quarter, the company's net revenues grew by 10% to $ 11.1 billion, while organic revenues grew by 16%. The brand's strategy is to leverage strong revenue growth management abilities in meeting the ever-changing customer needs. This financial strength gives the company the ability to invest in new products, expand into new markets, and weather economic downturns.
Strong marketing
One of the brand's strategies is to turn insights from its huge industry experience into global experiences. This mantra drives the brand's worldwide marketing campaigns that seek to attract and engage its customers. The brand leverages these insights for innovation and personalized campaigns like the "What the Fanta" campaign.
Coca-Cola's Weaknesses
Dependence on sugary beverages
Coca-Cola has low product diversification, particularly when compared to its leading competitor, Pepsi. In addition to the competitor's soft drinks line, it has launched snack items like kurkure, and lays. Coca-Cola has no competitive advantage in this regard.
Health concerns
Although Coca-Cola has diversified its product range to include healthier options like juices and water, the majority of its sales still come from sugary beverages. This has led to criticism from health advocates who argue that these types of drinks contribute to the obesity epidemic.
Limited control over bottling partners
Coca-Cola relies on bottling partners to produce and distribute its products. This means that the company has limited control over the quality of its products and the way they are marketed. This can lead to inconsistency in the products that are sold and can impact the overall brand image.
Non green packaging
The 2020 Tearfund report adversely named Coca-Cola among the other four leading global companies that are significant contributors to global warming and high emitters of carbon into the atmosphere because of high plastic usage.
The beverage industry is highly competitive, with many companies vying for market share. Coca-Cola faces strong competition from both domestic and international competitors, which can impact its market share and profitability.
Coca-Cola's Opportunities
Growing demand for healthier options
As consumer preferences shift towards healthier options, there is an opportunity for Coca-Cola to increase its sales of healthier products like juices and water. By investing in the development and marketing of these products, the company can tap into this growing demand and increase its market share.
Expansion into emerging markets
Emerging markets like China, India, and Brazil offer significant growth opportunities for Coca-Cola. These countries have large populations and a growing middle class, which means there is a potential for increased demand for the company's products. By investing in these markets, Coca-Cola can increase its global reach and sales.
Partnerships and acquisitions
Coca-Cola has a strong financial position, which gives it the ability to pursue partnerships and acquisitions to expand its product range and enter new markets. By partnering with or acquiring other companies, the company can leverage their expertise and resources to grow its business.
Coca-Cola's Threats
Strong competition
Coco Cola faces stiff direct competition from brands like Pepsi. It faces indirect competition from brands like Starbucks, Tropicana, Costa Coffee, and Lipton juices, among others. Increased competition could mean reduced market share, which would eventually threaten the brand's going concern.
Health concerns
As mentioned earlier, the increasing focus on health and wellness has led to criticism of sugary beverages like those produced by Coca-Cola. This could lead to regulatory changes or negative public perception that could impact the company's sales and reputation.
Increasing costs
The cost of raw materials and labor can fluctuate, which can impact Coca-Cola's profitability.
Conclusion
Coca-Cola remains the largest brand portfolio in non-alcoholic beverages around the world and is bound to scale greater heights by tapping the potential of healthier beverages.