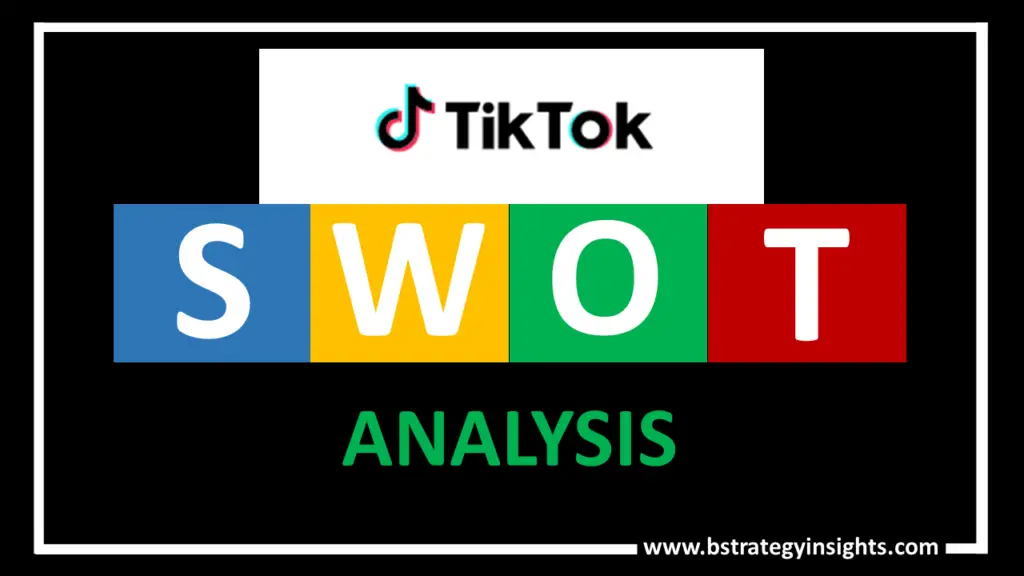 TikTok is a Chinese multinational video sharing and social media platform; it is a subsidiary of ByteDance. In 2016 ByteDance introduced the Chinese version of TikTok called Douyin. The TikTok platform allows its users to make short funny, educational, comedy, and dance videos that range from 15 seconds to one minute.  High-rated users however can make videos that are longer; up to 3 minutes.  The TikTok platform is available in 74 diverse languages. TIKTOK app has recorded more than 2.6 billion downloads.
SWOT analysis is a critical tool for businesses keen on gaining a strategic advantage in the marketplace. SWOT analysis provides organizations with critical insights into the market the business is operating in; the opportunities and threats in the market. It also ensures businesses have a better understanding of their own strengths and weaknesses so that they better position themselves to take advantage of the opportunities in the marketplace and as well face whatever threats that are present therein.
Tiktok – At a Glance
| | |
| --- | --- |
| Name | TIKTOK |
| Website | tiktok.com |
| Founders | ByteDance |
| Chief Executive Officer (C.E.O.) | Shou Zi Chew |
| Headquarters | Culver City, CA |
| Year Founded | 2016 |
| Revenues (FY 2020) | Approximately $1.9 billion  |
| Key Products/Services | Photo sharing; Instant messaging; Video chat Multimedia |
| Key Competitors | Clash, Triller, Dubsmash, Instagram, Byte, Funimate, Lomotif, Cheez, Vigo Video, KWAI, Likee, Firework, and VideoShow. |
Strengths of Tiktok
User friendly
One of the biggest strengths of TIKTOK is its user-friendliness.  In the modern edge of hyper technology, a total customer-centric approach that keeps the innovations simple enough for customers to enjoy the app's functionality. The app and its social media platform can easily be used by even non-tech persons with much ease. The app has a very simple interface and users only have to scroll up and keep watching the videos.
Free for use
TIKTOK provides its users with free professional-level tools for editing and filtering; there is no need for any upfront payments. Through this free service, TIKTOK has a greater competitive advantage in the market as it is able to grow its leads list, generate more buzz about itself, collect valuable market feedback and lastly, guarantee a lot of profits in the foreseeable future.  Users only need to download the app and they would be ready to use it.
Huge customer base
TikTok's free and user-friendliness have attracted more than 2.6 billion users all over the globe. This huge database of users is a great asset for the brand: it has helped the brand build greater brand equity, and benefited from network effects. The brand can be assured of market presence in the foreseeable future due it brand loyalty from its user base. 
A huge market presence
TIKTOK is present in over 150 countries and is translated into over 75 languages. This has earned the brand more than 2.6 billion customers from all over the globe. This gives the group a worldwide reach in its market coverage. A wider reach ensures more revenue generation and a more customer base for TikTok.
Weaknesses of Tiktok
Gaps in user experience
Whereas the brand is widely known for its easy-to-use platform, there have been concerns from users regarding some features which are difficult to use. These features are tech-oriented and call for a lot of time from particularly newcomers for them to understand how to use those features. Take for instance the use of features like applying various effects like time delays, filters, and backgrounds to a video. TIKTOK has every need to ensure high functionality with greater ease of use if it will continue to have a competitive edge in the market.
Inappropriate content
There have been serious allegations leveled against TIKTOK with regards to some of the content on its platform. Some of the audio songs as well as background audio clips have been termed inappropriate; unfortunately, TikTok doesn't censor them. Social media critics claim that TikTok's content allows for crude humor encourages the use of drugs, violence, nudity, and fantasy. This raises critical concerns for TikTok's use by children among other vulnerable groups.
Opportunities of Tiktok
Technology
Technological innovation is a cutting edge for many businesses globally. It has helped birthed many businesses, improved efficiencies and effectiveness for companies already in business. TIKTOK stands to gain a more competitive edge with investments in technology. TikTok's investment in technological innovation will ensure a longer product life cycle and relevance in the market. It will also help raise barriers to entry, enrich customers' experience through improvement and the introduction of new features.
Threats of Tiktok
Increased competition
The online space in which TIKTOK operates is filled with numerous competitors; both new entrants and established ones. All these are clamoring for space in the market. while this heightened competition is healthy for the consumers, it diminishes returns for the companies involved in the market. TIKTOK, therefore, faces the threat of diminishing returns, loss of market share, and more critically, the threat of being pushed out of the market.
Technological evolution
Technological evolution is a double-edged sword.  While technology has the potential of leveraging TikTok's growth to higher heights, it equally poses a huge threat to the brand. Technological evolution has rendered some brands obsolete and in some cases pushed brands out of the market. There is every need for TIKTOK to continuously leverage technology to make more innovations and establish itself in the market.
Changes in government regulation
Adverse changes in government regulations pose a threat to the very existence of TIKTOK as a brand in the market. With regards to this threat, TIKTOK may not have much in determining government policies. The brand however could continue with its diversification strategy both geographically and in its product offering. With this diversification, the brand will be able to diversify its risks so that it is not adversely affected by any changes in regulations.
Conclusion
TIKTOK is a huge brand in the market with a huge following. The brand has wider market coverage with global presence that gives it more market leverage. It however needs to work on quality control for the content on its pages so as to secure consumer confidence that its users are safe. More investment in technology will enable it to gain competitive advantages in the market.