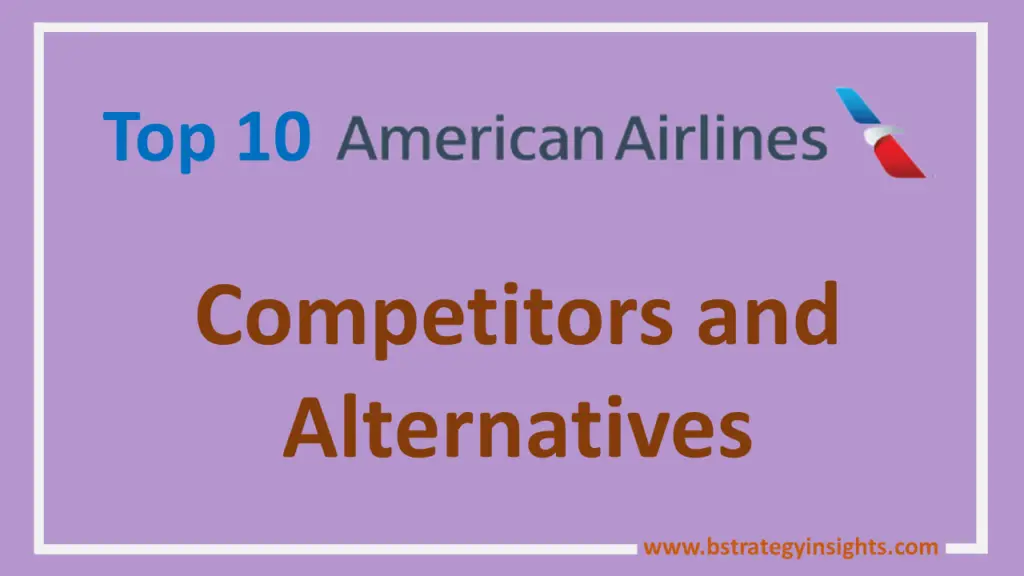 American Airlines is a well-recognized airline company that has been serving passengers for nearly 100 years. Headquartered in Texas, US, the company has had over 350 destinations across 50 countries in the world.
On top of that, American Airlines acquires over 800 planes with over 6,000 successful flights every day. Because of this, the company is considered the world's largest airline regarding passengers, fleet size and passenger revenue per mile.
As of today, the company has employed more than 130,000 staff and generated nearly $30 billion in revenue, increasing by 72% from last year.
General Overview of American Airlines
During the global pandemic, all airline companies are forced to close down or restrict flights and passengers. However, American Airlines has regained its active operations because the company carried more than 160 million passengers in 2021 alone, which is more than any other US airline companies.
American Airlines has its target customer of the upper-middle-class and business class because it is a member of the OneWorld Alliance. The airline only offers high-class services to high-end customers.
However, the airline is not alone. There are many US airlines that have been established to compete with American Airlines. So, here are the top 10 American Airlines Competitors and Alternatives.
1. The Lufthansa Group
The Lufthansa Group is a European airline alliance that includes Lufthansa German Airlines, Lufthansa Airlines, Austrian Airlines, Brussel Airlines, SWISS, and Eurowings.
The airlines provide luxury goods and services to their consumers for better experiences. Lufthansa airlines transport millions of both domestic and international passengers, flying to more than 220 destinations.
The Lufthansa group acquires 752 aircraft and is headquartered in Cologne, Germany. The group employs more than 100,000 employees from 70 different countries globally. Founded in 1953, the Lufthansa Group now makes $19.1 billion in revenue.
2. United Airlines Holdings
United Airlines is also another competing company in the United States that provides quality services for upper-middle-class and business class passengers, including fast wifi, quality seats, entertainment, and so forth.
The airlines acquire around 850 commercial planes, including Boeing and Airbus and employ more than 90,000 staff.
Although the Covid-19 outbreak caused serious issues to the aviation industry, United Airlines quickly regained its strength because the company generated more than $24 billion in revenue in 2021. With this 60% revenue spike, the airline has recovered its losses from $7.1 billion to less than $2 billion.
The United Airlines is one of the potential competitors to American airlines as it constructs 14 more airports in various countries to serve all passengers, both international and domestic.
3. Delta Airlines
Delta Airlines is ranked fourth on our list because it is also another US airline alternative to American airlines, having more than 700 commercial planes under the company. This world's largest airline company will have a total of over 5,000 flights at 320 destinations in 2021, making a $26 billion yearly income.
Currently, the company has around 85,000 staff from diverse countries worldwide. The Delta airlines is part of a SkyTeam airline alliance that provides passengers with budget-friendly flights and fast wifi connections.
Moreover, in the early 2022, the airline decides to pay its flight attendants when boarding. They are paid once the plane lands at the final destination.
4. Southwest Airlines
Another American airline competitor and an alternative is Southwest airlines. The company is a low-cost carrier providing high-quality services to more than 160 million passengers every year.
On top of that, since it is a competitor to the American airline, Southwest Airlines targets upper-middle-class and business class passengers.
The Southwest airlines acquire more than 700 Boeing planes with over 120 destinations in the American continent. Since 2021, the airline has made $9 billion in income in a year with over 60,000 staff operating.
Due to the corona pandemic, the airline's transportation has dropped to less than 70 million per year in 2020. Therefore, the sales declined and the company only operated Boeing 737s to minimize the maintenance costs.
5. Air France KLM
Founded in October, 1933, Air France KLM has become one of the American airlines' significant competitors. The company has a headquarter based in France and it is considered the top 10 airlines worldwide.
Furthermore, because of its wide recognition, the airline gains a 4-stars certification in terms of providing exceptional customer service and onboard goods.
The airlines used to carry passengers with the Concorde and it was one of the few airlines that did it. The Concorde is a commercial airplane that is supersonic. This airline further collaborated with KLM Royal Dutch airlines in 2004 as a joint venture.
6. Virgin America
One of the most creative competitors of the American airlines among all is Virgin America. The airline was the first to create a boarding pass that was foldable. Furthermore, the commercial aircraft is constructed with a seat to seat messaging chat function, in which passengers can interact with each other while on board.
Other than that, the Virgin America aircraft is eco-friendly because of its carbon-efficiency designs. Because it has a 12-shades lighting system, the aircraft can provide passengers with lighting comfort.
Moreover, the airline has created some of the most interesting names for the aircraft, including Pineapple Express, Unicorn Chaser, Rabid Badger, and Runway Angel.
7. JetBlue
Any passengers who are looking for a comfortable seat and delicious meals, JetBlue would be the right airline for a long trip. The airlines focus more on providing every passenger with cozy seats with amazing appetites; therefore, they can have great experiences during their long flights.
Other than that, the aircraft is equipped with HD TVs that allow passengers to enjoy movies on board. Besides, the airline is regarded as the America's largest low-cost airline ranking number seven on the list.
The JetBlue Airways has its headquarters in Long Island City and two operation offices in Florida and Utah.
8. Sun Country
Sun Country ranks eleventh as the US's largest airline providing low-cost tickets. The airline is a 3-stars economical airline because of its product and service provided to the passengers on board.
On top of that, there are some products provided by the airline that contribute to the 3-stars rating, such as seats, meals, services, and onboard cleanliness.
Moreover, Sun Country airline with an economical approach allows passengers to carry only 1 carry-on bag with a maximum weight of 35 pounds (or 15kgs). Meanwhile, the luggage must not exceed 50 pounds. Due to its 3-stars recognition, the airline only generates $623 million in revenue, which is far less than the American Airlines.
9. Spirit Airlines
Spirit Airlines is also another alternative to the American Airlines in the way that it offers a low-cost carrier. However, with the low-cost goods and services provided, passengers may experience the unexpected things. Therefore, when you want a cheaper price, you have to expect a less comfortable experience.
First of all, the meals are not free, so passengers have to buy the things they want using a debit or credit card. Other than that, passengers are allowed to have 1 carry-on and 1 personal item with them. The free item has its size limit set by the company, so anything that exceeds will be charged.
10. WestJet Airlines
WestJet Airlines is one of the most promising competitors having over 100 destinations in the North America alone. The airline is so big that it employs nearly 12,000 staff. Moreover, the company offers low-cost tickets yet makes $3.8 billion of income in 2021.
Furthermore, WestJet targets Canadian citizens that travel within the American continent. Also, the airline extended the network to other locations, such as Mexico, the Caribbean, and Mexico. On top of that, this potential airline acquires 100 Boeing planes.
Final Verdict
Despite recent setbacks, the airline's overarching approach still makes them a powerhouse in the aviation sector. On top of that, cost leadership is an approach the company uses to achieve persistent competitive cost benefits over its competitors. The business has built a strong reputation because of its affordable costs and superior services.