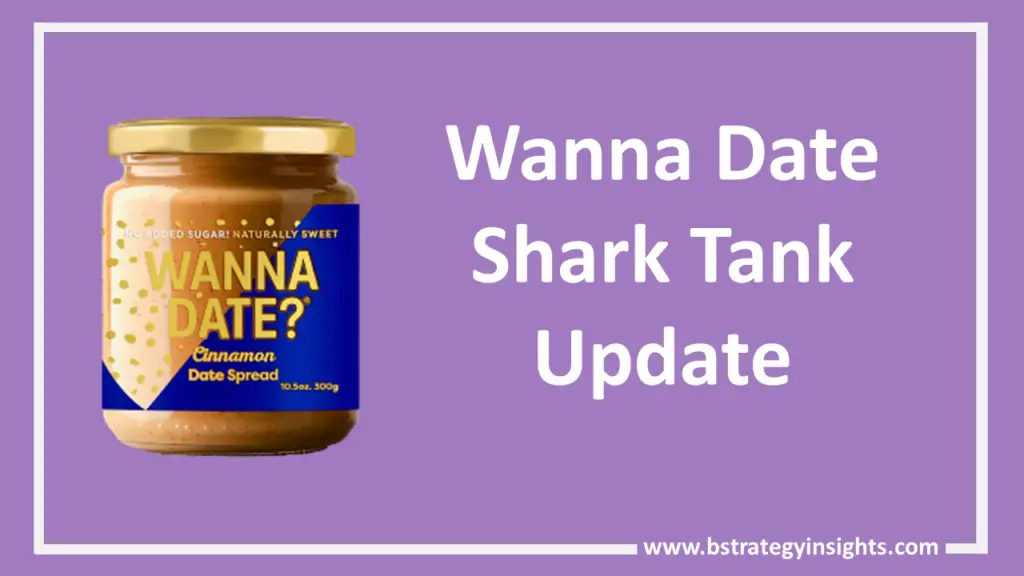 On Shark Tank episode 112, Melissa Bartow appeared with a pitch. She presented a business focusing on a vegan date spread dubbed Wanna Date. Melissa is a fruit lover, and her discovery of dates while pursuing her degree at NYU was a game-changer.
After a disappointment while working at a health food store, she was inspired to start a vegan venture. She believed that dates are a natural sweetener with massive benefits. For this reason, she envisioned a date butter and kicked off the experiment part.
Melissa succeeded. She ran crowdfunding that enabled her to raise $10,000. The business flourished, and she wanted to expand the customer base. This aspect inspired her to seek investors by pitching the sharks.
Melissa came to the Shark Tank seeking $100,000 for a 20% equity in Wanna Date. Did sharks agree to strike a deal with her? Read on for updates on Wanna Date after the Shark Tank and its current status in 2022.
Wanna Date Overview in Shark Tank 
| | |
| --- | --- |
| Company Name | Wanna Date |
| Website           | https://eatwannadate.com/ |
| Episode           | Season 11 Episode 11 |
| Product Offering         | Wanna Date – a date-based option to nut butter and jams |
| Founded | 2017 |
| Founder  | Melissa Bartow |
| Required Investment | $100,000 For a 20% stake in Wanna Date |
| Closing Deal | $100,000 for 33% equity in Wanna Date |
| Shark   | Mark Cuban |
| Current Business Status | In Business |
What is Wanna Date?
Wanna Date is a vegan formulated spread with zero sugars, dairy-free, and oil-free. The product is sugar-free, low in calories, vegan-friendly, and healthful. Wanna Date spread comes in different flavors, but dates are the central ingredient.
Common flavors include chocolate, vanilla, cinnamon, and pumpkin spice. In addition, it has essential minerals, vitamins, and fiber. These aspects make it a healthy spread across the globe.  
How Does Wanna Date Work?
Wanna Date is a spread alternative to nut butter and jams. You apply it to pieces of bread, desserts, cakes, muffins, and other baked products. The product has dates as the primary ingredient and is friendly to every consumer, including vegans.
Who Founded Wanna Date?
The founder of Wanna Date is Melissa Bartow. She launched this company in 2017. she was still a student at New York University pursuing a bachelor's degree in Entrepreneurship when she founded the company. After completing her degree, Melissa worked as a magazine photographer, brand ambassador, and food vendor waiter.
Melissa is also a popular television personality and entrepreneur. Currently, she is the co-founder and president at Wanna Date, in charge of all the day-to-day activities.    
Wanna Date Business before Shark Tank 
Wanna Date started after Melissa discovered dates. Melissa came to New York to pursue her degree when she came across dates and fell in love with them. She had a conviction that these fruits have everything one needs to remain healthy and supply the body with the right energy levels.
While in college, she secured an internship opportunity at a food store. She worked diligently. Her disappointment came when she realized that the food vendors added sugars to what they call healthy items on their menu. This disappointment became the foundational block to the birth of Wanna Date.
Melissa performed research to determine if dates can replace sugar. Unfortunately, no product was available, which is a good example. She decided to acquire a food processor and turned her college room into a laboratory for processing date butter. Her experiments and feedback from friends were positive.
Melissa decided to turn her dream into a reality by running a crowdfunding campaign on the Indiegogo website. The campaign enabled her to raise approximately $10,000. Melissa also joined Google's Business 101 and learned how to run a business. She put the idea into action through online marketing and started to drive some sales.
With success, Melissa wanted to expand her operations and customer base. This goal could not be realized without investors. She decided to approach the Sharks and try to catch a potential investor.
Wanna Date During Shark Tank Pitch
Melissa made her debut on Episode 11 of Shark Tank Season 11. She requested an investment of $100,000 for a 20% stake in Wanna Date. After the introduction, she talked about her business and offered samples of the products to the panel.
Melissa explained to the sharks her story. She also shared the sales volume and cost of production. Melissa stated that the company had generated over $31,000 in the last 10 months. She noted that the cost of producing one jar of Wanna Date was $2.40 but looking forward to reducing it to $1.80 with an increase in production. She also said that each jar cost $12.
The sharks listened to her but raised concerns about the lack of market research. This reason makes Daymond fold his hands and withdraw from the pitch. Barbara states that Melissa is not a genuine entrepreneur considering that she has the backing of his father. Lori and Kevin did not comment. The three sharks drop off, leaving Mark alone.
Mark sees an opportunity in Melissa's venture. He is ready to invest in Wanna Dates. Mark presents an investment offer of $100,000 for a 33% stake in the business. But the investment comes with some conditions. Mark requires Melissa to reduce the sizes of the jars to make them affordable. She also has to add a basic date flavor to her product varieties.     
Melissa is ready to meet the condition. She agrees to have a deal with Mark.
Wanna Date Closing Deal in Shark Tank 
Melissa accepts Mark's offer of $100,000 in exchange for a 33% equity in Wanna Date. They seal and close the deal.
Wanna Date After Shark Tank 
Wanna Date closed a deal with Mark Cuban. The company gained a viral effect from the Shark Tank show. Its products received positive reviews and attractions. Melissa was able to get the product at Whole Food Market Stores, which is a hard place to reach for many brands.
Mark completed the deal, which was crucial in funding research and development activities. The money helped Melissa to expand the company's distribution channels. Despite the Covid-19 pandemic, Wanna Date succeeded in its operations and customer base growth.
Current Update: Is Wanna Date Still In Business?
Though Mark did not share information on whether the deal went through, the introduction of Date Dough is a piece of evidence that it was completed. Mark had requested Melissa to develop a date basic flavor to qualify for the funding. The Date Dough is a date basic that one can use in their baking activities at home.
To date, Wanna Date is still in business. The company offers its products online via Amazon and its website. Also, it is available in over 128 supermarket stores in the Midwest, recording a lifetime sale of $4 million as of January 2022.
Wanna Date headquarters are located in New York, USA. It remains one of the vibrant businesses from the Shark Tank pitches. The business agreed to stock its products in the Whole Foods aisles.  
FAQs about Wanna Date
How much does the product cost?
The Wanna Date price was $12 per jar. But Mark Cuban requested Melissa to consider reducing the jar size and make it affordable.
How does Wanna Date help you?
Wanna Date is a vegan-based spread that is a good substitute for nut butter and jams. The product is all-natural with zero added sugars, dairy-free, and oil-free.
These aspects mean that it will keep your body healthy and provide it with the right nutrients, vitamins, and minerals. It has low calories meaning it is a good idea for those seeking to keep an eye on their weight. The product is suitable for vegans and everyone who desires to live a natural life.
What are the ingredients contained in Wanna Date?
Wanna Date is available in different flavors. Each flavor has its set of ingredients. However, the main components are cocoa beans, coconut oil, sea salt, coconut palm sugar, cinnamon, and vanilla extracts. All these products are natural and do not have any chemical additions.
How is Wanna Date different from other chocolate spreads?
Wanna Date is all vegan products. This means that it does not have added sugars, dairies, or oil. Being a natural-based product makes it a healthier treat than any other chocolate spread available on the market. The product is also delicious without having an overpowering sweetness.
What is the net worth of Wanna Date?
Wanna Date net worth is estimated to be $2 000,000.
What is Melissa Bartow's net worth?
Melissa Bartow's net worth is unknown.
Does Mark Cuban own Wanna Date?
Yes. Mark Cuban has a 33% stake in Wanna Date. He invested $100,000 in exchange for 33% equity in the business.
Did Wanna Date close a deal with Mark Cuban?
The company appears to have sealed and completed the deal with Mark in August 2020. The evidence is due to the introduction of Date Dough. This new date base product was among the conditions Mark had put on Melissa before sealing their deal.