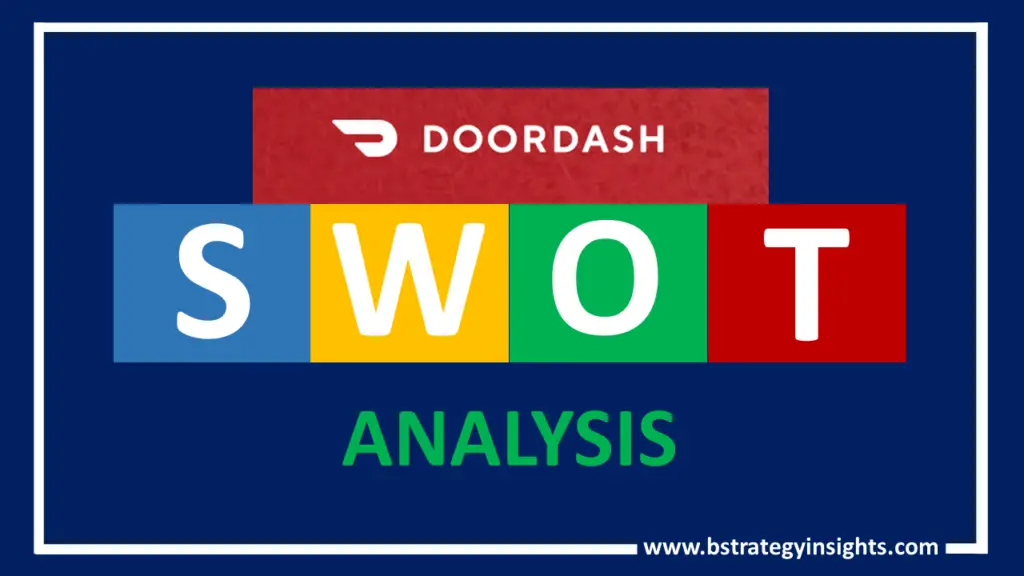 Doordash is an American brand that offers online food ordering and delivery services. The brand has its headquarters in San Francisco, California, United States. The brand is the largest food delivery company in the US with a 56% market share and also has a 60% market share in the convenience delivery sector. Statistics indicate that as of December 2020, Doordash had served 450,000 merchants, 20,000,000 consumers, and I million deliveries. Doordash is a public listed company on the NYSE under the name DASH.
SWOT analysis is a critical tool for Doordash to determine its strategic competitive position in the market. The tool will enable the brand to have a better understanding of their strengths and weaknesses and as well understand the opportunities and threats in the marketplace. This understanding is important if the business will strategically prosper in the marketplace.
Doordash – At a Glance
| | |
| --- | --- |
| Name | DoorDash, Inc. |
| Website | doordash.com |
| Founders | Tony Xu, Stanley Tang, Andy Fang, Evan Moore |
| Chief Executive Officer (C.E.O.) | Tony Xu |
| Headquarters | San Francisco, California, U.S. |
| Year Founded | January 2013 |
| Revenues (FY 2020) |  US$2.886 billion  |
| Key Products/Services | Food delivery |
| Key Competitors | Ninja Van, Delhivery, Roadie, Deliveroo, Grab |
Strengths of Doordash
Market leader
DoorDash is a market leader in the food delivery and convenience delivery markets. The brand has the advantage of being a first mover in the food and convenience delivery markets. It, therefore, benefits from first mover market advantages like the establishment of strong brand recognition and more customer loyalty way before any of its competitors set foot in the market. With a huge market share and control, the brand is able to earn more revenues and profits from its operations.
Specific market focus
DoorDash has given its attention to three markets: the US, Canada, and Australia. It has taken time to grow its network in these three markets and ensure an increase in customer satisfaction with its services. Customers in these regions are able to search for their favorite restaurants, cuisines, and franchises. Customers are able to pre-order their food and later on pick-up from a restaurant, a grocery, a store, or have it delivered home.
Strong networks
DoorDash has taken an effort to build its networks to enable a superior customer experience with the brand. The brand has a growing network of 450,000 partner restaurants as of December 2020, and a Dasher network of more than 1 million Dashers. 
Weaknesses
Limited market presence
The brand currently operates in only three markets: the US, Canada, and Australia. This limitation not only limits the brand from offering its services globally but also limits the brand's ability to generate revenues on a global scale.
Losses
The brand has recorded huge losses from the time of inception in 2013. This has the potential of scaring away investors and weakening the brand's ability to finance its operations to ensure efficiency and effectiveness in service delivery. If such happens, it is likely to diminish superior customer experience and cause dissatisfaction among customers. Eventually, this weakness would cost the brand loyal customers, revenues, and more profits.
Opportunities of Doordash
More market expansion
The brand presently operates in three markets: the US, Australia, and Canada. There is a whole world to explore emerging markets that guarantee more revenues and increased profitability.
DashMarts
DashDoor partly owns and operates convenience stores. Doordash entered into partnerships with a number of stores like Walgreens, 7Eleven, and CVS among others. This was in a bid to enter into the convenience delivery market. In August 2020, the brand announced its intention to launch DashMarts; this is its own convenience store.
By December 2020, the brand had spread its wings to more than 36 cities with plans to launch two more stores in Washington DC. The brand, in seeking to go beyond the delivery of everyday items, has gone further to partner with national brands like Nandos,  the Cheesecake Factory, and also partnered with local restaurants. This move will enable those brands to sell their products to customers through DashMarts. Through these partnerships, DoorDash has great potential to grow its customer base, and increase traffic on its app.
Virtual restaurants and kitchens
The virtual restaurant is a phenomenon that is gaining traction in the marketplace particularly with the global shift to virtual working spaces that was occasioned by COVID 19.
DoorDash launched its first ghost kitchen in the outskirts of San Francisco in Redwood City. This kitchen houses various brands including the popular Chick-fil-A among other four brands. This collaboration of restaurants in the ghost kitchen avails customers with the opportunity of ordering from more than one brand in the ghost kitchen.
A customer could order the main course from one brand in the ghost kitchen and pick on a desert from another brand in the same ghost kitchen. This move helps reduce the hassle of customers ordering from different apps for different items of food that they desire to have. Customers are able to access new brands with brands that have the chance of service optimization.  Doordash on the other hand leverages it is as being a first mover to ensure more market access for itself and for all partnering organizations.
Threats of Doordash
Regulatory framework
Changes in the regulatory framework pose a challenge of increasing costs for the business or in adverse cases, change in regulations could altogether see the business closed.
For instance, if federal laws go on to reclassify Dashers as employees under state laws then the brand will have to incur increased costs relating to employees like insurance among others. This increase in costs threatens the brand's profitability which is yet to be realized.
Competition
The food and convenience delivery space has lower barriers to entry which has led to an increase in players in this industry. This competition threatens DoorDash's customer base as well as market share. superior customer experience is a major differentiating factor in this industry.
DoorDash will do well to invest in technological innovation and in its human capital to ensure an excellent service for its customers.
Conclusion
DoorDash is a leader in its industry and therefore has first-mover advantages over its competitors. the brand however has a lot of work to do in order to break even and start earning profits. This could mean expansion into emerging markets with greater potential for revenue generation and growth or investment in technology for innovation of new features and products and as well help cut on costs through improved efficiencies and effectiveness.