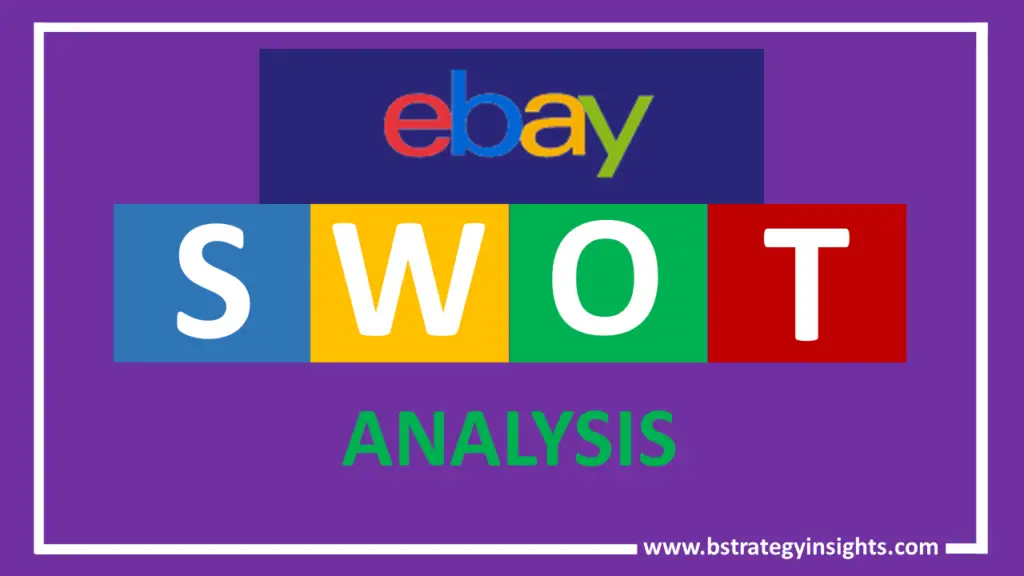 eBay is an American multinational company that facilitates C2C (consumer-to-consumer) and B2C (business-to-consumer) sales. It has a website through which it offers various features. This website, as part of eBay's business model, is also its primary source of revenue and income. However, the company has also ventured into several other businesses and markets.
In this article, we cover the SWOT Analysis of eBay, analyzing its strengths, weaknesses, opportunities, and threats. Before getting into the detailed SWOT analysis of the company, let's go through some background as well as some key highlights of the company.
eBay's History
eBay, founded in 1994 by Pierre Omidyar, has become a highly successful business in the US and some other countries. It is a multibillion-dollar company with operations in about 32 countries as of 2019. Its primary source of income is its auction website. However, it also has a shopping website that allows customers to buy various unique goods and services worldwide.
eBay has popularized the online auction-based business model. However, that isn't the only source of success for the company. The company has also acquired various other companies in other markets, which have added to its popularity significantly. For example, it acquired PayPal early-on and promoted it to increase its customer base.
Financially, the company has done well over the years. The company generated net revenues of $10.420 billion in 2021. These net revenues were an interesting increase in eBay's net revenue in 2020, amounting to $8.894 billion. It represents an increase of $1.526 billion or a 17%% increase in the year.
The company's net income increased significantly by $7.941 billion in 2021. This significant increase resulted from the income from discontinued operations of $13.356 billion, at net of income tax.
It is crucial to consider its net income for a better comparison of eBay's performance in 2021. eBay's net income grew significantly by 140% in 2021. The company generated net incomes of $13.608 billion and $5.667 billion in 2021 and 2020, respectively.
eBay – At a Glance
Given below is the company profile for eBay Inc.
| | |
| --- | --- |
| Name | eBay Inc. |
| Website | ebay.com |
| Founder | Pierre Omidyar |
| Year founded | 1995 |
| Chief Executive Officer (CEO) | Jamie Iannone |
| Chairman | Thomas J. Tierney |
| Headquarters | San Jose, California |
| Type of corporation | Public |
| Net Revenues (2021) | $10.420 billion |
| Company valuation (approximate) | $38 billion |
| Key products/ services | Online shopping |
| Key competitors | Amazon, Etsy, Rakuten, Newegg, Alibaba, Walmart, Target, etc. |
| Key subsidiaries | Auction Co., eBay Classifieds, iBazar, GittiGidiyor, G-Market, and StubHub, etc. |
eBay's SWOT Analysis
For a better evaluation of eBay and its operations, it is necessary to conduct a SWOT analysis. A SWOT analysis of eBay consists of the strengths, weaknesses, opportunities, and threats of the company. So let's get started!
eBay's Strengths
In eBay SWOT Analysis, strengths represent internal factors that give a company a competitive edge. For eBay, these are as follows.
Brand Image
eBay's brand image is something that gives it a lot of strength. In some countries, eBay is a household name. Therefore, the company can attract customers from various market segments using its brand image. Similarly, it is one of the reasons why eBay is still competing with high-level competition. In the world of e-commerce businesses, having a brand image is significantly beneficial.
Global presence
eBay operates in about 32 countries. The company is still looking into strategies to expand its operations into more locations. However, that does not mean its platform does not work in other countries. eBay's online platform works in almost 190 countries worldwide. It is one of the reasons why the company has millions of online users.
Customer base
eBay has a loyal and large customer base. As of the 3rd quarter of 2020, the company reported it has over 183 million active users. eBay's online platform's customer base has been one of its most prominent strengths. Most of its competitors haven't been able to replicate it.
Network
The company also has a large network of buyers and sellers. Its online platform facilitates millions of transactions worldwide each year. Similarly, its suppliers and customers have been increasing steadily over the past. It has given the company significant strength over others.
Technological innovations
The company was the first to introduce an online auction-based business model. Most companies that use this business model take inspiration from eBay. In other places, eBay has also use technological innovations to obtain a competitive advantage. For example, the company increased its profitability significantly with the acquisition of PayPal.
eBay's Weaknesses
In eBay's SWOT analysis, weaknesses represent all internal factors that a company does wrong, giving its competitors an advantage. For eBay, these are as follows.
Net income
As mentioned, the company has had increasing revenues for a long time. However, it has had variable net incomes throughout its lifetime. It means the company has had significant other expenses that have affected its profitability negatively. For its competitors, the net incomes are steadily rising with a rise in their revenues.
New entrants
While eBay has been ahead of the competition in some areas, it has also suffered due to new entrants. The company has not been able to tackle the challenges presented by new entrants. It has lost some small market portions to some competitors in specific niche categories. Cumulatively, these segments have affected the company's profitability.
Faulty products
eBay's online platform has faced several criticisms in the past for facilitating the sale of faulty or counterfeit products. Some of the company's competitors have been able to curb these sales. However, eBay continues to suffer due to these products, which is one of its crucial weaknesses.
High fees
Some of the sellers on eBay's platform have complained of high listing fees. The platform has been increasing its fees steadily over the past. For most sellers, these charges have become unaffordable. Therefore, they have moved their business to competitors. Similarly, the platform hasn't increased the value provided to its sellers despite the hike in listing fees.
eBay's Opportunities
In eBay's SWOT analysis, opportunities represent external factors that can improve a company's prospects in the future. For eBay, these consist of the following.
A rise in online shoppers
Due to the internet and several other factors, customers have increasingly shifted towards shopping online. It presents a great opportunity for eBay to capitalize on this opportunity to gain more users. The company already has a significant brand value and customer base to avail of this opportunity and convert it into a strength.
Expansion
As mentioned, eBay competes in 32 countries and works in around 190 countries worldwide. The company still has the potential to grow out of its 32 primary markets. eBay already has the resources and the popularity to effortlessly expand its operations. Similarly, the company already has experience with expansion in the past. Hence, it shouldn't be a challenging task.
Diversification
eBay has already tried growing into other industries successfully through the acquisition of PayPal and StubHub. The company already has the experience to identify these industries and expand into them. eBay can further strengthen its supremacy through further such acquisitions. As mentioned, the company already has the financial prowess to do so.
Offline markets
Some of eBay's competitors have already ventured into offline markets. For example, Amazon now has both online and offline retail shops. For eBay, it is an opportunity to expand its operations into offline markets as well. The company can effortlessly imitate its competitors and follow their plans. However, it can also create its own strategy to obtain a competitive edge.
eBay's Threats
In eBay's SWOT Analysis, threats represent external factors that can negatively impact a company's operations in the future. For eBay, these include the following.
Security
As with any other online platform, eBay faces the threat of security problems. There have been some high-profile breaches in the past with other platforms. Due to eBay's popularity, its platform is a prime target for cybercriminals. Therefore, the company faces the threat that security issues can tarnish its reputation and drive customers away.
Local competition
Aside from its successful expansions into various markets, eBay has also suffered some failures. For example, the company tried to expand into foreign markets but has had to flee them due to local competition. One such instance is when the company tried to expand its operations into China but failed due to the presence of Alibaba.
Political issues
eBay operates from specific locations worldwide. However, the company still runs all its operations from the US. Due to political issues, the company faces a threat of operational problems. For example, the issues between the US and China escalated to a halt in trading between them. Most multinational brands that operated in both countries suffered as a consequence.
Government regulations
Some governments have pressured online platforms to collect sales tax on their transactions. Among these, eBay is a prime candidate that can see adverse effects. It presents a threat that the prices of goods on the platform will increase. Similarly, it can result in a loss of customers, suppliers, and profitability for eBay.
Conclusion
eBay is one of the top brands among online businesses. The company operates an online website, facilitating millions of transactions each year. Apart from its primary business, the company also has various other successful ventures. eBay has existed for 25 years until now. For a better analysis of the company's operations, users can perform a SWOT analysis, as given above.