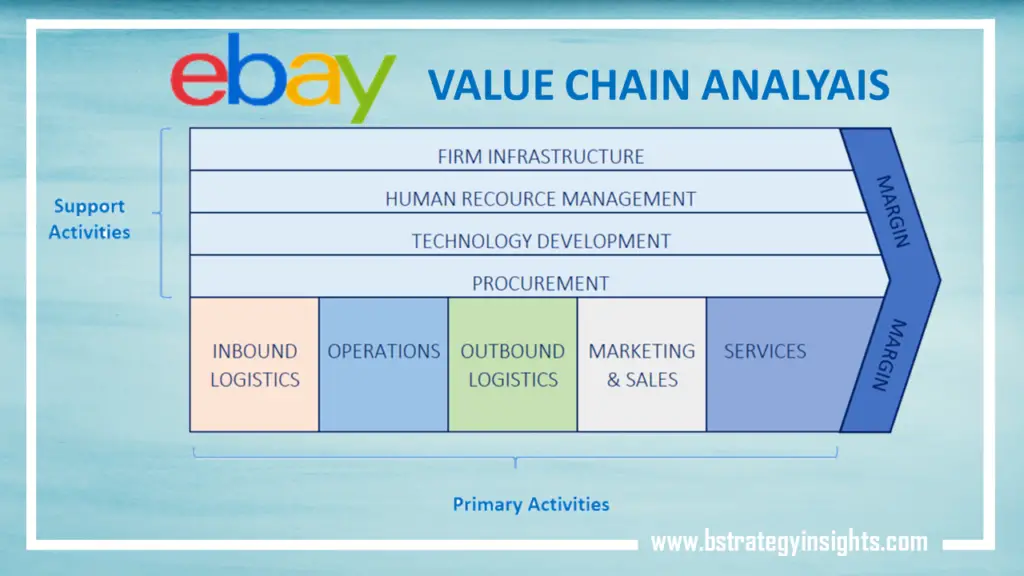 eBay is known as one of the world's largest e-commerce platforms. It has become a household name in many countries worldwide. The company, established in 1995 by Pierre Omidyar, has become a successful venture through its operations and subsidiaries. eBay has seen many ups and downs during its 25 years in business.
eBay started due to the founder's personal needs. However, soon, it transitioned into a platform that connects buyers and sellers. Its platform has reached 183 million active buyers worldwide, increasing by 5% from the same time last year. In the US, 34.9% of mobile users have and use the eBay app on their smartphones.
There are over 1 billion product listings on eBay. Among those, the most popular category is the Electronics & Accessories product category, making 16.4% of its total sales. The company sold $22 billion worth of products and services in 2019. It generates these revenues through its primary activities of selling products and services to customers.
eBay has also had its share of profits from its subsidiaries. On average, the company has acquired a company every three months. Some of its successful acquisitions include PayPal, Craigslist, Skype, and StubHub. While the company doesn't own all these subsidiaries now, it has generated significant profits from them.
eBay generated $10.420 billion in net revenues for 2021, which was an increase of 17% from the $8.894 billion it generated in 2020. Similarly, the company made a net income of $13.608 billion in 2021, $13.356 of which came from the income from the discontinued operations, which is a net of tax. This net income represents a huge increase of 140%% from the $5.667 billion net income it generated in 2020.
The company has generated significant value for its customers throughout the years. Through this value, eBay has obtained a competitive advantage over others. It is crucial to look at its value chain to analyze its operations better. Porter's Value Chain Analysis is a tool that examines a company's value chain.
eBay's Value Chain Analysis
Porter's Value Chain Analysis looks at a company's primary and support activities to identify how it creates value for its customers. Similarly, it looks at how a company can obtain a competitive advantage in the market. Primary and support activities have further divisions of the company's operations. For a complete value chain, company's need to strengthen all those areas.
So let's get started with the thorough eBay's value chain analysis as below:
eBay's Primary Activities
Primary activities represent all activities that contribute to a company's products or services directly. These do not include indirect activities. There are five primary activities in the value chain analysis model namely inbound logistics, operations, outbound logistics, marketing and sales, and services.
eBay's Inbound Logistics
Inbound logistics include all activities involved in obtaining raw material or inputs. It also includes how the company stores its raw materials. For eBay, inbound logistics include the running of its online platform. Therefore, the company has to purchase servers, other hardware products, and a wide range of technological items to keep its platform online.
Similarly, eBay also has offices around the globe. Inbound logistics in these offices include obtaining office supplies and other items. Due to the scale of its global operations, eBay can benefit from economies of scale. Through this, the company can create value for its customers and gain a competitive advantage. Similarly, having relationships with suppliers is another fundamental part of eBay's inbound logistics.
eBay's Operations
Operations involve converting raw materials into finished goods. For eBay, these include using technology to facilitate buyers and sellers. eBay has three segments in which it operates. First of all, its primary source of operations is its marketplace at eBay.com. The platform has more than a billion listings and 183 million active users.
The second source of operations for eBay is StubHub. It represents an e-commerce ticket purchase and resells platform. StubHub has tickets to games, concerts, and theatre shows. However, both companies have recently parted ways due to StubHub's acquisition by Viagogo.
Lastly, eBay also operates a network of classified platforms. These include classified networks such as Mobile.de, Kijiji, Marktplaats, eBay classifieds, Gumtree, and others. These classifieds offer local listings in over 1500 cities across the globe.
eBay's business operations include a few processes that users must go through. These include:
Sellers register on the eBay website.
Sellers list their products or services on the platform.
Buyers bid for those products.
The buyer with the highest bid or successful bid gets the item.
Buyer pays eBay through the bank or PayPal.
Bank notifies eBay about the purchase.
eBay notifies the seller about the payment.
The seller delivers goods to the buyer.
The buyer notifies eBay of the receipt of goods.
eBay pays the seller through their bank account.
eBay's Outbound Logistics
Outbound logistics include activities after companies convert their raw materials to finished goods. These include storing finished goods and delivering them to customers. Due to eBay's business model, it does not get involved in the delivery process of goods, often. The company monitors the system and ensures sellers deliver goods to customers.
eBay, in its operation, does not have its own shipping and logistics system. Therefore, it uses external logistics services to ship items from sellers to buyers. The company also announced its cooperation with Uber Rush to provide shipping services to sellers and buyers. Most of the outbound logistics function for eBay comes from the use of external services.
eBay's Marketing and Sales
Marketing and sales refer to activities involved in promoting a company's products. eBay spent $2.170 billion on its advertisement and marketing budget in 2021. It was an increase of 4% from the $2.091 billion it spent in 2020. Despite that, the company's revenues grew in 2021. .
Apart from that, eBay also has several promotional offers for customers. The company holds events around major holidays, such as Christmas or Thanksgiving, providing customers with substantial discounts. eBay also utilizes social media and viral marketing to support its online marketplace.
eBay's Service
Service includes all services provided by companies before or after product sales. eBay has a dedicated support channel for both buyers and sellers. Similarly, it has a 24/7 support system, allowing customers and sellers to get help. The company also offers other customer services to buyers to maintain their trust and increase their sales.
eBay also offers buyers a money-back guarantee on damaged items or wrong deliveries. Even if sellers don't accept returns, eBay allows customers to claim their money back from any problems with products. These are services that make eBay a great choice for customers. However, services don't make a competitive advantage for eBay compared to others in the same industry.
eBay's Support Activities
Support activities don't relate to a company's products or services directly. However, that does not imply they are futile. Support activities exist to efficiently run the structure to support a company's primary activities. There are four support activities for all companies, including firm infrastructure, technology development, human resources, and procurement.
eBay's Firm Infrastructure
A firm's infrastructure consists of activities involved in managing and handling a company's activities. eBay has the infrastructure necessary to manage its primary activities. Its accounting, management, research, and development, etc., departments run efficiently. It allows the company to continue running its operations at a high level.
eBay's Technology Development
Technology development involves the use of technology for companies in supporting their primary activities. One of eBay's primary sources of competitive advantage is its technological development. The company has innovated the online marketplace business model. Similarly, its auction-based sales system is an inspiration for many modern-day platforms.
The company has used technology to its advantage to support its activities significantly. eBay also uses the technology behind the scenes, allowing users and sellers to connect. Its business model depends on the use of technology. Similarly, it uses modern facilities to coordinate between sellers and their operations.
eBay's Human Resources
Human resources consist of activities involving a company's employees and their working conditions. eBay has decent working conditions for its employees. For tech-related employment, eBay is one of the best options for workers. The company offers a competitive compensation package to employees with various benefits.
Overall, employees at eBay like the working environment. The company also invests in training employees and developing their skills. eBay also credits its employees in its success. Similarly, the company believes in providing a fun community feeling in the office to encourage employees.
eBay's Procurement
eBay isn't active in procurement activities. The company does not buy or produce its own products or services. Therefore, there isn't much it can do to achieve a competitive edge in procurement. However, the company has had a stroke of great luck in acquiring companies in the past. However, these aren't a part of its procurement activities.
Conclusion
eBay is one of the largest online marketplaces in the US. The company has had a successful past and continues to increase its revenues continually. The company also had significant success with acquisitions in the past. eBay creates great value for its customers, which gives it a competitive advantage. The company's value chain analysis is provided above.