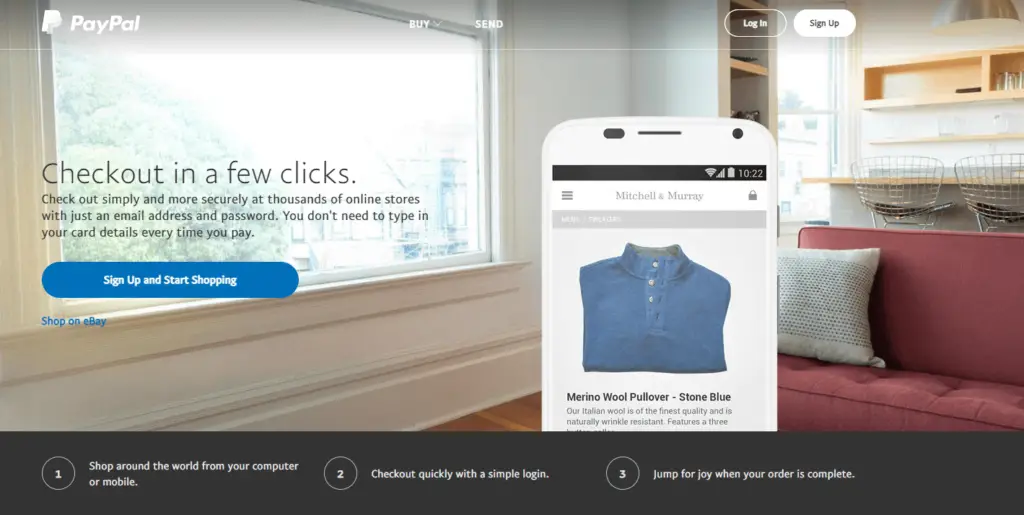 Overview of PayPal
| | |
| --- | --- |
| Name | PayPal Holdings, Inc. |
| Website | paypal.com |
| Founders | Luke Nosek, Max Levchin, Peter Thiel, Ken Howery, Yu Pan, Elon Musk. |
| Headquarters | San Jose, California. |
| Type of corporation | Public. |
| Chief Executive Officer (CEO) | Dan Schulman. |
| Chairman | John Donahoe. |
| Year founded | 1998 |
| Revenues (2021) | $25.371 billion. |
| Key products/services | Payment systems, credit cards, and financial services. |
| Key competitors | Amazon Pay, Braintree, Google Pay, Payoneer, Square, Stripe, WePay |
| Subsidiaries | Braintree, PayPal Credit, Paydiant, Venmo, Xoom Corporation, TIO Networks, and Tradera, etc. |
PayPal is the world's largest online payments and receipts platform. The company started in 1998 under the name Confinity. However, it later merged with X.com to become PayPal. It had its Initial Public Offering in 2002. Later in the same year, the company got acquired by eBay at a valuation of $1.5 billion. However, the company spun off from eBay in 2015.
PayPal is among the top 500 companies in the US. Similarly, the services it provides are unrivaled at an international level. Most online businesses and platforms use PayPal to facilitate their business receipts and payments. The company operates in over 200 countries, except in a few countries. The company also operates several subsidiaries that provide similar or distinct services.
As of the 2nd quarter of 2022, the company reported it had over 429 million active users on its platform. In terms of the number of users and transactions, the company is the world's largest online payment platform. The company facilitated over 5.5 billion payment transactions in the 2nd quarter of 2022, with a total value of $339.8 billion in TPV.
PayPal has also been successful in its business ventures. The company is financially stable with significant performance in the past. The company also operates several other subsidiaries through which it generates a sizeable amount of revenue. The company's profitability and notable performances come due to its business model. Therefore, it is crucial to look at PayPal's business model and how it makes money.
PayPal's Business Model
PayPal's business model was unique when the company first started. However, it has also evolved over time and increased the company's sources of revenues and profits. The company offers several products through which it makes money. Among the sources of its revenues, PayPal has the following products and services.
Transaction-based fees
PayPal's primary source of income is its transaction-based fees. The company allows its users to send and receive money to others through its platform. While most of these fees came from online payments, PayPal has also expanded its platform to allow offline transactions. The company offers virtual terminals to users, allowing them to receive offline payments directly to their PayPal account.
PayPal also has a debit card facility, through which it charges its users. As with its primary services, the company charges its users a fee based on their transactions. The debit card works like any regular payment card. However, users can link their PayPal accounts with a debit card and withdraw money in and out of it.
The company charges a percentage-based transaction fee from users that make transactions. PayPal does not charge its users for transactions within the platform for friends and family. However, for other transactions, the platform charges a standard 2.9% transaction fee and a $0.30 fixed charge. However, there are various factors that can take the percentage higher.
Business users
PayPal has two different types of accounts. One is for individuals, while the other is for business entities. Similarly, there are various sources of income from business accounts for PayPal. These users usually make more transactions, resulting in a higher transaction-based fee. Likewise, some business accounts also generate a $30 subscription fee for the company.
Currency conversion
PayPal allows its users to transact in several currencies. However, the company charges them for converting those currencies. Usually, when users send funds to a different currency account or transaction, the currency gets converted automatically. It also charges other fees such as international payment fees for specific transactions.
Interest income
PayPal accumulates millions in users' balances. The company benefits from these balances and invests them to earn interest income. While users don't get a share of the interest income earned through their balances, PayPal still makes a profit. However, the interest income is negligible compared to the company's other sources of income.
Payflow Payment Gateway
Payflow payment gateway service allows businesses to link their websites to their processing network and merchant account. It provides them with a way to connect their merchant account and their website and provide online checkout features to their customers. PayPal has a free and paid version for this service. The paid service is $25 per month.
How Does PayPal Make Money?
As mentioned, PayPal makes money through all of the above services. However, the transaction-based fees and income exceed any other source of income. PayPal segments its income into transaction revenues and revenues from other value-added services. The transaction based-revenues account for 88%-91% of the company's total revenues.
Transaction revenues
Transaction revenues are the primary source of income for PayPal. The company has experienced increasing revenues from its transactions. These are the fees it charges from users for every transaction through the platform. In 2021, transaction revenues accounted for 92% of the company's total revenues. Similarly, it generated 93% of its total revenues in 2020 from these fees.
PayPal generated revenues of $23.3402 billion in 2021 from transaction revenues. It was an increase of 17% from the $19.918 billion transaction revenues generated in 2020. Similarly, these revenues are the company's most crucial revenues. The other segment does not yield a significant amount of revenue for the company. Therefore, it is heavily reliant on these revenues.
Other value-added services
The second source of income for the company is other value-added services. These are revenues that the company generates from sources other than the primary transaction-based revenues. In 2021, the company generated 8% of its total revenues from these services. In 2020, it accounted for 7% of the company's total revenues.
PayPal generated $1.969 billion from other value-added services in 2021. From the same segment, the company generated $1.536 billion in revenues in 2020. The revenues from these services decreased by 28% between both years.
Summary
Overall, the company was highly profitable in 2021 and 2020. The company generated its highest revenues to date in 2021, which amounted to $25.371 billion. Given below is a summary of the company's revenues from the above two segments for the last few years.
| | | | |
| --- | --- | --- | --- |
| Year | Transaction revenues (in millions USD) | Other value-added services (in millions USD) | Total (in millions USD) |
| 2012 |               5,028 |             634 |            5,662 |
| 2013 |               5,992 |             735 |            6,727 |
| 2014 |               7,107 |             918 |            8,025 |
| 2015 |               8,128 |          1,120 |            9,248 |
| 2016 |               9,585 |          1,257 |          10,842 |
| 2017 |            11,501 |          1,593 |          13,094 |
| 2018 |            13,709 |          1,742 |          15,451 |
| 2019 |            16,099 |          1,673 |          17,772 |
| 2020 | 19,918 | 1,536 | 21,454 |
| 2021 | 23,402 | 1,969 | 25,371 |
Conclusion
PayPal is the world's largest online payment platform. The company facilitates millions of transactions worth billions around the globe. The company is highly profitable and generates significant revenues from its operations. The company's primary source of income is its transaction-based revenues that it charges on each transaction through its platform. However, the company also has various other sources of income.