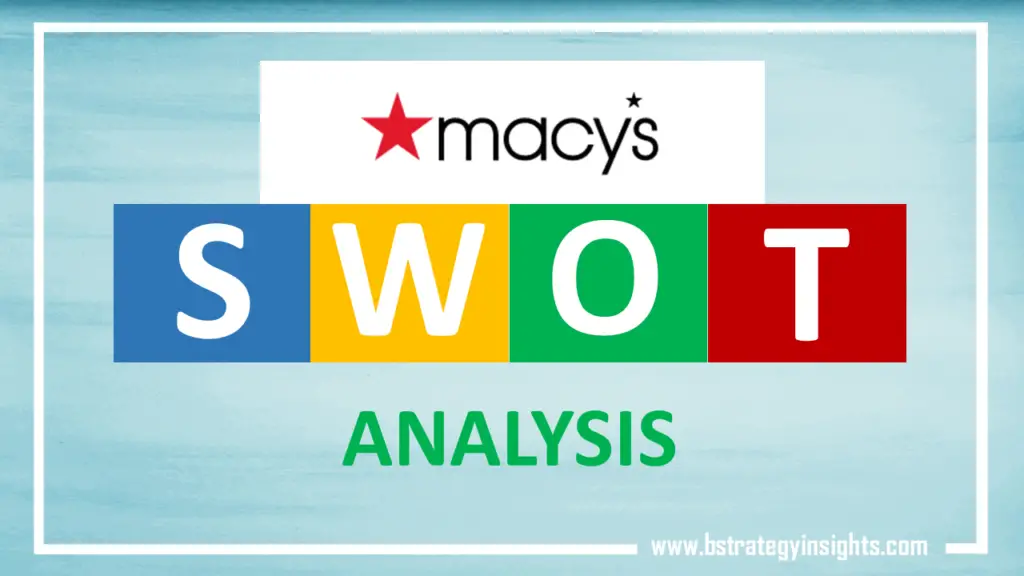 Macy's is an American department store chain that is the leading name in the US market. Founded in 1858 by Rowland Hussy Macy as a dry goods store, Macy served the mill industry employees in Haverhill, Massachusetts. However, the store failed failure in that area. After that, the founder moved to New York, where business flourished during that time.
Macy's started generating money and soon expanded its business in the area. The company went on to open several more departments. The company stayed in the family for several years. However, the Straus brother acquired the company in 1895. The company then moved its base of operations and started expanding its business even further.
During the mid-1900s, the company started its journey toward national expansion. At that point, Macy's only operated in New York. On top of that, the company made several acquisitions, allowing it to expand its operations. Later on, the company started opening stores outside of its base of operations in New York.
Macy's also went through some drastic changes during this period. Due to that, the company suffered and experienced an attempted buyout. In 1992, Macy's filed for bankruptcy and underwent a new management regime. The company later went on to merge with Federated Department Stores. After the merger, Macy's base of operations moved to Ohio. Subsequently, Macy's got acquired by Federated and renamed Macy's. During this period, Macy's continued expanding its operations throughout the US.
Following the Federated acquisition, Macy's began investing in marketing and advertising campaigns. After that, Federated Department Stores also changed its name to Macy's due to increased brand recognition. The company continued its operations and expansion after that period. By 2015, Macy's became the largest department store in the US.
In terms of revenues, Macy's was the world's largest department store chain in 2019. The company generated $25.3 billion in revenues, which was significantly higher than the runner-up Ceconomy, which made $23.9 billion. Another American brand, Kohl's, was third on the list, with $20 billion in revenues during the year.
Macy's recently reported net sales of $17.346 billion in 2020. This figure was a significant drop of $7.214 billion in revenues from 2019. Similarly, it translates to a decrease of 29.37% from the $24.560 billion in revenues generated in 2019. This revenue was also a drop of $411 million ($0.411 billion) from the $24.971 billion revenues generated in 2018.
The 2020 revenues represent one of the worst performances from Macy's in more than a decade. However, Macy's main competitor, Kohl's, suffered a similar issue. Kohl's revenues dropped both in 2019 and 2020. In 2020, Kohl's net sales declined by $3.854 billion, which decreased by 20.41%. This effect is primarily attributable to the ongoing pandemic.
Macy's – At a Glance
Given below is a summary of Macy's company profile.
Macy's SWOT Analysis
SWOT analysis provides insight into a company's strengths, weaknesses, opportunities, and threats. All of these are factors that can impact a company's operations and profitability. Macy's SWOT analysis is as below.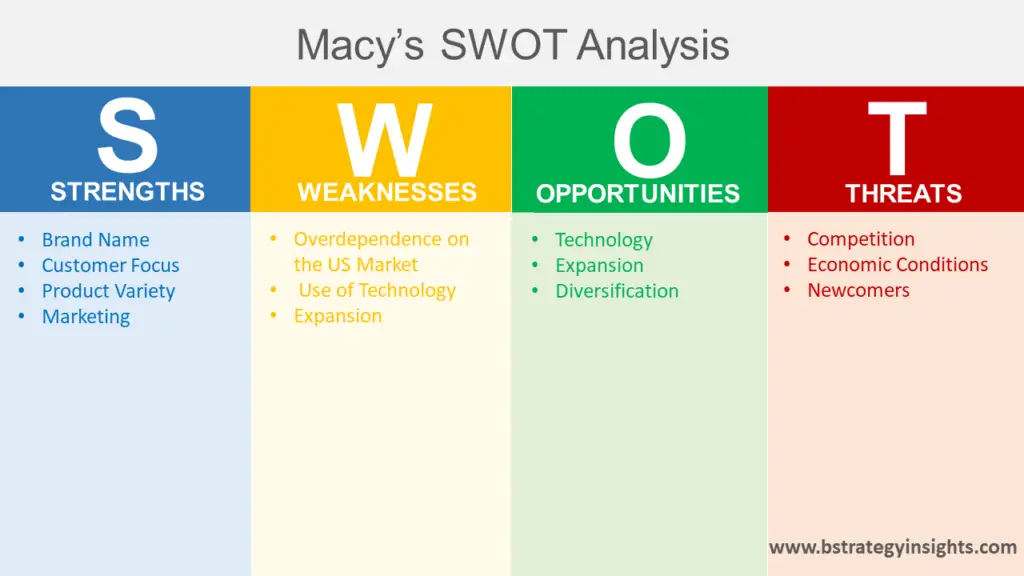 Macy's Strengths
In SWOT analysis, 'strengths' refer to things that a company does right but its competitors don't. Furthermore, it represents factors that are internal to a company and can contribute to its competitive advantage. For Macy's, some of the top strengths include the following items.
Brand Name
Macy's quality and customer service have allowed the company to develop a good reputation for itself. This reputation comes in the form of a household brand name. Macy's brand name is one of the most significant factors in its current success. The company is the leading name in the department store market, both in the US and worldwide.
Customer Focus
Macy's operations have always focused on providing customers with the best quality products. The company has not only developed a loyal customer base but also increased its profits significantly. Similarly, Macy's excellent customer relationship has allowed it to attract even more customers. Macy's is a name recognized internationally for its great customer relationship management.
Product Variety
In the market where Macy's operates, having variety is crucial. Due to the ever-changing fashion, it is critical for Macy's to update its products and provide various options to customers. Macy's has thousands of products, ranging from accessories to home furnishing, cosmetics, etc. The company tailors its products according to customer's needs, which adds to its strengths even more.
Marketing
Macy's marketing game has been on point in the past. The company often dishes out over a billion-dollar on advertisement expenses each year. Although that number fell to $0.82 billion in 2020, it is still a significant investment in marketing strategies. The company's marketing is one of its primary strengths.
Macy's Weaknesses
Weaknesses represent internal factors that a company does wrong, but its competitors do right. These factors affect a company's operations adversely and can force a company to lose its competitive advantage. For Macy's, some of the weaknesses are as below.
Overdependence on the US Market
Despite having operations outside the US, Macy's has not succeeded in decreasing its dependence on the US market. It means that if there is a problem in this market, Macy's revenues will significantly deter, and there will be no alternative income source. This weakness is also apparent in how much business closure in the US during the pandemic has affected Macy's revenues.
 Use of Technology
Although Macy's has laid the groundwork for introducing innovations into its business model, it still lags behind the competition. The company has not made proper use of the latest technological developments to its advantage. The company has the resources to invest in a technology system but has refrained from doing so.
Expansion
Using its resources, Macy's can expand its business to various international markets. However, the company has not used these resources properly. Currently, Macy's only has two business operation lines. Despite its financial prowess, Macy's has not used its market dominance to penetrate new markets. It has, therefore, been the company's weakness.
Macy's Opportunities
Opportunities represent external factors that a company can turn into a strength in the future. These factors depend on some conditions. However, these can be beneficial for a market. For Macy's, the primary opportunities include the following.
Technology
Macy's has had some success in the use of technology, especially for online businesses. However, the company has the opportunity to capitalize further on this success. Using current technological innovations and developments, Macy's can expand its operations even further. It can also increase the company's profits in the future and help build an online presence.
Expansion
Macy's currently ships to over 200 countries. However, its base of operations remains in the US. By using an international expansion strategy, Macy's can significantly increase its customer base. Not only can international expansion help increase profits, but it can also lead to lower costs. While there is some local competition in local markets, Macy's has the resources to handle it.
Diversification
Currently, Macy's operates in a limited scope in the market. However, the company can expand its business by investing in diversified operations. This diversification strategy can stay within the same market. However, Macy's can benefit from offering a distinguished line of products to customers. Macy's can also go beyond its current industry and invest in other areas for even more diversification.
Macy's Threats
Threats include external factors that can adversely affect a company's operations in the future. These factors can cause all market participants to suffer. For companies, it is crucial to identify and protect against such external factors. For Macy's, some of the top threats include the following.
Competition
The department store market is not increasing significantly. However, there are many competitors in the market. Although Macy's is on top, there is still a threat that the company faces from the competition. More competition can overthrow Macy's from its top ranking and decrease the company's market share. It can then lead to a decrease in revenues and profits.
Economic Conditions
Due to the overreliance on the US market, Macy's is exposed to several threats. The economic conditions in the US are fragile, given the ongoing pandemic. It has significantly decreased Macy's revenues and has the potential to cause even more damage. The economic conditions worsening in the future pose a significant threat to Macy's business.
Newcomers
The department store market has high barriers to entry. However, there is some interest from large retail chains in entering the market. Therefore, Macy's faces a threat from these newcomers. This competition can increase the competition and decrease profitability. Some of these entrants also introduce new innovations, which is already Macy's weakness.
Conclusion
Macy's is the largest department store company in the US. In terms of revenues, it is also the most prominent company in the world. Macy's business started in 1858. Since then, the company has gone through many ups and downs. Today, however, it is one of the top names in the market. A detailed SWOT analysis of Macy's is provided above.