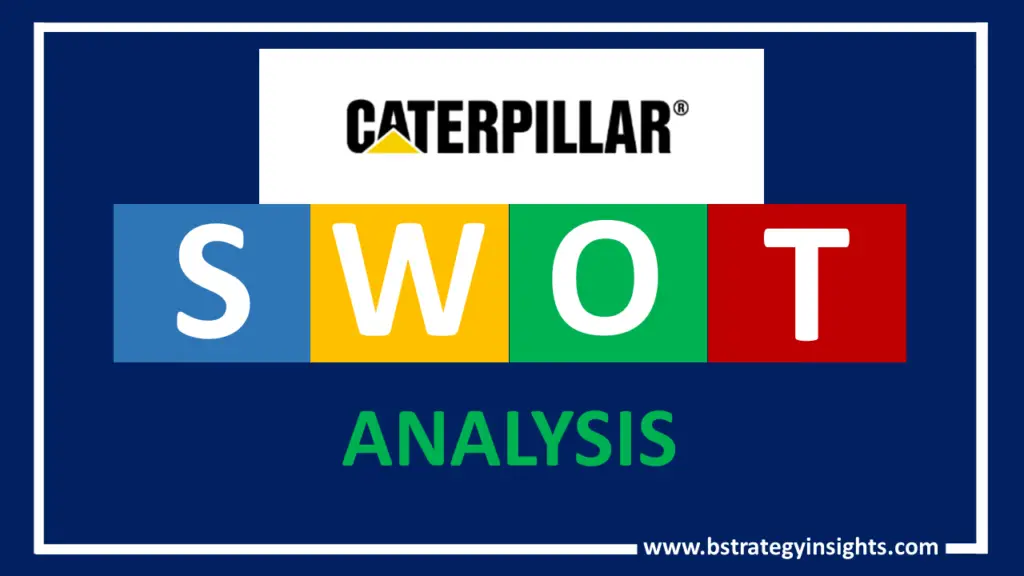 Caterpillar is now a household name; it is the world's largest manufacturer of construction and mining, natural gas and diesel engines, diesel-electric equipment, and industrial gas turbines. The brand is an American Fortune 500 company. The company was able to generate $51 billion in revenues in 2021 and has produced more than 21 million engines in its lifetime. It deals in the manufacturing of heavy equipment, engines, and financial services for acquisitions of its products. Caterpillar stock is one of the components in the Dow Jones Industrial Average, a component in S & P 100 and in S & P 500. This article takes a look at Caterpillar's SWOT analysis.
Caterpillar – At a Glance
| | |
| --- | --- |
| Name | Caterpillar |
| Website | https://www.caterpillar.com/ |
| Founders |  C.L. Best |
| Chief Executive Officer (C.E.O.) |  Jim Umpleby |
| Headquarters |  Irving, Texas, U.S |
| Year Founded |  April 15, 1925 |
| Type of company |  Public |
| Revenues (FY 2021) |   US$48.19 billion (2021) |
| Key Products/Services |  Heavy equipment, Engines, Financial services |
| Key Competitors |  Volvo, Komatsu Deere & Co, and Hitachi |
Caterpillar's Strengths
Large product and services portfolio
Caterpillar has heavily invested in the manufacture of mining and construction machines. The brand has manufactured over 300 types of machines. This large number of products ensures that the brand is able to exhaustively cover all its customer's needs; there is no room for a customer to look for a manufacturing machine from the brand's competitor. Additionally, the brand has ensured that its customers get financial help when in need of acquiring their products. This has gone a long way in building a seamless customer experience during the process of product acquisition.
Strong Brand Recognition
Caterpillar is widely known globally, even by those who have no need to purchase manufacturing equipment. The brand has received global recognition for more than 20 years for being among the top 100 most valued brands in the globe. In 2019, the brand was named by Inter-brand as the best global brand. It was given Supplier Excellence Recognition for the year ending May 2022. For more than 90 years now, the brand has heavily invested in its heritage and built a formidable force in the technological world. Strong brand recognition and brand image are critical strengths for the brand and translate to greater network effects, more purchases, and more revenues for the brand.
Global presence
Globalization has become a front for massive growth for businesses. Caterpillar's more than 500 locations globally and an additional 125 manufacturing plants globally are one of its greatest strengths. The brand has heavily invested in a massive, reliable, and efficient distribution network that includes independent dealers who sell Caterpillar products globally. This distribution network ensures the right products reach the right customers at the right time. The global reach helps the brand have a competitive advantage over its competitors who don't have such a network. The effectiveness and efficiency of the network ensure more trust from customers and fewer operational costs for the brand.
Acquisitions
One of the brand's strengths that have informed the brand's growth is acquisitions. This speaks of the brand's ability to identify good prospects in businesses before acquiring them. Through acquisitions, the brand has increased its market share and industry expertise, it has grown its customer base, and as well as increased its sales and revenues.
Product Research and Development and Innovation
Research and Development is the backbone of Caterpillar's innovative products; in 2021 alone, the brand spent $17 Billion in research and development. This huge investment ensures the brand is able to maintain a competitive edge with regard to keeping pace with top trends in the market.  It is through Research and Development that the brand is able to tap into insights from the ever-evolving needs and wants of its customers to create products that perfectly match these needs. Research Development and innovation have ensured the creation of equipment that goes to improve productivity, reduces carbon emissions, increases efficiency, and reduces costs.
Great heritage
Caterpillar has been in the market for the longest. It, therefore, has a huge wealth of experience and insights to give it an upper hand in the market for personalized services. In addition to its wealth of experience, it has invested in more than 1.2 million connections of dealer and telematics data that make up its datasets. Using advanced analytical techniques such as machine learning, the brand is able to generate insights for its innovation.
Caterpillar's Weaknesses
Heavy dependence on the US market
While Caterpillar is a global brand, its major investments and revenues are from the North American market. For instance, in 2021, 43% of the brand's sales and revenues were from the Canadian and the US market. This dependence on one market exposes the brand to the risk of a 'single point of failure' in the event the US markets are adversely affected. Additionally, the US market could be facing prospects of maturing. If the brand diversifies its investments and operations, then it is safer from the possibility of failure if one market is hit adversely. The brand needs to work on increasing investments and sales in other regions, particularly those with emerging markets.
High labor turnover rates
The company has had a high attrition rate. This translates to increased costs of hiring, training, and developing its staff to ensure quality standards are not tampered with.
Caterpillar's Opportunities
Expansion outside the US market
There is huge potential for increased investment outside of the US market. While the US market could be maturing, there are other emerging markets with greater potential for growth. Caterpillar should identify such markets and channel their investments to those markets so as to reap fully from the growth curve of such markets.
Technological investments
Technological innovations are providing brands with great leverage for growth and evolution for greater longevity in the market. Caterpillar has demonstrated interest and commitment to acquiring newer technologies.
Caterpillar's Threats
Stiff competition
Caterpillar faces stiff competition from other brands in the heavy equipment industry. Its direct competitors include Volvo, Komatsu Deere & Co, and Hitachi, among others. Caterpillar is the largest heavy equipment manufacturer in the globe. But if it would keep its status or improve on its status, then the brand needs to keep innovating personalized solutions for the market to ensure they remain relevant in the market.
Hard economic times
The world over has been hit by economic slowdowns. This has been a result of the pandemic that saw restrictions in business operations and the recent high fuel prices. These hard economic times have increased costs of manufacturing and operations that have reduced profitability for the company. Further, the hard economic times have caused a drop in revenues. This double effect on the brand has been a source of the brand's economic distress. The brand is continuously strengthening itself to remain afloat.
Conclusion
Caterpillar remains a strong brand with a huge heritage. It has a huge presence in the market with great innovation. With such strengths, the brand should continuously research, innovate and market its products to ensure more leverage against its competitors. More expansion into emerging markets would diversify any risks that are specific to the US and Canadian markets.