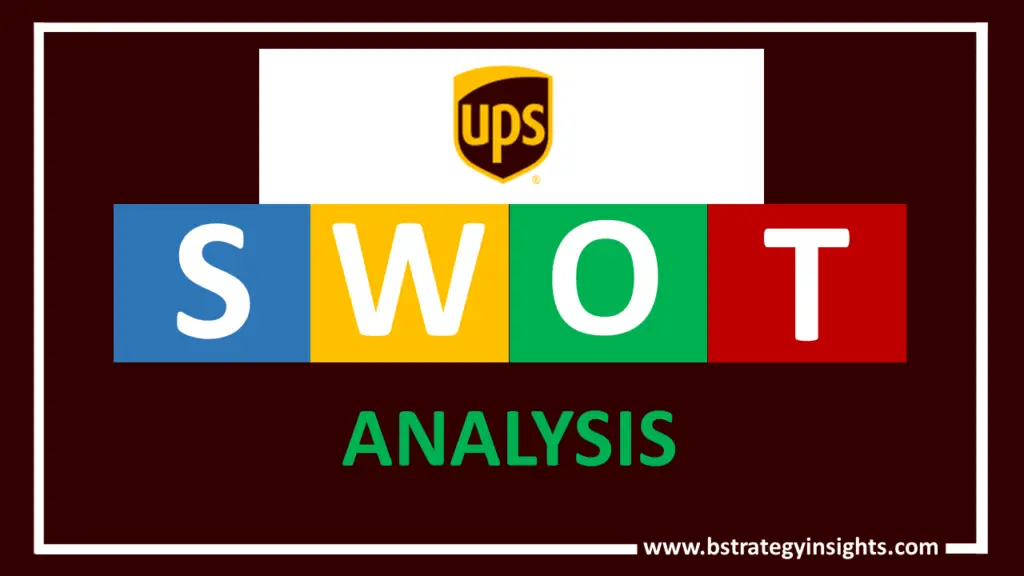 United Parcel Service is a fortune 500 American Shipping & Receiving and Supply Chain management company. It is one of the largest shipping companies on the globe, shipping and tracking deliveries both within the US and the world at large. This study takes a look at UPS's strengths, weaknesses, opportunities, and threats. 
UPS – At a Glance
| | |
| --- | --- |
| Name | Ups |
| Website | https://www.ups.com/ke/en/Home.page  |
| Founders |  James E. Casey |
| Chief Executive Officer (C.E.O.) |  Carol B. Tomé |
| Headquarters |  Atlanta, Georgia   |
| Year Founded |  August 28, 1907 |
| Type of company |  Transport and Logistics |
| Revenues (FY 2022) |  $101.076B |
| Key Products/Services |   Courier & Transportation Services |
| Key Competitors |  FedEx, DHL, Amazon, YRC, Old Dominion   |
UPS's Strengths
Global presence
UPS has expanded its Worldwide Express and Express Plus services to over 40 countries. The brand is now able to offer definite-time deliveries of customer shipments to over 140 countries and regions all over the globe. In addition, the brand is able to send small parcel delivery services to more than 220 countries under their international package. In 2021, the brand was able to generate more than 24% of its profits from outside of the US.
Online Tracking
UPS has one of the most modern tracking systems. The brand is able to track more than 295 million deliveries every day. This tracking ability ensures greater customer satisfaction, trust, and reliability on the part of the brand; all the above are critical for boosting customer loyalty to the brand.
SMART technology network
UPS's Southeast Metro Automated Routing Terminal (SMART) logistics network facility is based in Atlanta and is a key backbone to the brand's efficiency in the delivery of its services. This SMART technology is worth more than $20 billion and ensures seamless integration of collection and distribution systems and equipment in the brand's entire network. In addition to SMART technology, the brand makes use of handheld devices, customer signatures, scanning packages, and automation like reroute technologies and GPS navigation to ensure customers experience fast, timely and consistent deliveries.
To complement this huge investment, the brand has invested in more than 5200 tech employees to ensure the maximization of its technological investment. Further, the brand allocates a yearly budget of more than $ 1 billion towards technological advancements.
Top-notch customer satisfaction rating
In 2011, UPS ranked first position in its industry for excellent customer satisfaction in a survey that was done by the University of Michigan. It scored 85% for an index that measures quality, value, and customer intention to re-purchase and is well able to meet customers' expectations. The brand has, over the years, continuously kept its customer satisfaction levels abreast. In 2022, UPS was ranked position 1 in its industry by Morning Consult's survey of the most trusted brands in the US.
Competitive prices
Even with such huge investments in technology, UPS is keen on giving its customers great competitive prices. The industry is ripe with the stiff competition; UPS's pricing strategy ensures a competitive edge over its competitors.
UPS's Weaknesses
Heavy reliance on the US market
UPS has a huge percentage of its investment in the US. This translates to having a huge percentage of its revenues coming from the US market. For instance, in 2021, 24% of its revenues were from outside of the US; the remaining 76% came from the US. There is a potential risk in this arrangement. In the event of an adverse occurrence in the US market, the brand would be negatively affected, putting at risk the going concern of the brand. But if the brand would diversify its operations to ensure less dependence on one market, then in the event of adversity in one market, the other markets would cushion the brand against possible collapse.
Fluctuation of transportation charges
UPS's delivery prices are heavily influenced by costs associated with transportation, such as fuel costs. Whenever fuel costs rise as they are, UPS's costs of operations go up, threatening the brand's profit margins. While the brand has the opportunity to pass on the burden to its customers, it has to find a balance between being less competitive with its prices and therefore losing its customers to their competition or remaining competitive and reduce on their profit margins. It is advisable that the brand invests in efficient systems that will reduce all other costs so as to give the brand more leverage with pricing.
UPS's  Opportunities
Technology advancements
Technology provides massive leverage for growth and expansion. UPS is cognizant of this truth and has huge investments in technology. Recently, the brand has been keen on investments in drone technology to improve its operational efficiencies. The brand, for instance, was able to use drones to deliver medical supplies to a hospital. The technology has the potential to drastically reduce the brand's transportation costs. It would further decrease the brand's costs of hiring employees.
Partnerships and acquisitions
The brand has a huge opportunity for growth through strategic partnerships and acquisitions of business assets and economically viable businesses. This would particularly help the brand expand into areas where it has no footprint. A business that already has successful operations in such a market would be a great candidate, particularly so if the business lacks funds to scale up. The partnership or acquisition would ensure a win-win situation for both businesses.
Expansion into emerging markets
UPS has had a major share of its operations in the US. This limits the number of revenues that UPS could generate from outside the US. Investment into emerging markets would ensure the brand grows with the market and reaps fully from the market growth curve. Such earnings would elongate the brand's life in the marketplace.
E-commerce segment
The e-commerce market is growing at a rapid rate. This sector heavily relies on delivery services to deliver the purchased products to their customers. UPS could consider strengthening its offer for this segment so as to take advantage of this growth.
UPS's Threats
Competition
The brand faces stiff competition from players in the industry like DHL, Amazon, FedEx, Old Dominion, and YRC, among others. With every growth of these competitors, UPS's market share is threatened. The brand has to keep growing to ensure it retains its market share.
Over-reliance on one customer and market
By the year 2019, Amazon represented more than 11% of UPS's revenues. In the event Amazon decides to pull out, UPS is likely to suffer a huge sales backlash and may adversely affect the going concern of the brand. There is a need for the brand to continuously look for more business clients to ensure none is significantly dominant to the extent that they could cripple the brand's operations.
Pandemics
The recent pandemic caught many businesses off guard; many ended up winding up their businesses, with others, such as UPS, experiencing low revenues. There is a need for the brand to find innovative ways of preparing for such eventualities so that in the event they happen, the brand is better placed to survive through such hardships.
Conclusion
UPS has outdone itself in the delivery industry. It has huge strengths that give it great competitive leverage against its competitors. In the face of stiff competition in the industry, the brand has no room for relaxation; there is a need for more innovation to provide better delivery solutions to the market. Additionally, there is a need for more marketing to source more clients and reduce heavy dependence on a few customers.