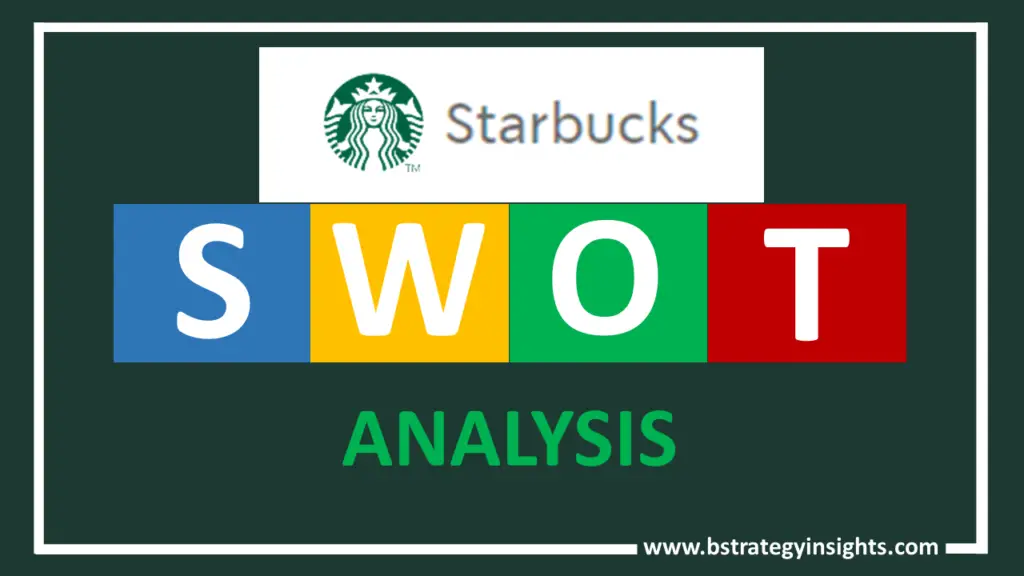 Starbucks is the world's largest American coffee house chain, with 17133 stores that are operated by the company and an additional 16700 licensed stores. The company was founded in 1971 in Washington, Seattle.
In this article, we will conduct a SWOT analysis for Starbucks. A SWOT (Strengths, Weaknesses, Opportunities, and Threats) analysis is a tool that can be used to evaluate the internal and external factors that can impact a business. By identifying and understanding these factors, a business can better position itself for success.
Starbucks – At a Glance
| | |
| --- | --- |
| Name | Starbucks |
| Website | https://www.starbucks.com/ |
| Founders |  Gerald Baldwin, Gordon Bowker, Zev Siegl |
| Chief Executive Officer (C.E.O.) | Kevin Johnson |
| Headquarters | Seattle, USA |
| Year Founded | 1971 |
| Type of company | Public |
| Revenues (FY 2021) | $29.06 Billion |
| Key Products/Services | Gifts, Mugs and accessories, Packaged goods, Non-food items, Fresh Food, Handcrafted Beverages, Coffee |
| Key Competitors | Panera Bread, Costa, Tim Hortons, Café Coffee Day, Dunkin Donuts, McDonald's McCafe, Costa Coffee |
Starbucks's Strengths
Strong brand recognition and image
The company has a strong global presence, with more than 30,000 stores in over 80 countries. The brand is ranked 1st in Net Promoter Score Comparably versus its competitors. Its iconic green mermaid logo is instantly recognizable, and the company is known for its high-quality coffee, strong customer satisfaction, high product quality, and excellent work culture; these have helped the company build a loyal customer base and establish itself as a leader in the coffee industry.
The brand is the strongest and most popular in the food and beverage industry. The brand is valued at more than $13.01 Billion as of 2021.
Diverse product offering
In addition to coffee, Starbucks offers a wide range of food and beverage items, including pastries, sandwiches, and teas. This diversification allows the company to appeal to a wider customer base and increase sales.
Large and growing global presence:
Starbucks operates in more than 80 countries and has over 35,700 stores worldwide. The company has a strong international presence and continues to expand its operations. In the past decade, the brand has experienced year-over-year growth in its stores globally. The brand's largest markets are the US and China. Other major markets include Japan, the UK, and Canada.
Strong customer loyalty
Starbucks' loyalty reward program is one of its key strengths. The brand's interim CEO, Howard Schultz, delved that the loyalty program drove a 53% increase in operating revenues. In the third quarter of 2022 alone, the loyalty program's membership rose by 13% to reach 27.4 million active customers. This huge customer base enables the brand to reap network effects for easy marketing and brand expansion. 
Strong environmental policies
In this era where the whole world is keen on environmentally friendly policies, Starbucks has embraced green initiatives in its operations. It has a 25.0 ESG risk rating which is interpreted as posing a medium risk to the environment. It is ranked first in its industry with the lowest risk. Some of its practices include; recycling, reusable cups, a ban on plastic straws, farmer equity practices, cage-free eggs, and food bank donations, among others.
Starbucks's Weaknesses
Dependence on coffee prices
Starbucks' profitability is largely dependent on the price of coffee, which can fluctuate significantly due to factors such as weather, political instability, and economic conditions.
High prices
Starbucks is known for its premium prices. While these guarantee high-profit margins, in the end, the brand's opportunity costs run high with such a price model. Starbucks could consider a slight adjustment to its pricing model to fit in emerging markets.
Imitable products
The brand has differentiated itself from the competition as a brand that offers high-quality coffee for premium prices. It is, however, been noted that it is easy to imitate some of the brand's high-quality products. If the competition achieves high levels of imitation and offers to the market at comparatively lower prices, then Starbucks could lose its market share to the competition.
Limited menu options for certain dietary restrictions
While Starbucks does offer some options for customers with dietary restrictions, such as vegan and gluten-free options, the selection may be limited compared to other food and beverage establishments.
Starbucks's Opportunities
Growing demand for specialty coffee
The demand for specialty coffee, such as single-origin and fair trade, is on the rise. Starbucks has the opportunity to capitalize on this trend by offering a wider range of specialty coffee options.
Expansion into new markets
Starbucks has the opportunity to expand into markets where it currently has a limited presence, such as emerging markets in Asia and Africa. Starbucks is more potential for faster growth in emerging markets like Mexico, India, and Africa, among others. These markets offer the brand the prospects of low-cost of operations, and at the same time, these markets have higher growth rates from which the brand would reap more revenues and more life cycles.
Increased focus on sustainability
Consumers are increasingly concerned about the environmental and social impacts of the products and services they purchase. Starbucks has the opportunity to increasingly differentiate itself from competitors by prioritizing sustainability in its operations and supply chain.
Competitive pricing
Starbucks operates on a premium pricing model for its high-quality coffee products. This premium pricing strategy however limits the brand from growth and expansion in areas that cannot afford the premium prices; these include emerging markets. With slight changes in its pricing model, the brand could experience faster growth in its customer base with increased revenues from multiple markets.
Starbucks's Threats
Intense competition
Starbucks faces intense competition from both large multinational chains and local specialty coffee shops. The brand's competitors include McDonald's, Whitbread, Dunkin', Costa Coffee, Dunkin Donuts, Tim Horton's, Peet's Coffee, Lavazza, Yum China, and Costa McCafé, among others.
Changing consumer preferences
Consumer preferences and tastes can change quickly, and if Starbucks does not keep up with these changes, it could lose market share. It is important for Starbucks to keep on researching the changing customer tastes and preferences and develop innovative solutions that will appeal to customers' tastes and preferences.
Increase in cost of raw materials and operations
There has been a marked increase in the costs of raw materials and business operations over the years for Starbucks. The brand's 2021 financial reports indicate that store operating expense is the largest and accounted for 41.1% of the brand's total revenues. Its product and distribution cot
Economic downturns
Economic downturns can impact consumer spending and reduce demand for non-essential items such as specialty coffee.
Conclusion
Starbucks is a strong and well-known brand with a diverse product offering and a large global presence. However, the company faces a number of challenges, including reliance on coffee prices, high costs associated with expansion, and intense competition.
To continue its success, Starbucks should focus on opportunities such as expanding into new markets, increasing its focus on sustainability, and offering a wider range of specialty coffee options. It should also be aware of threats such as changing consumer preferences and economic downturns and be proactive in addressing these challenges.