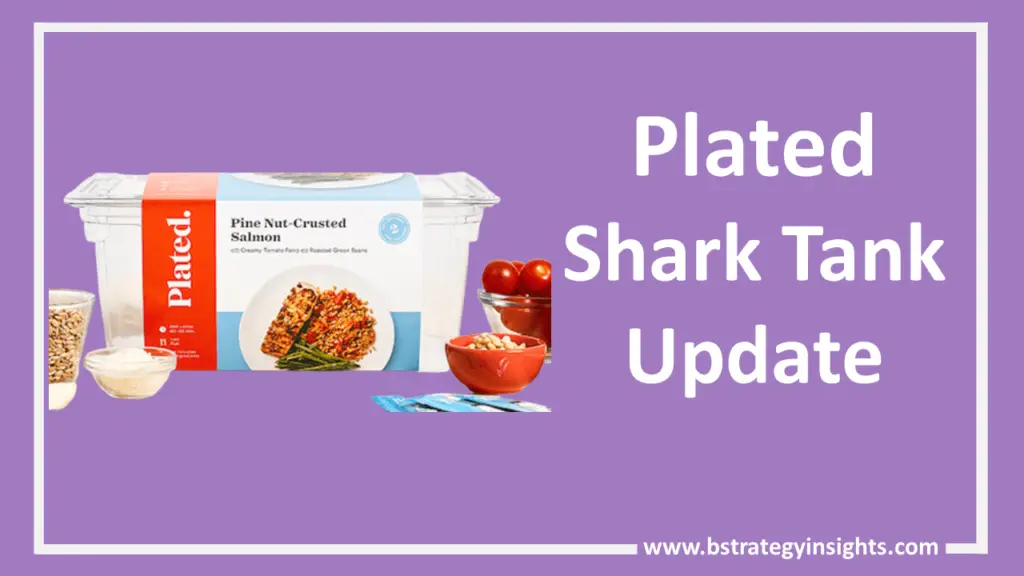 Do you like eating health meals at home? Eating healthy is an objective of every person. But this comes with tedious task of queue on the groceries and shopping for various ingredients plus searching for recipes. This challenge was the same thing two Harvard Business School graduates, Nick Taranto and Josh Hix, endured. The challenge inspired them to come up with a solution.
The duo develop a concept that will help people prepare a healthy and favorite meals at their home without the shopping hustles. They launched a company dubbed Plated. After two years in operation, Nick and Josh featured on the Shark Tank Season 5 Episode 22. The two were seeking $500,000 in exchange of a 4% stake in Plated.
Did they leave with a deal? What happened to Plated after Shark Tank? Here are the Plated updates in 2022:
Plated Overview in Shark Tank 
| | |
| --- | --- |
| Company Name | Plated: Meal Kit Subscription Service |
| Episode           | Season 5 Episode 22 |
| Product Offering         | Food delivery service that delivers healthy meals |
| Founded | 2012 |
| Founder  | Josh Hix and Nick Taranto |
| Required Investment | $500,000 For 4% stake  in Plated |
| Closing Deal | $500,000 For 5.6% + Advisory Shares |
| Shark   | Mark Cuban, Kevin O'Leary (After) |
| Current Business Status | Acquired |
What is Plated?
Plated is a gourmet food delivery services company. The brand offers meal kit subscription that enable customers prepare their own healthy meal. Customers can order ingredients for cooking their favorite dishes and the company will ship them in form of a kit.
The meal kit features the needed ingredients and recipe for preparing the said meal. The object of the company is to ensure that their customers can cook healthy meals easily at their home without any shopping hassles.
How Does Plated Work?
Plated uses a distinct subscription-based business model that allow customers to order their desired food ingredients and recipes. Upon receiving the order, they package the ingredients and subsequent recipes on customized boxes before shipping them to the customers' doorsteps. The ingredients consist of local fresh produces plus chef level recipes.
Who Founded Plated?
Plated is a brain child of Nick Taranto and Josh Hix. The two are Harvard Business School graduates. Before founding Plated, Nick worked for Goldman Sachs. He resigned after seven months citing that job was not satisfactory. Josh was an engineer and a founder of various enterprises.
 Due to their career, the two struggled to enjoy a healthy meal. They noticed that this problem was universal. The duo observed that many people love eating healthy meal but they had no time to shop at the groceries. Getting the same from restaurants was expensive too. As a result, many opted to warming food using microwave. This act made the food distasteful.
Nick and Josh decided to help people by getting them recipes from well-known chefs. The idea to ensure people made their desired meals at their home. They brainstormed for 5 months before deciding to implement the concept.  Plated – a meal kit subscription food delivery services was born.    
Plated Business Before Shark Tank
Upon inventing the Plated idea, Nick and Josh went on to register a domain name of their brand. They stated offering simple to follow recipes from renowned chefs. The duo utilized their business knowledge and experience to create market their brand. Social media became their best tool to realizing this goal.
Their marketing efforts paid. Within few months, Plated had become a household name and demand for their services started to grow. The company growth forced the company to open warehouses to meet the surging demand. Also, their model started to attract investors and gain high valuation. The company seemed to have huge potential.
As the demand went high, need for further expansion was not inevitable. This aspect called for more capital investment. As such, they applied for a pitch on Shark Tank to try their luck in finding a potential investor.    
Plated During Shark Tank Pitch
Nick and Josh featured on the 22nd episode of the Shark Tank 5th Season. They were seeking $500,000 for 4% stake in Plated.
The duo opened their pitch with an explanation of healthy eating. They noted that eating decent meals is costly, time consuming and a challenge for many people. They went ahead to explain how Plated is solving this problem by delivering the right ingredients and recipes to customers to help them prepare a healthy dish at their home.
Lori expressed doubts arguing that one can consider a hiring someone to do the grocery shopping and deliver it to their doorsteps. The duo answered her by stating that was a possibility but the customer would require tine to search for a recipe and determine what to eat. This would mean more time to get a nice dish on the table.
Sharks inquired about the cost of each plate. Nick responded by saying that each plate costs $10 but the customer need to place a minimum order of $40. Robert wanted to know their profit margins noting that groceries had low margins. The Plated stated that the reason why this is the case for groceries is due to overhead and spoilage. They noted that their business will not experience such issues and the wastage is less than 1%.
With the answer, Robert inquired on the business expansion plans. Josh stated that they are going to open warehouses across the US. He noted that they already have two warehouses in operation at the moment. Further, they informed the panel that Plated is experiencing a rapid growth as the brand become a household name in the US. They stated that thieve valuation had a post-money valuation of $9,500,000 and raised $3,000,000.
The sharks show the potential but each had a different opinion. Robert said that the idea was good but did not think people will order something they will have to cook themselves. He did not see it as a worth investment venture and was out.
Lori shared Robert's opinion and stated that this service is not for people who cook. Barbara and Mark responded to her noting that it is targeting people who wat to eat healthy not ones who already cook. Regardless of the explanation, Lori saw no investment opportunity and was out too.
Kevin stepped in and stated that he could take up the entire business for $2,000,000. Nick and Josh argued that they would beat him. Despite the negotiation, he was out too.
Barbara was the next on the offer seat. She wanted to know who their main competitor is. Nick responded by mentioning take-out. Barbara said that Take-out had a competitive advantage since they offered instant deliveries while as Plated customers had to wait. So, she was out. 
Mark was now the remaining Shark. He expressed his desire to invest but wanted to know how the duo are planning to grow the business. Josh said that they are using a subscription service option which is becoming larger. He noted that the approach ensures customers keep using the product. For this reason, they will not require a huge base to grow their brand to a giant one.
Impressed with their explanation, Mark offered Plated $500,000 for a 5.6% stake but also wanted to get advisory shares.     
Plated Closing Deal in Shark Tank 
Nick and Josh sort some time to discuss the offer. After a brief engagement, they settled on accepting the offer and sealed the deal.
Plated After Shark Tank 
After Shark Tank, Plated experienced rapid growth in valuation. The proprietors thought of reconsidering Mark's offer and requested for more funds. Mark opposed their idea and their deal fell through. However, the company expanded and opened new warehouses in various locations across the United States. 
Despite these growth, the needed extra fund to keep afloat. They were searching for an investor when Nick met Kevin on an event. He informed him about their deal with Mark and displayed their current growth after Shark tank.  The report amazed Kevin and was ready to invest. The deal between Plated and Kevin was not disclosed.
Plated continued to expand and gained popularity attracting over 200,000 follower on Facebook they were also making $100 million in sales. This happened after moving to Chicago which became their operation center.
Current Update: Is Plated Still In Business?
After successful operation, Albertsons acquired it for $300,000 in 2017. The company operated as a brand under this store. However, Plated was shut down in 2019 as Albertsons wanted to align it with other department by terminating the subscription services.

FAQs
How much does the product cost?
Plated sold one plate of ingredients plus recipe card at $10 – $14.
How does Plated help you?
Plated solved the issue of eating healthy food by offering ingredients and recipes from well-known chefs. This aspect helped people make their dishes at home without the shopping hassles.  
Did Plated become Hello Fresh?
Plated did not become Hello Fresh. Albertsons only paid $300 million for Plated at $1 per share to acquire the meal kit subscription. This amount as far below the Hello Fresh shares which goes for $4 per share.
Why did Plated Shut down?
As per the management, the Albertsons who acquired Plated in 2017 terminated the subscription services in 2019. The brand wanted to refocus on offering distinctive in-store experience to its customers.
What is the net worth of Plated?
As at 2017, Plated net worth was $300 million.
What are Nick's net worth and John's net worth?
Nick is worth $110 million while Josh net worth is $100 million.
What percentage of Plated did Kevin O'Leary own?
The deal between Plated and Kevin was not disclosed. So, his share o the company is unknown.
What percentage of Plated was Mark Cuban holding?
Mark had a deal of $500,000 for 5.6% stake and advisory shares. However, the deal did not close.
Did Mark Cuban make money on Plated?
Their deal fell. Mark did not make any money on Plated.
What was the company's first round of funding?
The Plated's first round of funding was $1.4 million. They led these seed capital from ff Ventures which is a funding company angel investors such as Andrew McCollom, Paige Craig, and Alain Bankier.