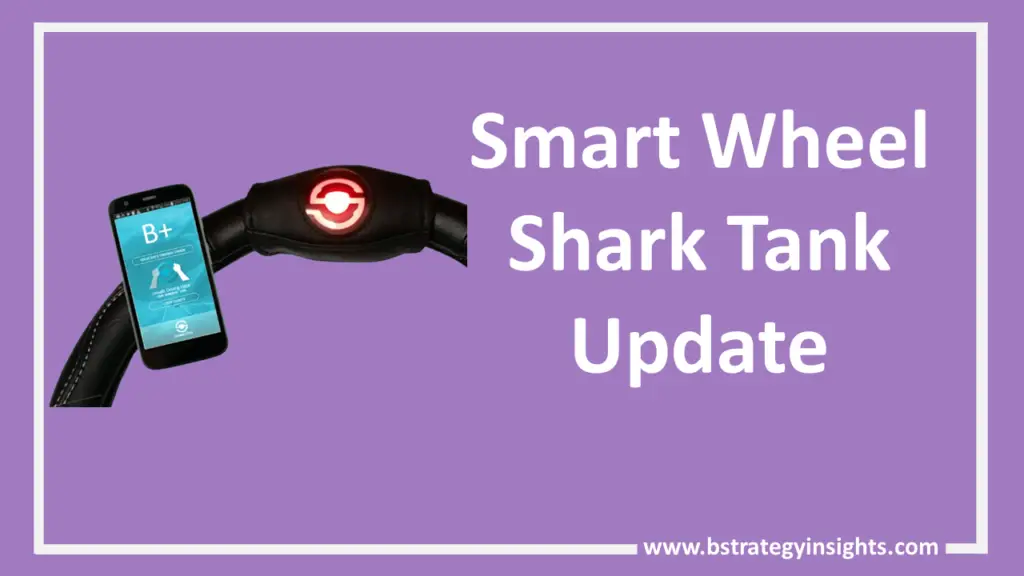 Distracted driving is a major cause of accidents across the globe. The accident happens when a driver gets distracted and removes their hands from the steering wheel. Such incidents are common among young and teenage drivers. To resolve the issue, a group of six teenagers (Paige, Emily, Kate Balcom, TJ, Jaiden, and Breyton Evarts) brainstormed and developed a solution – Smart Wheel.
This steering wheel had technological additions. It can alert the driver when they get their hands on the steering through tones or light. Their desire for large-scale manufacturing of the smart wheel inspired them to pitch the sharks.
They came to Shark Tank seeking $100,000 in exchange for a 15% stake in Smart Wheel. Did the sharks accept to seal a deal with them? Keep reading to know what happened to Smart Wheel after Shark Tank and get an update on their progress in 2022.
Smart Wheel Overview in Shark Tank 
| | |
| --- | --- |
| Company Name | Smart Wheel |
| Episode           | Season 4 Episode 16 |
| Product Offering            | A smart wheel cover that uses technology to alert drivers when they get their hands off the steering. |
| Founded | 2015 |
| Founder  | Paige, Emily, Kate Balcom, TJ, Jaiden, and Breyton Evarts. |
| Required Investment | $100,000 For a 15% stake in Smart Wheel |
| Closing Deal | $100,000 For a 30% stake in Smart Wheel |
| Shark   | Mark Cuban and Robert Herjavec |
| Current Business Status | In business |
What is Smart Wheel?
Smart Wheel is a steering cover with technological intelligence capability to alert the driver to get their hands on the steering wheel. The term SMART in this context stands for Safe Motorist Alert for Texting Restriction. Innovators desired to reduce accidents occurring due to distractions.
How Does Smart Wheel Work?
Smart Wheel features a cover that can fit on any steering wheel size. When snapped, it has technology that activates lights and sounds as well as sends the data to the driver's phone. The cover ensures that drivers hold the steering wheel properly. Whenever there is a distraction, it alerts the driver to help them refocus and handle the steering firmly.
The smart wheel also has the ability to report teens driving habits to their parents. Through the wheel, the teens believe that they can improve driving safety and reduce accidents due to distractions. 
Who Founded Smart Wheel?
Smart Wheel was an idea by six teenagers hailing from New Hampshire. These teenagers, Paige, Emily, Kate Balcom, TJ, Jaiden, and Breyton Evarts, sort to end driving and texting. They noted that many accidents occur due to distracted driving.
The team had joined hands to compete in the Lego Construction competition. As they participated in the competition, they brainstormed and utilized their creativity which gave birth to Smart Wheel. The idea came as part of their public awareness campaign dubbed "Don't DUIT" (Drive Under the Influence of Texting).
The teenage student focused on creating a gadget that could help deal with the habit of texting while driving. This habit has become a menace leading to the death of many teenagers. To promote the usage of this wheel, they launched a campaign to educate the public on the danger of texting and driving.
The team patented their company. They are also members of The Inventioneers group, which consists of students creating solutions tomorrow now.     
Smart Wheel Business before Shark Tank 
Young people aged 12 and 18 years were the masterminds behind Smart Wheel. The six teens had come together to take part in Lego building contests. While there, they brainstormed and noted that many teenagers die from distracted driving. They rose to the occasion and decided to develop a product that could resolve the problem.
Smart Wheel was born due to their goal to help young drivers remain focused while on the road. The team developed a prototype of the Smart Wheel and patented it. Now, they wanted some funding to help them complete its development and production. This aspect inspired them to pitch the Sharks and try their luck.  
Smart Wheel During Shark Tank Pitch
Paige, Emily, Kate Balcom, TJ, Jaiden, and Breyton Evarts featured Smart Wheel on episode 16 of Shark Tank Season 4. They were seeking $100,000 for a 15%equity in Smart Wheel and benefit from the investing Shark's input on their venture.
The team opened the pitch with a reflection on the dangers that distracted driving poses to teens. They noted that this aspect leads to the loss of eighteen teenagers per day through road accidents in the United States alone. The cause was due to teenagers getting off their hands from the steering wheel.
The inventioneers introduced Smart Wheel as the solution to the distracted driving menace. They stated that they had developed a steering wheel cover that would alert the driver through a sound and signal alarm whenever they deviate their hands from the driving positions. The gadget would train drivers on proper steering wheel holding and snap them to refocus in case of distractions. A team member named Jaiden told the panel that their device has data recording capability. It would record distracted driving habits to allow parents to review their teens' driving activities.
The pitch was over, and it was time for the Sharks to interrogate the team. Mark Cuban was the first to raise an inquiry. He wanted to know whether Smart Wheel was a finished product or not. TJ stated that it is just a prototype, but if they get the requested funding, they will spend 75% of it to complete the production process.
Robert popped up an inquiry on the group's intended sales strategy once they have a complete product. TJ responded by stating that selling it online is their initial strategy. They would later focus on having it available in leading retail outlets.
Barbara wanted to know the cost of producing one unit. TJ said they do not know the exact cost of production at the moment. However, he noted that it would be approximately $50 per unit. He also stated that they intend to sell the Smart Wheel at $200 per unit.
Kevin expressed a contrary opinion on the wheel's functionality. He revealed his dissatisfaction with alarm and sound alerts, stating that they do not stop the distracted driving habit. He recommended a modification such as an electric shock to stop bad driving habits. The comment caused a burst of laughter among the team.
Mark was back with more inquiries. He wanted to know whether the team had tested the Smart wheel. Breyton responded, noting that they had to test it at MIT and 98% of testers confirmed its ability to improve road safety.
TJ popped up with more juicy information about the sharks. He informed them that they had had a White House invitation and met President Obama, who showed high interest in the gadget, promising to get one for his daughter when the product became available.    
Daymond expressed a desire to be part of the innovation. However, he stated that the lack of electrical manufacturing keeps him off. So, he is out. Barbara could not buy the concept. She, too, is out. Kevin also left a harsh comment by requesting the teenagers to come back when older and with a meaningful idea.
Robert was impressed and refuted Kevin's sentiment. He was ready to invest in the company. He offed $100 000 for a 30% stake in Smart Wheel with the condition of having a licensing deal with a car company. Mark showed interest but wanted to share the deal with Robert and drop the condition. The two negotiated and reached an agreement. The group accepts the deal.
Smart Wheel Closing Deal in Shark Tank 
Smart Wheel settled on a $100,000 investment in exchange for 30% equity, with Mark and Robert sharing the funding equally. The deal was closed.
Smart Wheel After Shark Tank 
Despite the negotiations and commitment, the deal between Smart Wheel, Robert, and Mark was never concluded. The team stated that they are no longer pursuing the Shark investors. Instead, they ran a crowd-funding campaign on Indiegogo. However, they only corrected less than $2,000 out of the targeted $50,000.
The inability of entrepreneurs to answer various questions was a major setback in the campaign. Despite this, Smart Wheel has been featured on leading news sites and TV shows such as MSNBC, NBS, and NBC's Today Show. It is yet to produce a single product.
Current Update: Is Smart Wheel Still In Business?
To date, Smart Wheel remains a pipe dream. It has never manufactured a single unit. However, it keeps updating its social media pages. Its CEO, TJ, is yet to give up on the dream. Hence, it is still in business and taking pre-orders as of September 2022.    
FAQs about Smart Wheel
How much does the product cost?
The Smart Wheel was to cost $200 per unit.
How does Smart Wheel help you?
It is a gadget that helps drivers to avoid distractions while driving through sound and light alerts whenever their hands leave the steering wheel.
What is the net worth of Smart Wheel?
The company's net worth was valued at $666,667 during the pitch. This value has increased since then.
Who owns Smart Wheel
The owners of Smart Wheel are six teenagers: Paige, Emily, Kate Balcom, TJ, Jaiden, and Breyton Evarts.