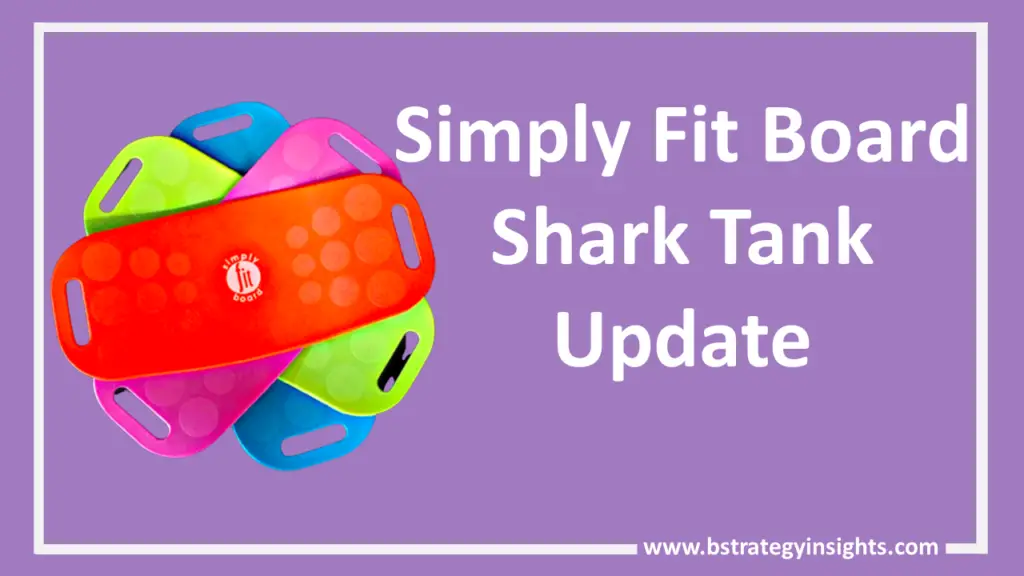 In this era, keeping fit is a norm. Everyone is checking their weight. However, few can afford a home gym or workout sessions in a nearby club. The challenge is even more complex for elderly persons.
To resolve this issue, Linda Clarke and her daughter Gloria Hoffman founded Simply Fit Board. The board is a simple workout board that helps to strengthen your core by slimming the waistline. This balancing board is easy to train and use in any space. Their objective was to make exercising simple and affordable for ladies.  
After working on their product, the mother-daughter duo sold several pieces in the United States. Their desire to go full scale and target a large audience inspired them to pitch the Sharks. The duo came to Shark Tank seeking an investment of $125,000 for a 15% stake in Simply Fit Board.
Did the Sharks hid their request? Read on to know what happened to Simply Fit Board after Shark Tank and their status in 2022.
Simply Fit Board Overview in Shark Tank 
| | |
| --- | --- |
| Company Name | Simply Fit Board |
| Episode           | Season 7 Episode 7 |
| Product Offering         | A workout device for exercising the core and slimming the waistline |
| Founded | 2013 |
| Founder  | Linda Clarke and Gloria Hoffman |
| Required Investment | $125,000 For a 15% stake in Simply Fit Board |
| Closing Deal | $125,000 For an 18% stake in Simply Fit Board |
| Shark   | Lori Greiner |
| Current Business Status | In business |
What is a Simply Fit Board?
Simply Fit Board is an exercising board that focuses on slimming the waistline to strengthen the core. The board is slightly curved, made of high-grade plastic, and comes in varying colors. It is light and compact to help users use it anywhere they want to perform their workout exercises.
How Does Simply Fit Board Work?
As mentioned, Simply Fit Board has a curved design. The users exercise by stepping on both edges of the board and enjoying twist motions. The user is forced to maintain a balance during the motions of the design. This aspect strengthens their back, legs, and core muscles. For a better experience and make it challenging, you can opt to add more weight to your back. 
Who Founded Simply Fit Board?
Simply Fit Board is the brainchild of mother-daughter duo Linda Clarke and Gloria Hoffman. Before Simply Fit, Gloria established Legacy Leadership Team – a firm focusing on business executive mentoring. Also, she founded Zrii – a direct-sales firm. The idea of developing Simply Fit Board came from a skating experience.
According to Linda, she noticed a huge change in her weight after turning 60 years. She loved eating, but it was making her add weight. Linda decided to join her grandkids on the skateboard moments. During the activities, she realized that the experience positively impacted her weight management. However, skateboards could not work for senior citizens.
Linda joined hands with her daughter Gloria to develop a product similar to the skateboard but fit for the senior citizen. Gloria was taking active fitness training. She was an enthusiast and liked the desire of her mother to develop an accessible and affordable workout device for seniors struggling with weight.
They embarked on brainstorming and trying various designs. Finally, Simply Fit Board was f born. The duo started making these devices at their home and showcasing it to different vendors in the United States.
Simply Fit Board Business before Shark Tank 
After inventing Simply Fit Board, Linda and Gloria started producing and selling them to the public. They used their car trunk to deliver and pitch the product to fitness equipment vendors in the United States. Through their effort, the duo managed to sell over 28,000 boards.
However, the sales were slow as they had only managed to sell approximately 30,000 pieces in two years. They now wanted to expand and serve a wider audience. This objective required an expansion of their production facilities. To achieve it, they required a hand of an investor. The duo decided to pitch the Sharks and see if they would be successful. 
Simply Fit Board During Shark Tank Pitch
Gloria and Linda featured Simply Fit Board on episode 7 of Shark Tank season 7. The duo entered the stage wearing similar shirts and each holding colored boards. Gloria introduces the older lady as her mother, – Linda. Linda went up the stage and stated they were seeking an investment of $125,000 in exchange for 15% equity of their business. The pitch kick-off.
Gloria opened the pitch with an explanation stating that everyone has a problem with a certain body part. She noted some problems, including belly fat, saddlebags, and muffin tops. Sharks stared at her, and in particular, Barbara was looking amused. Gloria stated that Simply Fit Board is the perfect solution to such problems.
Linda placed her board on the floor and got onboard. Gloria went on to explain how the board helps to strengthen the core and offers cardio workouts simultaneously. Linda confirmed that a simple stand on the board strengthens the back and improves balance. She also expressed her desire to have a slimmer waistline.
Gloria stepped on her board too. She said it is a balanced board with a twist and explained how they use lubricated plastic to make them which offers them the twisting capability when placed on the floor. The phase of practical opened where both ladies started to showcase how the board works.
Gloria informed the Sharks how the twists enhance heart rates and work out the muscles. She also noted that one could modify various exercises such as planks and push-ups to fit with the board. The practical part amused the Sharks; some were willing to try the twists.
Kevin was the first and walked to the stage for a trial. Robert recommended it for him, noting that it would help Kevin reduce his muffin top. Mark could not be left out. He, too, walked to the stage. Linda guided the sharks on how to use the board, making the pitch a fun moment. Kevin was a fast learner and hacked the idea. However, Mark struggled to slide severally as he could not balance the board. Robert started twisting, and it felt fun making him try squat motions.
Robert wanted to know the idea behind the board. Linda explained how she struggled with weight after turning 60 years. She shared her story of skating with grandkids and how it enabled her to manage weight. The skateboard inspired her to develop a new product with similar features. Together with her daughter, they invented the Simply Fit Board. The duo hand a full Simply Fit Board package to each Shark.
The Sharks enquired about how the product could work on various floor types. Robert inquired whether they are of mats for the purpose where Gloria said that is part of their plans. Barbara inquired about the patent, and Gloria confirmed the whole system has a patent but not Simply Fit Board. Barbara expressed worries about the possibility of the idea imitation.
Robert includes their sales performance. The duo said they had sold over 15,000 boards in the last 6 months. He went on to inquire about the cost, where they said each board costs $45. Lori wanted to know the production cost per unit. Gloria stated that it costs over $9 to make one board. She also wanted to know if there were other balance boards on the market. Gloria confirmed they are wooden boards available theirs is different since it is made of plastic.
It was offer time.
Kevin went first, offering $250,000 for a 30% stake. He noted that they need more money to manage their inventories, adding that he will offer advice by connecting them to people with over 40 years in the niche.
Robert and Barbara left the deal without offering any amount.
Lori popup with a new deal offering $125 000 for 20% equity, promising assistance in getting purchase orders. The duo requested the two Sharks to join hands. Lori opposed the idea stating she could turn the duo into millionaires via QVC.  
Simply Fit Board Closing Deal in Shark Tank 
After some negotiations, the duo and Lori settled on an offer of $125,000 for 18%equity in Simply Fit. The duo sealed a deal with Lori.  
Simply Fit Board After Shark Tank 
After the Shark Tank appearance, the Simply Fit Board made huge sales. Reports show that they sold 500 pieces per minute. The product was sold out in QVC after three days. Also, orders were flooding, and they had to suspend orders for a moment. The company flourished and has main sales worth over $160 million, as per Lori's website. 
Current Update: Is Simply Fit Board Still In Business?
To date, Simply Fit Board is still in business. Their boards are available in major stores in the USA and abroad, such as Walmart, Home Depot, and Kmart. It also expanded its product line by introducing exercise DVDs. 
FAQs about Simply Fit Board
How much does the product cost?
During the pitch, Simply Fit Board was priced at $45. The price has since been reduced to $19.99. 
What is Simply Fit Board made of?
Simply Fit Board are made of high-quality plastic, which makes them durable and light.
How does Simply Fit Board help you?
It is an exercise device that helps users to slim their waistline and strengthen their core.
What is the net worth of Simply Fit Board?
The current net worth of Simply Fit Board is $1 million as of September 2022.
Who owns Simply Fit Board
The owners are Gloria Hoffman and Linda Clarke.