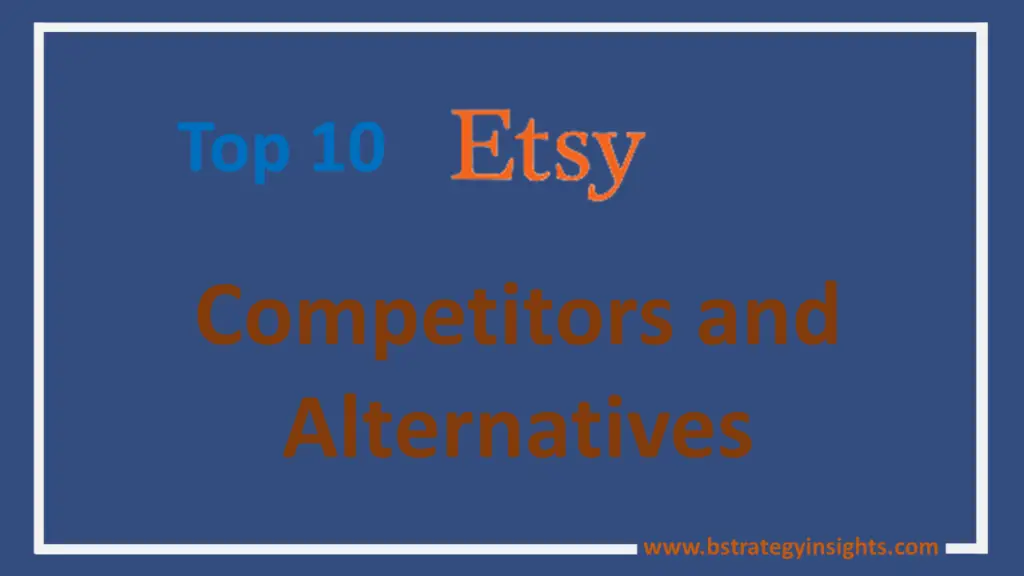 Etsy was founded 17 years ago in 2005 by four individuals, namely, Chris Maguire, Haim Schoppik, Robert Kalin, and Jared Tarbell. It is an e-commerce company that provides various homemade and crafted items services, headquartered in Brooklyn, New York, United States.
It is a platform that connects creative sellers to millions of buyers looking for vintage treasures and extraordinary gift items such as handbags, clothes, jewelry, furniture, art, and more. It is unique as sellers can manage, produce their items and directly sell and manage orders directly on the platform.
General Overview of Etsy
Unlike other online e-commerce platforms, sellers on Etsy can interact with the buyers directly, which includes managing products and orders and setting prices. Etsy also brings convenience to buyers as it categorizes its products in an organized way that allows buyers to find what they are looking for quickly.
Etsy has been highly successful as it generated a total of 2.33 billion USD in 2021 with a valuation of 14.51 billion USD. It has raised total funding of 97.3 million USD and gained 19 investors. It has expanded to have ten more offices in Canada, the UK, France, and more.
These are the top 10 companies that compete with Etsy and offer alternatives to it.
1. Big Cartel
Big Cartel was founded in the same year as Etsy, an online e-commerce platform focusing more on musicians and artists. It generates total revenue of 2 million USD per year, which may seem small, but the growth rate is at 20% per year.
It is beneficial for small businesses because of its user-friendly design, easy-to-use for first-time users, and extraordinary client support service. It offers a premade theme, template, and tools for order administration, SEO, real-time metrics, and marketing to run their business effectively.
2. Zibbet
Founded in 2010, Zibbet is an Australian-based platform that offers various services to sellers, especially artists, to sell their crafts. It provides the option to construct and operate a standalone website and an Etsy-style marketplace. Also, an incredible admin panel allows sellers and buyers to administer all of your goods from a single interface.
Additionally, the community of buyers and sellers in Zibbet is flourishing, which makes it easier for sellers to gain more customers. Its convenient listing tools, data tracking, and no listing fees make the buyer's experience more accessible.
3. Shopify
Shopify, a Canadian-based e-commerce company founded in 2006, has a total revenue of 4.61 billion USD as of 2021. It is recognized as one of the golden brands for online stores, brands, and small businesses.
It provides hundreds of templates and themes which sellers can customize with their own logos, pictures, videos, and more according to their company. Apart from its awesome customization, it is also known for its data analytics and user-friendly interface. Moreover, it allows sellers to put every product on sale without restrictions.
4. Aftcra
Aftcra is known for its specialization in homemade crafts in the US and globally. It was founded in 2013 to support American artists and artisans through its marketplace.
It focuses on homemade products directly made in the US to support the local concept, which gives buyers a sense of reliability. Moreover, it does not allow manufactured or vintage items, which ensures high quality and limits the audiences' choices. Nevertheless, it has a detailed product descriptions feedback section to ensure a good buyer experience.
5. eBay
eBay is one of the oldest and strongest online platforms, founded in 1995 and headquartered in California, United States. As of 2020, it has a total revenue of 10.27 billion USD and operates in more than 30 countries.
Its auction-style business strategy gives buyers and sellers many chances to get the best bargain. As the world's first and oldest e-commerce business, it does not limit sellers to vintage and homemade products like Etsy. Also, it has a significant market to which millions of audiences have access, ensuring more buyers.
6. Indiemade
Indiemade is an online market platform that offers various services, for instance, a built-in shopping cart. Also, sellers may customize their IndieMade site with music, video, a calendar, or music. Sellers may also import their items from Etsy into IndieMade, or, with certain membership levels, directly link their website to your Etsy store.
Since being founded in 2014, it has been committed to providing excellent services to its users. These include training on eCommerce, social media help, and marketing aid. Additionally, they offer a vast array of goods and services to make it simple for merchants to sell their goods online.
7. Amazon Handmade
Amazon Handmade is a marketplace on Amazon where you can purchase and sell handmade goods produced by independent artists and makers. On the platform, everything is handcrafted, hand-modified, or hand-assembled. Additionally, only approved artists and artisans can sell on this platform.
Amazon is one of the leading e-commerce platforms in modern days. Undoubtedly, we would go to Amazon as the first stop when shopping online. Therefore, it has a wide range of customers, which benefits sellers on the platform. Not to mention, it also offers other supports such as Amazon ads and more.
8. Goimagine
Goimagine is another e-commerce platform that sells top-quality vintage and homemade products. However, what sets this platform apart from the others is that it donates all of its profits to charities, helping children in need.
Known as the company that cares, it not only cares about children but also the sellers and buyers on its platform. It has strong trademark, copyright, and violation policies. Goimagine employs a jury system and a more aggressive trademark protection method to keep out scammers. These regulations may aid Golmagine in luring away Etsy shoppers.
9. Bonanza
Bonanza, another online marketplace founded in 2006, is known for its handmade and vintage items. It has gained trust and support, accounting for 2 million registered users and annual sales of 1 billion USD.
Bonanza is an Etsy substitute that provides a mass market with broad reach and the chance to develop a stand-alone online shop. It has a similar shape and functions to eBay, with a stronger emphasis on unique items.
With Bonanza, customers can bargain with sellers to receive the best deal. This adaptable strategy may appeal to some Etsy customers. It is compatible with the most popular e-commerce platforms, including Amazon, eBay, and Shopify.
10. Storenvy
Storenvy is a California-based e-commerce platform that was founded in 2010. It has diverse options, including homemade products for men and women, such as music, art, jewelry, art decors, and more.
The Storenvy marketplace includes small, independent businesses emphasizing high-quality, distinctive items, focusing on handcrafted goods. It is an excellent option for vendors in vintage clothing or children's items niches and jewelry since it targets a younger audience.
Sellers may use a social marketplace in addition to your own online shop with Storenvy. Additionally, it avoids copycat issues with its original higher price for sellers.
Final Verdict
Etsy is one of the leading e-commerce marketplaces emphasizing vintage and homemade items. It is easy to use as it provides various customization options and is user-friendly for first-time users. However, it also comes with other competitors that offer other uniqueness with differences in price or service.