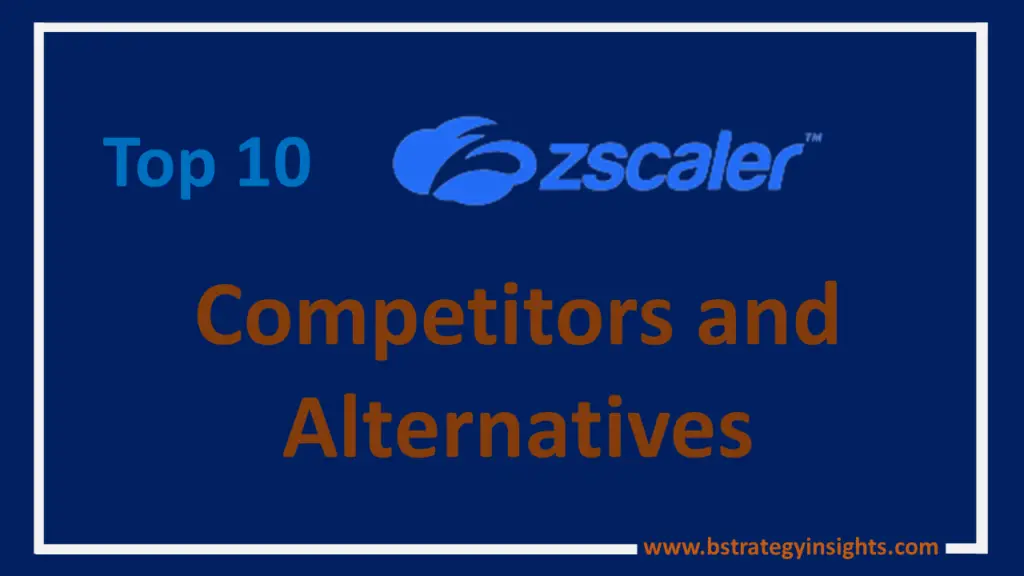 Jay Chaudhry created Zscaler, a cloud security business, in 2007. The firm, headquartered in San Jose, California, offers cloud-based software that allows users to access and distribute data securely.
Its Zero-Trust Exchange system considers anybody a danger and develops trust only after confirming the user's credentials.
The firm fosters technological advancement in enterprises to improve versatility, efficiency, tenacity, and data protection. Its SASE-based Zero Trust Exchange is deployed in over 150 data centres worldwide. It is the world's biggest in-line cloud-based security provider in the world.
General Overview of Zscaler
Zscaler provides an encrypted personal network that links a business's customers, data storage, cloud hosting, SaaS, and other third-party solutions.
Everything is based on zero-trust fundamentals, and the platform is far more adaptable, robust, and manageable than standard VPNs and other data networks.
This software is used by millions of enterprises to seamlessly link people, computers, and applications in any place while protecting them from data breaches and cybercrime.
In 2021, Zscaler was promoted to the top 100 Nasdaq-listed non-financial corporations by market value. The company achieved this milestone as a result of its creative solutions.
However, Cisco Umbrella, Netskope, Cloudflare, and Fortinet are among their fierce competitors. Check out a detailed examination of Zscaler's top 10 rivals and alternatives:
1. Cisco Umbrella
Cisco is a multinational technology corporation specialising in providing networking, telecommunication, and information security solutions. Like Zscaler, this entity manifests cloud security services using the Cisco Umbrella platform.
Cisco Umbrella is a Secure Internet Gateway (SIG) platform hosted in the cloud to safeguard computers and networks from online attackers. Simply put, it works as a secure web gateway, firewall, DNS-layer security, and cloud access security broker (CASB).
These features are the first security line for tens of businesses of all sizes from online attacks. The truth is that 85% of the world's Internet traffic is supported and protected by Cisco's networking products. For secure web gateways, industry people suggest there is no better choice than Cisco Umbrella.
2. Check Point Next-Generation Firewalls (NGFWs)
Check Point's NGFW is available through the Check Point Infinity framework. It comprises 23 Firewall models built for operating all threats mitigation solutions concurrently, featuring full SSL traffic inspection without sacrificing quality or functionality.
The Check Point Firewall Software Blade combines the innovative FireWall-1 solution's strength and capacity with authentication and authorization recognition to enable precise event intelligence and application control.
Point of Check NGFW includes all of the protection elements required for a corporation to establish a security policy. The benefits of using this type of barrier include traffic momentum, core motion, and interaction velocity, which aid in implementing continuous running activities without worrying about internet obstructions.
3. Cloudflare  
Cloudflare is a business that specializes in Internet security and online infrastructure. The firm was founded in 2009 and is based in San Francisco. In addition to a content delivery network (CDN), it provides ways to safeguard against Distributed Denial of Service (DDoS) threats.
To secure their customers, both Cloudflare and Zscaler employ a zero-trust strategy. Cloudflare, on the other hand, provides a wider range of options. Its services are DNS, CDN, and web security. Its network serves more than 100,000 consumers in over 250 cities throughout 100 countries.
4. Check Point Software
Check Point is the industry standard for providing cybersecurity solutions. The firm provides software and hardware to protect networks, the cloud, endpoints, mobile devices, management and data.
Many other products, such as Infinity and Next-Generation Firewalls, are available from Check Point (NGFWs).
This suite of solutions protects organisations against 5th generation cyber-attacks. Check Point NGFWs integrate FireWall-1's groundbreaking capabilities with identity and security awareness to deliver detailed events and policy enforcement. Over 100,000 different businesses have put their trust in Check Point to safeguard them against ransomware, malware, and other attacks.
5. Avanan Cloud Email Security
Avanan, made by Check Point Company, can capture modern assaults that can avoid even the most advanced security measures. Its invisible, multi-layered security protects cloud collaboration services such as G-Suite™, Office 365™ and Slack™.
The platform can stop data leaks, malware, phishing, account takeovers, and shadow IT across the whole company with a single click through API. Additionally, it protects against Business Email Compromise.
Avanan eliminates the need to use a variety of other technologies to protect the whole cloud collaboration suite. No wonder every organization primarily wants a system like Avanan since it offers superior scanning possibilities.
Even if you utilise a basic cloud-based service, Avanan can scan all of your files and mails to make sure they are safe. It compares detection rates using numerous testing methods to provide better findings.
6. Palo Alto Networks Next-Generation Firewall
Palo Alto Networks is a supplier of cloud-based cybersecurity solutions. Its next-generation firewall separates traffic into several categories according to the application, user, function and content. In addition to cloud, mobile devices and networks, the firm facilitates over 10,000 enterprises worldwide.
The Next-Generation Firewall from Palo Alto Networks enables customers to draft all-encompassing security rules to activate apps in a risk-free manner.
On top of that, authorised users are the only ones allowed to operate sanctioned programs, which lowers the company's overall vulnerability to cyberattacks.
Price-to-sales (P/S) ratio of Zscaler is approximately 60, whereas the company's P/S ratio is 12. Therefore, a more cost-effective option for Zscaler is Palo Alto Networks.
7. Netskope
Netskope is a software business that specializes in cybersecurity and is a secure access service edge expert. The company's cloud-native solutions assist organizations in protecting the data, cloud applications, and cloud infrastructure that they use.
The software brings ZTNA, Firewall, SWG, and CASB together in one platform; therefore, all of them will boost greater performance in strengthening data and threat protection. Users can utilize the software by simply connecting to the internet on their devices.
8. ESET PROTECT Advanced
Since 1984, ESET has developed promising cybersecurity software and services to safeguard companies, key infrastructure, and individuals from cyberattacks.
In addition, the solution provides increased data safety by including cloud sandboxing technology, which helps avoid zero-day attacks, as well as complete disk encryption capabilities.
ESET offers high performing solutions and convenient solutions that protect and track users and update security defenses 24/7 without interference. On top of that, the software enables detection, authentication, encryption, and response to mobile security.
9. Fortinet
Fortinet is trusted by over 500,000 businesses to help them navigate their digital transformations. Enterprises may use FortiGate NGFWs at any size to improve visibility and threat defense.
On the Sunnyvale, California-based headquarters of Fortinet was established in 2000. Fortinet delivers cybersecurity solutions that specializes in security solutions, antivirus software, firewalls, and prevention systems. Fortinet is one of the Zscaler's competitors and alternatives.
10. Proofpoint, Inc.
Proofpoint is another Zscaler's competitor based in Sunnyvale, California. It provides protection solutions to email, electronic, data, and archiving utilities.
In order to safeguard their employees and essential resources, Proofpoint offers a comprehensive cloud-based solution package. On top of that, the company is trusted by thousands of corporates in the world to protect their email, social media accounts, clouds, or websites.
However, Thoma Bravo's one of the leading software firms already acquired Proofpoint in 2021 for $12.3 billion. Since then, Proofpoint has been able to become a real danger to Zscaler.
Final Verdict
Cloud computing covers many aspects, such as privacy, access control, compliance, and so forth. Therefore, when looking at the cloud products, it is essential to know and comprehend the various kinds of solutions, which are already on the market to assist businesses in lowering their level of risk and increasing their level of protection.