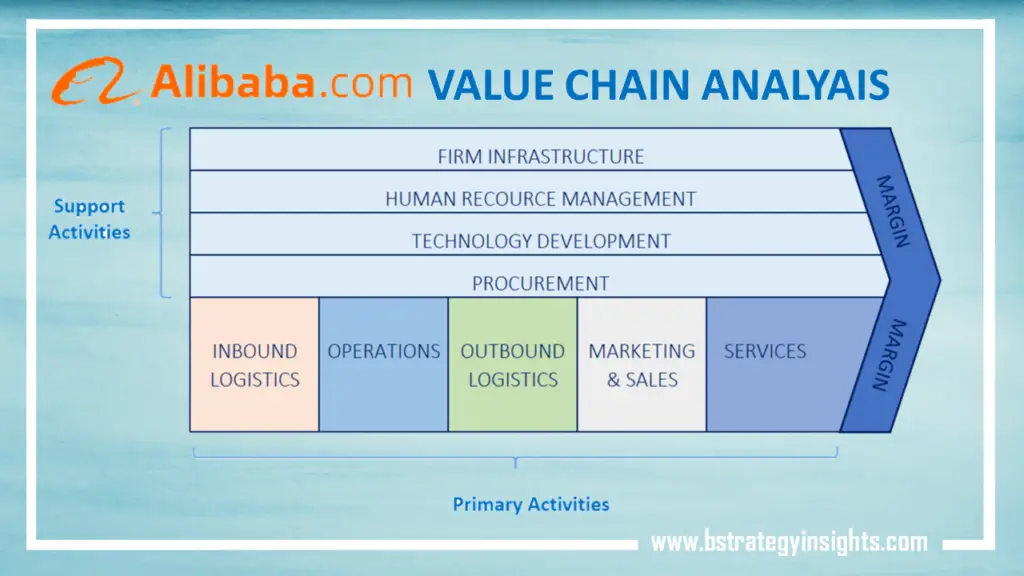 Alibaba is China's largest online retail company. Through its platform, Alibaba facilitates buyers and sellers to interact with each other. The company also provides consumer-to-consumer (C2C), business-to-consumer (B2C), and business-to-business (B2B) sales services. The company also has several subsidiaries that offer similar services and products to its primary operations.
Alibaba's Background
| | |
| --- | --- |
| Name | Alibaba Group (Holding Limited) |
| Website | alibaba.com |
| Founder | Jack Ma |
| Year founded | 1999 |
| Chief Executive Officer (CEO) | Daniel Zhang |
| Executive Vice Chairman | Joseph Tsai |
| President | J. Michael Evans |
| Headquarters | Hangzhou, Zhejiang and George Town, Cayman Islands |
| Type of corporation | Public |
| Revenues (2020) | ¥717 billion |
| Key products/services | Alibaba.com, Alibaba Cloud, AliExpress, AliOS, Alipay, AliGenie, Taobao, Lazada, Daraz, and Paytm, etc. |
| Key competitors | Amazon, eBay, Walmart, Baidu, Costco, Target, and BestBuy, etc. |
| Key subsidiaries | Youku, Alibaba Pictures Group, South China Morning Post, Intime Department Store, and many more |
Alibaba started in 1999 when its founder Jack Ma and his 17 friends and students founded the online platform Alibaba.com. The company started with the founder's Hangzhou apartment. Some months later, Alibaba received a $25 million investment from Goldman Sachs and Softbank. Three years after its launch, the company had its first profitable year.
In 2003, the American company eBay tried to expand into the Chinese market. eBay tried to buyout Alibaba's subsidiary Taobao. However, Alibaba rejected the offer. Later, the same subsidiary forced eBay to exit the Chinese market. It established Alibaba as a major player in the Chinese market among online retail platforms.
The company had its Initial Public Offering (IPO), raising $25 million. At the time, it was the largest IPO in world history. Similarly, the IPO gave the company a market value of $231 billion. Furthermore, it is one of the most valuable corporations around the globe. In 2018, it also became Asia's second company to break the $500 billion valuation market, after its competitor Tencent.
Alibaba is a highly profitable company. The company generated revenues of ¥717.289 billion in 2021 and ¥509.711 billion in 2020. The net sales it generated in 2021 were the company's highest profits to date. Similarly, it was an increase of 41% of the revenues it made in 2020. Likewise, Alibaba's revenues in 2020 were an increase of 35% from the revenues of ¥376.844 billion it generated in 2019.
Similarly, the company's profitability has been increasing gradually. Alibaba generated its highest net income to date in 2021, amounting to ¥143.284 billion. It was just a slight increase of 2% from its net income of ¥140.350 billion it generated in 2020. In contrast, the profits in 2020, in turn, significantly increased by 75% from the net income of ¥80.234 billion it made in 2019.
One of the factors that help Alibaba in its profitability and generation of revenues in its value chain. Alibaba's activities during different stages of its operations allow it to create a competitive advantage. These activities are a part of its value chain. For a better analysis of these activities, it is necessary to perform a value chain analysis.
Alibaba's Value Chain Analysis
Value Chain Analysis is a tool used to analyze a company's activities. This tool divides a company's activities into primary and support activities. Furthermore, each of these categories has further divisions. A company's value chain looks at how it creates value for its customers, for which they will want to pay. Similarly, it defines the activities that companies use to create a competitive advantage.
Alibaba's primary activities
The first categorization of a company's value chain comes as its primary activities. These are the main focus of any company. If a company gets its primary activities right, it can generate significant value through its products and services. Similarly, it can get a substantial lead over its competitors. There are five primary activities that companies have.
Alibaba's Inbound Logistics
The first type of primary activity is a company's inbound logistics. These define the process involved in the receiving of raw materials or input to the business model. For Alibaba, these inputs come from both its suppliers and customers. Firstly, suppliers use one of Alibaba's platforms to list their products on it, so customers can discover and buy them.
The process of listing products is straightforward for suppliers. However, Alibaba has various requirements for suppliers to meet. Once they satisfy these requirements, the company allows those suppliers to list their products on its platform. Through this process, the company creates value for its suppliers and customers.
Similarly, Alibaba allows customers to use its online platform to buy from suppliers. The company has various methods of allowing customers. It has several websites, or subsidiaries, all of which provide specific services. Customers can access these platforms from different operating systems or applications. For customers, the process of buying through Alibaba is also straightforward.
Alibaba's Operations
Operations include processes involved for companies in converting their inputs or raw materials into finished goods. Alibaba's operations include various activities and make a part of its competitive advantage. These include gathering, organizing, selecting, synthesizing, and distributing information. This process begins once the inbound logistics stage is over.
Alibaba allows customers to search for specific products or listings. It provides various search features, allowing customers to narrow down their results. The sellers take care of other details, such as packaging, assembling, or producing the goods. However, through its operations, Alibaba allows these sellers various features to promote their products.
Alibaba's Outbound Logistics
Outbound Logistics includes the processes involved in delivering products to customers for its primary market. Alibaba does not interfere in the outbound logistics of sellers. It's the seller's responsibility to ship products to any buyers that purchase their products. Alibaba provides buyers and sellers with a platform to coordinate deliveries and outbound activities.
However, for some of its retail stores, Alibaba does use freight services. The company uses both air and ocean freight and courier to deliver its products and services to various countries. The shipping services are fast and relatively straightforward. The company ships its products from its warehouses directly to consumers for retail products.
Alibaba's Marketing and Sales
Marketing and sales involve promotional activities that companies use to market their products. Alibaba spent ¥30.95 billion on its advertisements in 2020. It increased its ad spending in 2020 by 40.62% from the ¥22.01 billion it spent in 2019. Similarly, the company has been adding to its ad budget constantly, which has resulted in higher revenues for the company.
Similarly, the company has various other promotional activities that have allowed it to profit in the past. For example, the company's hosted a singles' day promotional event on 11 November. The event generated revenues north of $75 billion for the company. The company has various other events on specific holidays, such as Christmas, etc., that generate revenues.
Alibaba's Services
Services include activities that companies provide outside their other activities. For Alibaba, these include services such as return policies. The company allows customers to return their goods within 30 days of delivery. Similarly, the other services provided by the company also add a competitive advantage to its brand.
Alibaba also has a dedicated support channel for buyers and sellers. It provides customers and suppliers with a way to connect and resolve their issues through the call center. The company also allows customers to dispute any purchases, allowing them to get full refunds. These are among some of the top features that Alibaba provides to its users.
Alibaba's Support Activities
Alibaba also has various support activities that enable it to perform its primary activities better. Support activities include those operations that don't contribute to a company's products or services directly. However, companies still need to have these to function properly. There are four support activities for every company.
Alibaba's Firm Infrastructure
Firm infrastructure includes activities that go into managing and handling a company's business. For Alibaba, accounting, management, research, development, etc., functions play a crucial role in keeping the company running. These are departments that coordinate their activities with the various platforms that run under the Alibaba brand.
Similarly, the company's infrastructure has included various subsidiaries. These include Taobao, 1688.com, AliExpress, etc. Keeping these subsidiaries in check and ensuring proper performance is also a critical task under Alibaba's firm infrastructure. Through its infrastructure, Alibaba has generated more profits.
Alibaba's Human Resources
Human resources include a company's workforce and how it treats them. Alibaba has significantly increased its workforce over the years to support its increase in operations over the years. The company employed 117,600 as of March 2020. It was an increase of 15.34% of its 101,958 employees in 2019. The company also almost doubled its workforce in 2019 from the 66,421 employees it had in 2020.
Alibaba didn't provide the best working conditions for employees. The company was notorious for forcing employees to work overtime. Similarly, most employees had a 12-hour working schedule. However, the company has rectified the problem. After Jack Ma, the company's founder and chairman retired from his post the company has introduced better working hours.
Alibaba's Technology Development
Being a tech company, spending and investing in technology development is crucial for Alibaba. The company has spent a significant amount of time polishing its online platforms. Similarly, the services it provides are the best among online e-commerce companies. Using technology to develop its products and services has been the company's most prominent competitive advantage in its primary market.
Alibaba has also established itself as a global innovator due to its improvements to the retail business model. The company also uses technology in its operations to coordinate activities, such as receipt or delivery of goods and services, inventory management, support services, etc. Overall, the company has benefited from using technology development.
Alibaba's Procurement
Procurement involves the activities a company uses to purchase its products. Alibaba has a network of suppliers that provide the company with its products and services. The company acquires these products for its retail business and sells them to customers. These partnerships allow the company to benefit from lower prices. Similarly, China, as a whole, is a great market for low-price products.
The company used to source most of its products from the Chinese market. Recently, however, the company has also added international products to its platform. The company can attract more consumers by adding more imported goods to its platform. Similarly, its primary Chinese market has also seen an increase in imported products.
Conclusion
Alibaba is China's largest online marketplace. The company offers various products and services to connect customers and suppliers. It also has multiple subsidiaries through which it caters to several markets. The company's value chain allows it to attract more consumers and increase its competitive advantage.