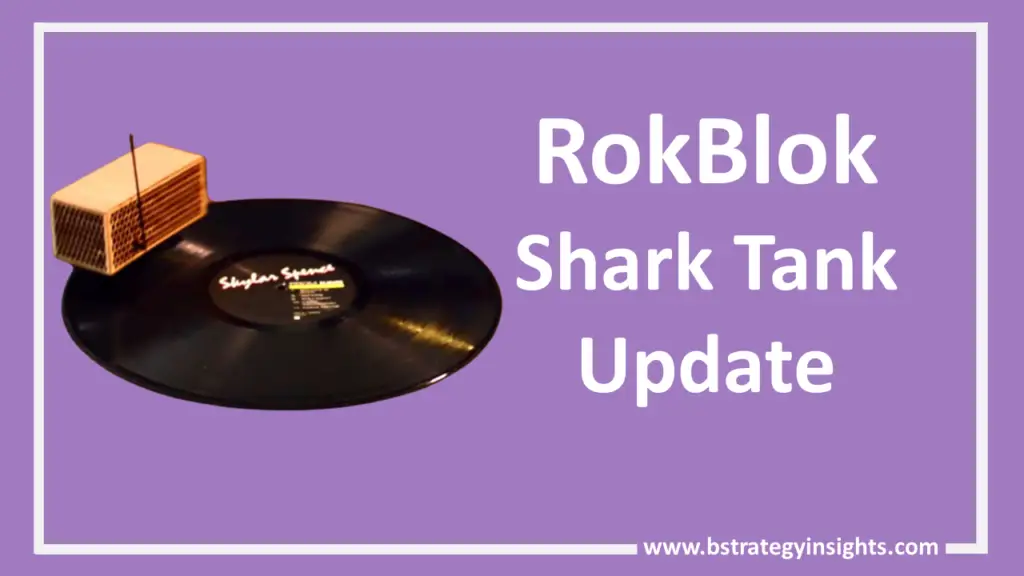 RokBlok was invented in remembrance of the old-school musical device. The company has brought the technology that allows you to recover old music records if they were carefully stored. Thankfully, innovations such as RokBlok are helping to make it a possibility.
Logan Riley conceived the idea while working at Learn Up, then he decided to invest money from his own pocket into the product's development to make it successful. He was a creator of the Pink Donut business before establishing this up-to-date phonograph record company.
Real-life investment show Shark Tank is devoted to recognizing and financing the most promising startups and established companies across the United States of America. Thus, bringing his business, RokBlok, to the show is a great opportunity not to be missed.
Company Overview in Shark Tank
| | |
| --- | --- |
| Company Name | RokBlok |
| Website / Social Media         | rokblok.co |
| Episode          | Season 9 Episode 13 |
| Product Offering       | Wireless Portable Record Player |
| Founded | June, 2015 |
| Founder | Logan Riley |
| Required Investment | $300,000 for 15% Company Share |
| Closing Deal | $500,000 for 100% Company Share |
| Offered Sharks          | Robert Herjavec |
| Current Business Status | In Business, Acquired |
What is RokBlok?
RokBlok is a company featuring wireless and portable music vinyl records. Users can be laid on top of any vinyl player to play it instantaneously, no matter where they are.
On top of that, it is built with a speaker that users can play their old favorite songs instantly. Or users can connect other Bluetooth devices from anywhere within its range in order to get a louder sound.
Moreover, the object is very lightweight, being just 4 X 2 inches in length. With its portability, you can enjoy listening to your beloved vinyl records in your room, backyards, camping site, or anywhere.
The product has the following designs:
The battery is rechargeable
Comes with a pre-amplifier
Offers a Bluetooth connective feature
Able to play 33 ⅓ with 45 rpm records
Robust speaker built-in
The vinyl record is structured using bamboo
The rubber wheel is designed around the vinyl for protection
How Does RokBlok Work?
If you want to play your records on the go, you can do it with RokBlok as it is the most portable and wireless vinyl record. Users can easily play their beloved music by pulling the level, so it will start spinning and making songs. Besides, the design consists of a bamboo package with 42 blocks on an album.
Additionally, this music record player supports LPs, EPs, and Singles. Since it is built for wireless connectivity, users can listen to music from 30 feet away as they support Bluetooth devices, including headphones and speakers.
Besides that, RokBlok's integrated speaker provides a genuine analog audio experience everywhere. Without any concerns, you only need 4 hours to charge the battery.
Who Founded RokBlok? Founder Backgrounds
Logan Riley is the founder of RokBlok, the most innovative music record player business. He was working for Apple in San Francisco for 9 years before deciding to create the product with his own life-saving budget.
Riley came up with a new way to practice old vinyl albums via Bluetooth connectivity with a music record player. In addition, following YouTube instructions on how to apply for the patent and build a prototype, the businessman went to work.
Numerous individuals want to revitalize their existing phonograph collection via the use of a smart device that requires less room, enhanced sounds and is reasonably bargaining.
As a consequence, people wanted to buy a vinyl record player that could be taken with them. For this reason, Logan Riley saw the opportunity and invented the product.
RokBlok Business Before Shark Tank
Logan Riley finally launched the RokBlok business in June, 2015 after not having enough freedom and independence in his job. He was exhausted and drained, so he established his own company using his own budget.
Then, it turned out to be a tiny wireless speaker that was capable of playing vinyl albums. People could use this product as it is small and easy to move around.
Following the determination of his objective, he invested 2,000 bucks in supplies and started working on the very first design. After several hours of effort, he had created a device capable of spinning and singing flawlessly.
With less money, Riley firstly approached Kickstarter, a fundraising campaign. The Kickstarter is an event with which Riley is most familiar. Then, a big sensation came in since its inception in 2016.
Their target was attained in a matter of days, not weeks. The business had more than $350,000 in fundraising.
2017 saw the company be presented with another exceptional opportunity to leverage the business. It was reported that RokBlok's founder was invited to present his business on Shark Tank, the famous American business reality show. 
RokBlok During Shark Tank Pitch
Logan Riley walked down the show and presented his business to all sharks that he is a Pink Donut company's founder. As he was walking, he held his product, the vinyl record.
He began by mentioning that he needed $300,000 of investment to finance his business so that he would give a 15% stake of the business in return.
The presentation starts with a question about vinyl records, which Riley asks the sharks.
He continued the speech by highlighting and reminding all sharks about the traditional practice of the vinyl record. Riley said the old traditional product has a downside. It is not portable and does not have Bluetooth speakers.
Because some people love to listen to loud music, the RokBlok product will allow them to connect the speaker or headphones easily. Then, he demonstrated the utility by connecting the device and playing music in another room. Everyone was astonished.
Moreover, because of its small size and long battery life, the creator emphasizes its portability to potential buyers. Then, Mark, one of the sharks, wondered if the item could be put on the surface or not. The founder said yes. He suggests users to use a non-slip mat to prevent it from falling.
Another shark, Barbara, then inquires more about the cost of the RokBlok goods. Logan Riley informed that the products are available for purchase for $99. There is an additional $23 spent on making the product, he explains.
In response to more questioning from Robert, the business has raised $350,000 investment from Kickstarter and another $60,000 from outsiders. Additionally, manufacturing products are ongoing.
He further revealed himself by exploring everything on his own. He learned engineering skills on Youtube, in which he developed his hardware project. Shortly, everyone was stunned and surprised by the achievement.
In addition, Lori, one of the sharks, questioned if the business had a patent or not. The owner mentioned he had a patent utility on wireless transmission audio already.
RokBlok Closing Deal in Shark Tank
To everyone's surprise, Kevin made an offer of a $300,000 investment to the business by getting a 50% stake in the company. Logan expresses gratitude for the offer but indicates that he would want to hear the other sharks' voices before contemplating the arrangement.
Nevertheless, Lori did not show her interest as she did not see any potential in the market. A few seconds later, Robert showed an interest. He further made a deal of $500,000 with a 2-years contract. For return, we wanted 100% company's share and $5 per unit sold as a royalty.
Finally, Logan Riley accepted Robert's negotiation and went on to give each other a hug to close the stage.
RokBlok After Shark Tank
A lot more people came to the website and ordered things after the show premiered. Furthermore, it has been revealed that they have begun to collaborate with artists and other groups on different projects.
Aside from that, the RokBlok business surpassed its $50,000 objective in only 47 days after launching the company in 2016. However, there were 5% of products defective during this period.
Following the show's 2018 premiere, Shark Tank's revenues increased significantly. There has been a massive surge in product sales, out-breaking from several to nearly 200 items daily. Since then, they have recruited more employees to support these demands.
Other than that, Robert has a group of investors who are his backup supporters. As the company is fully acquired, Robert Herjavec has financed 100% of the investment to the company. RokBlok is backed by experienced entrepreneurs with a $200 million net worth.
Current Update: Is RokBlok Still In Business?
At the moment, the firm is doing well. Plus, it is cooperating with artists and others in the media and entertainment industry to discover further innovative options.
The RokBlok company is lucrative due to its earnings and product market share. The business has a net worth of $5 million right now. In the previous year, the sale volumes reached nearly $1 million.
As a result of the tremendous interest, the business's products are temporarily unavailable (Out of Stock). Despite this, interest continues to build up among customers. In addition, they are patient enough to wait for the next stock in.
Other than that, the business provides a $10 discount for every product purchased as an incentive for their customers.
What is Rokblock's Net Worth?
The business made a great marginal 3x profit because the production cost of each unit is only 23 bucks. However, it is sold at a $99.00 price, which makes it a good deal.
Therefore, the company's net worth has drastically increased over the past years. Its valuation was only $350,000 in 2016. By 2020, The net worth of Rokblock was estimated to be at $5 million.