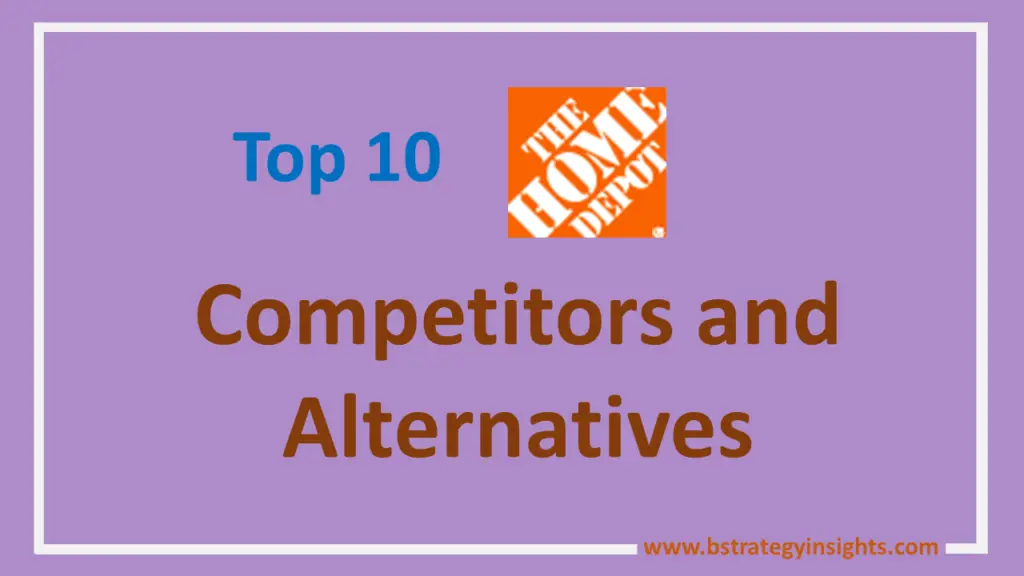 Home Depot is a reputable brand in the American home improvement sector. Founded in 1978 by Arthur Blank and Bernie Marcus, the brand's dream was to become a one-stop shop for DIY products for home improvement and repairs.
To date, Home Depot has over 2280 stores in the US, Mexico, and Canada. Customers can get over 40,000 items from this retail store, including interior décor, gardening and lawn tools, construction materials, etc.
 Home Depot serves three types of customers which include professional contractors, DIY (Do-It-Yourself), and DIFM (Do-It-For-Me). The retailer has been undergoing immense transformation to enhance its position in the global retail space.
In 2020, it introduced a landmark transformation dubbed One Home Depot Strategy, which aimed to convert its warehouses into fulfillment centers. The move enabled the retailer to tap on the stay-at-home orders for home improvements, a niche showing surging demands.
The retailer focus on offering high-edge quality and affordable products while enhancing the customer experience. It is tapping into the e-commerce market, with a list of over 1 million products. Its sales have been growing, making it the number one home improvement and interior décor store in the US.
Notably, it had a 10% sales growth between 2020 and 2021, a remarkable stride in the retail field. Despite the growth, Home Depot does not operate in a vacuum. The retailer is facing fierce competition from other leading retailers such as Lowe's, Walmart, and Amazon, among others.
Here is an insightful analysis of the top 10 Home Depot competitors and alternatives.
1. Lowe's
Founded in 1946, Lowe's is a ranking home improvement retailer in the US. The retailer was the market leader before Home Depot topped it in 1989. It offers almost similar products to Home Depot and has about 75,000 suppliers across the globe. The retailer has over 2200 stores and serves about 18 million customers weekly. The stores are spread across the United States, Mexico, and Canada and employ over 300,000 people.
Lowe's recorded a revenue turnover of $85.6 billion in 2021, a 24.2% increase from 2020. Both Home Depot and Lowe's rank among the top ten world's most valuable brands. Also, the two also serve the same home improvement market and are among the top 100 American retailers. As such, Lowe's stands out as both a competitor and alternative to Home Depot.
2. Amazon
Amazon is the leader in the e-commerce retailing niche. The company ranks among the 5 biggest tech companies in the world. Amazon was established in 1994 by Jeff Bezos, with its headquarters in Seattle, Washington. Its initial business was selling books online. However, Amazon transformed and became the leading online marketplace listing millions of products, tools, and construction materials. It has become a one-stop online shop for retail customers.
The emergence of Amazon has killed many brick-and-mortar stores except Home Depot. In 2020, Amazon generated $386 billion in revenue, a 34% growth from 2019. It ranks as the most valuable brand in the world. Its innovative strategies and convenient shopping options make it a giant retailer and online marketplace.
Despite Amazon being a force to reckon with, Home Depot remains a preference for many contractors and homeowners. The need to wait for days before a delivery is made from Amazon keeps them away from it. Also, Home Depot is improving its online shopping infrastructure. However, Amazon is certainly among the fierce competitors that Home Depot is facing.   
3. Walmart
Founded in 1962, Walmart is the largest physical store retailer in the world. The retailer has over 11,000 stores and employs 2.2 million people. The brand also has a presence in 27 countries across the globe.
Walmart offers different items, which include home improvement products, lawn and gardening tools, and household products. These items are similar to those offered in Home Depot stores, making them a close competitor and alternative. The brand generated revenue amounting to $559 billion in 2021.
Also, it uses a cost-leadership strategy, making it competitive and a threat to Home Depot. The retailer offers high discounts than its competitors. However, Home Depot has a huge listing of home improvement products which keeps it a step ahead of Walmart. But Walmart remains one of the fierce competitors and alternative to Home Depot.  
4. Menards
Menards was established in 1960. Its proprietor was John Menard Jr., with the store's original name being Menards Cashway Lumber. The brands dropped the other two names to become Menards. Notably, Menards is the 3rd largest store in the US home improvement industry. It has over 300 stores spread across 14 US states. The company has over 45,000 employees and recorded a $10 billion revenue turnover in 2020.
Menards has almost similar product listing to Home Depot. It also markets itself as the best money-saving option for customers through its slogan, "Save Big Money." With it operating on the same home improvement, Menards remains a perfect alternative and competitor to Home Depot.
5. True Value
Founded in 1948 by John Cotter and with its headquarters in Chicago, Illinois, True Value is wholesale with a retailer chain brand under it. The brand deals with home improvement and hardware products. It has 4,500 stores spread across 60 countries. Also, it has 13 regional distribution centers and over 2,500 associates.
True Value's revenue turnover in 2020 was $8 billion through the support of over 1,500 employees. They aim to provide locally relevant products to their customers at a competitive price. This objective has been critical in their global expansion. True Value is a major competitor to Home Depot by offering construction and home improvement products.    
6. Ace Hardware
Ace Hardware is among the oldest hardware retailers in the United States. The company started in 1924 in Chicago. It has grown to 5,300 stores with a presence in 70 countries, including Dubai, China, and Panama. The brand has over 6900 employees and drives over $20 billion in sales annually.
Ace has a wide distribution network that helps it serve home improvement customers across the globe. It is on an intensive journey to expand its reach through establishing new stores and locations. By the end of 2022, it will have opened 170 new stores from August 21. Ace ranks number one in service and staff, online and in-store experiences in the United States for the last 14 years. Hence, Ace Hardware remains one of the toughest competitors to Home Depot.  
7. At Home
At Home was established in 1979 with its headquarters in Plano, Texas. The brand is a leading home decor retailer in the United States. It has over 225 stores across 40 states and 6,289 employees. The company offers over 50,000 home décor products designed for each customer. Its revenue hit $1.74 billion in 2021.
At Home specializes in the home décor space, making it a big challenge to Home Depot. It has customized and specialized decorative items for every budget. Hence, it is among the leading competitors to Home Depot.
8. Target
Target stands as the oldest retail store on this list. Established in 1902, the brand is among the top global retailers. It offers a variety of products ranging from home improvements to home appliances, furniture, and others. Target has over 1860 stores, with 400,000 employees working in them.
It has a presence in 50 states and recorded $78 billion in revenue in 2021. The brand operates a low-cost home improvement strategy which offers it a competitive edge over Home Depot and other players in this niche. Home Depot's international presence surpasses that of Target. Also, its listing is larger than one for Target. However, offering low-cost home improvement products stands out as a major competitor to Home Depot.  
9. Home Hardware
Home Hardware is a Canadian home improvement retailer. It started in 1964 and has over 1100 stores to date. The brand employs over 2,100 people and has an annual revenue of $4.85 billion. It is a leading competitor for Home Depot's Canadian stores.
Home Hardware offers products such as home and garden tools/items, painting tools, plumbing supplies and fixtures, and other automotive equipment and products. The huge presence of Home Hardware in Canada and its locally established brand make it a strong competitor to Home Depot.
10. Best Buy
Established in 1966, Best Buy is a leader in the consumer electronics niche. It has over 1779 stores in three countries – Mexico, the US, and Canada. The company deals with home electronics, hardware, and accessories. Also, it recorded $47.26 in sales revenue, which was an 8% growth in 2021. The brand market is the best place to get the best deals to help people transform their homes into smart homes. This strategy places it ahead of Home Depot in the consumer electronics niche.
Best Buy continues to build a strong online presence through the expansion of its e-commerce market. The step is to enhance its competitiveness in online marketplaces. In this essence, Best Buy remains a top competitor to Home Depot, particularly in the electronics niche.
And those are the top 10 Home Depot competitors and alternatives.