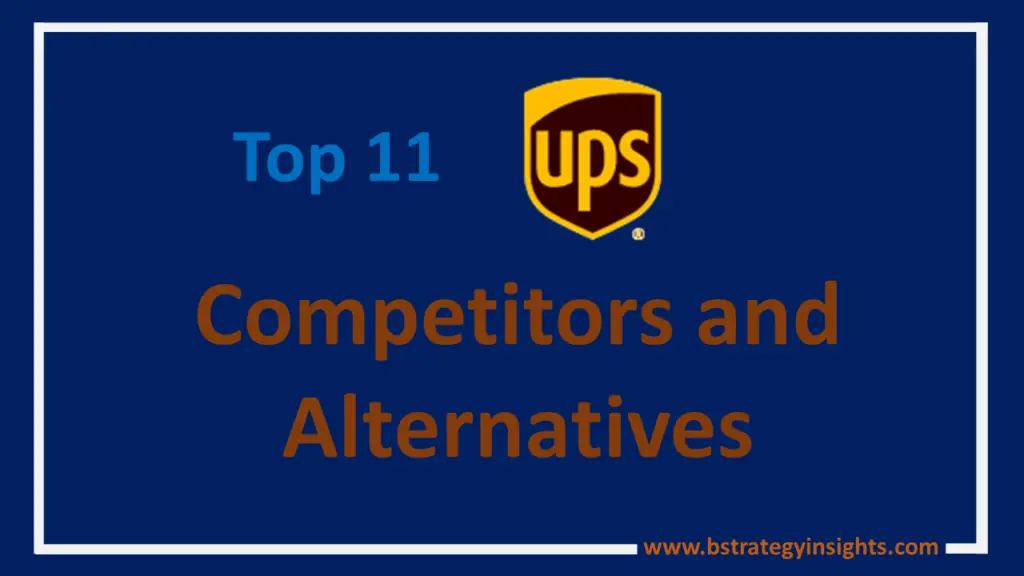 UPS was an idea of Claude Ryan and James Casey. The two founded the company under the name American Messenger Company in 1907 to offer telegraph delivery services. It later changed its name to United Parcel Services. In 2003, it rebranded to become UPS. The company's headquarters are in Atlanta, Georgia.
UPS is among the leading logistics companies in the world, serving over 220 countries. The company makes over 5.5 billion deliveries per year. It has over 495,000 employees working in its different locations across the globe. UPS features on the Fortune 500 company lists as a leading global shipping courier service provider. It recorded a revenue turnover of $97.3 billion.
The company has over 28,000 access locations with over 2500 facilities spread across the globe. It has three operating segments: UPS Airlines, UPS Freight, and UPS Store. In 2019, UPS launched the UPS Digital Access program, a suite consisting of shipping, e-commerce logistics, and payment services for SMBs. 
Due to market and supply chain challenges, UPS increased its rates by 5.4% in 2021. The company is a major player in the global logistics space. Package deliveries are its main source of revenue. However, it gets revenue from contract logistics, transportation, distribution, freight insurance, financing, and customs brokerage, among other logistic solutions.
As a leading logistic service provider, UPS faces fierce competition from other brands in this sector. The main competitors include DHL, FedEx, XPO Logistics, and Kuehne + Nagel. Here is an insightful analysis of the top 11 UPS competitors and alternatives in 2022: 
1. FedEx
Founded in 1971 by Frederick W. Smith, FedEx is a Tennessee-based logistic company offering delivery services across the globe. The company's original name was Federal Express before rebranding to FedEx in 2000.
It is reputable for offering overnight delivery services. Also, it was the first company to launch a package monitoring system. These systems enable its customers to track their products and follow them in real-time.
FedEx serves offer 220 countries and became the first company to hit a $1 bill revenue turnover with a merger or acquisition over its 10 years of operations. It recorded a revenue turnover of $84 billion in 2021. The company has a workforce of 239,000 employees spread across its global facilities.
As a big brand in the global logistics space, it competes for customers with UPS. In particular, FedEx Express challenges UPS Airlines. FedEx Freight fights for market share with UPS Freight. The two companies encounter similar market challenges. For this reason, they raised their rates by 5.9 +% in 2022 to cater to inflation and increase labor costs. FedEx offers excellent services, making it a big competitor and alternative to UPS.  
2. DHL
DHL is a big player in the express logistics industry. The company was established in 1969 to offer courier and logistic services. It specializes in parcel delivery, express mail, and international courier services.
DHL operates in over 220 countries across the globe, backed by a workforce of 380,000 employees. It is the pacesetter in the sea and air mail logistic services. The company has effective and efficient operations plus an innovation center that allows high-level interaction between customers, stakeholders and DHL experts.
DHL recorded a revenue amounting to $8.9 billion in 2021. It is renowned for offering global forwarding services, where its reports over 1.5 billion deliveries per year. With DHL and UPS offering similar logistic and supply chain management services such as air, land, and sea freight and e-commerce logistics, it stands out as a leading UPS competitor.       
3. XPO Logistics
XPO Logistics is a leading American multinational logistic service provider. It was established in 1989 by two entrepreneurs, Michael Welch and Keith Avery. Its original name was Express-1 Expedited Solutions before rebranding to XPO Logistics in 2011.
The company serves over 100 destinations in over 30 countries across the globe. It specializes in offering logistics and transportation services to over 50,000 customers. XPO has over 100,000 employees and reported a revenue turnover of $12.9 billion in 2021. Its LTL brokerage services enabled the company to grow by 37%. Also, XPO Connect tech-solution for matching shippers with transporters has been instrumental in its growth.
Operating in the logistics industry by offering transportation and freight solutions makes XPO an outstanding UPS competitor.
4. Kuehne + Nagel
Established in 1890, Kuehne + Nagel is a reputable logistics and freight forwarding brand. The company has its foot in over 1009 countries serving over 400,000 customers. It has a workforce of 92,300 employees on its payroll.
Kuehne + Nagel's primary services are logistics, air, land, and sea freight forwarding. The company also offer IT-based logistic solutions. This aspect makes it a good fit for e-commerce businesses. It is likely to experience growth as online shopping is becoming the new norm in the B2C sphere.
Kuehne + Nagel acquired Apex in 2021. Apex is a leading freight wholesaler. The acquisition was a significant step toward enhancing its competitiveness. By being a player in the air and sea freight forwarding and logistic space, Kuehne + Nagel is a formidable competitor and alternative to UPS.
5. DB Schenker
DB Schenker is a leading competitor to FedEx. It is part of the Deutsche Bahn AG, the German rail operator with its headquarters in Essen, Germany. The company offers land, sea, and air contract logistics and freight services.
DB Schenker has a presence and serves over 140 countries. In America alone, it provides services to over 123 locations. It employs a workforce of over 72,000 people. The company recorded a revenue turnover of $16.4 billion in the 2021 financial year. Its strategic business operations model has been pivotal in its growth and expansion.
In 2021, DB Schenker won the Cisco Excellence in Global Logistics Award. An award-winning company with excellent logistics makes it one of the formidable alternatives and competitors to UPS. Both companies offer domestic and international air, ground, and sea freight services.
6. DPD group
Dynamic Parcel Distribution (DPD) group is a leading parcel delivery service provider based in Issy Les Moulineaux, France. The company is a brand under La Poste – the French postal service, European's second-largest delivery network. Its strong network enabled it to hit 1.9 billion parcel deliveries and record 0ver $11 billion in revenue turnover in 2021. On average, DPD delivers 5.3 million parcels per day  
DPD group has over 77,000 employees. The company is an umbrella brand consisting of Parceline (UK), Chronopost (France), Interlink (Ireland) and Seur Internacional (Spain), which was established in 2015.
Unlike other logistic and parcel delivery brands, DPD concentrates its services in Europe and has few international deliveries. However, UPS is a global brand, making DPD a worthy competitor in the European continent.
7. Mainfreight
Mainfreight is a leading global logistics and supply chain management company based in Auckland. The company was founded in 1978 by Bruce Plested. It is the biggest freight company in New Zealand and offers warehousing, transportation, and air and sea freight services.
The company hold a 45% market share in New Zealand's transport sector. It also controls 30% of the warehousing and logistics market segment. Mainfreight has experienced rapid expansion to the US and Asian countries, transforming it into a global logistics service provider.
In 2021, the company posted a $3.5 billion revenue. It also registered a 27% increase in 2021 despite the Covid-19 effects. With a global presence, supply chain management, and freight forwarding services, Mainfreight has become a fierce competitor of UPS. It has over 250 global branches spread across five continents. For this reason, it remains a top challenger to UPS's market share.
8. Purolator
Purolator is a renowned Canadian logistics, package, and integrated freight service provider owned by Canada Post. It has over 13,000 employees on its payroll. The company recorded a revenue turnover of $2.2 billion in 2021 and delivered 54 million packages across Canada.
It is an excellent alternative to UPS regarding Canada's domestic parcel delivery front.
9. GXO Logistics
GXO Logistics was part of XPO Logistics before annexation. It is the largest third-party contract logistics company in the world. It was established in 2021 under GXO Logistics Inc. it took up all Kuehne + Nagel logistics operations in Ireland and the UK.
GXO Logistics employs over 66,000 people across its regional and global branches. Artificial intelligence, automation, and machine learning in its operations make it a great competitor to UPS and other freight and logistic service companies.  
10. CEVA Logistics
CEVA Logistics is a company born out of a merger between Thomas Nationwide Transport (TNT) and Eagle Global Logistics (EGL) in 2007. Its headquarters are in Baar, Switzerland, and it operates in over 160 countries, reaching out to over 1,000 locations.
CEVA has over 78,000 employees. Its revenue turnover in 2021 amounted to $5.4 billion in 2021. The company completed the acquisition of Ingram Micro's CLS in December 2021. This acquisition transformed it into the 4th largest contract logistics service provider globally. It also gained strong competitive power against UPS and other players in the logistics industry.
11. Yellow Corp
Yellow Corp is a pacesetter in the American logistics sector. Its original name was YRC Worldwide before a rebranding to Yellow Corp. It has over 29,000 employees. In 2021, it recorded a revenue turnover of $5.12 billion.
Yellow Corp is the leader in the LTL freight carrier sector in the North American region. This aspect makes it a big competitor and alternative to UPS.