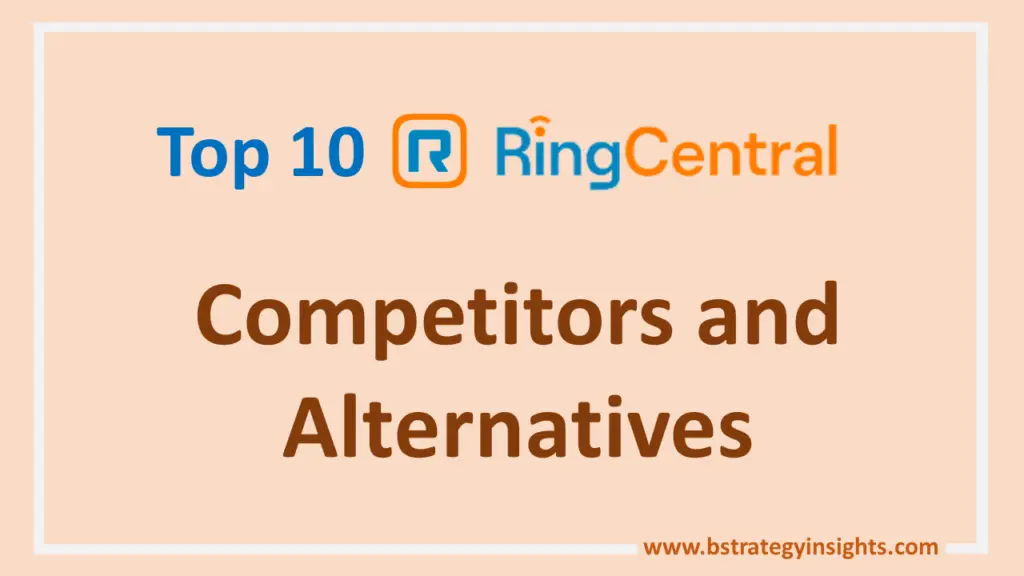 A leading provider, RingCentral, offers various internet-based platforms for business interactions and communication.
RingCentral came to life by Vlad Vendrow and Vlad Shmunis in 1999. They later received VC investment for the first time in 2006. The company is based in Belmont, California. The company acquired Tel Aviv-based Kindite in order to enhance the security in March 2021.
General Overview of RingCentral
RingCentral generated a 35% growth in sales if compared to revenue in 2020, and employed 2,363 workers in 2021. More than 90% sales came from membership sales, which gained 36%.
RingCentral RingCentral made acquisitions to grow its services and platform. RingCentral made acquisitions to grow its services and platform. In addition to acquiring DeepAffects in Dec 2022, the company also bought Glip, Dimelo, and Connect First. The acquisitions strengthened customer engagement, Omnichannel client services, team collaboration and innovative voice recognition for RingCentral.
Below are the list of 10 leading rivals for RingCentral:
1. Google Chat
Google Chat offers seamless capabilities that compete with those offered by RingCentral. In fact, RingCentral and Google Chat deliver the finest communication and teamwork. However, with Google Chat, Gmail are connected, and Google Drive content sharing is accessible.
The application lets you have group messaging, rooms for team chat, and direct message. Overall, Google Chat was initially designed for teams and business environments.
In 2021, Google had generated $160.7 billion in sales and there were over 119,000 employees.
2. GoToConnect
Offered by LogMeIn, GoToConnect is a one-stop cloud-based VoIP platform providing customer support, videoconferencing, audio, and texts. Made easy, clients can also combine LogMeIn online security products like LastPass with GoToConnect.
What makes GoToConnect amazing is that it utilizes MFA, encrypt, and Meeting Lock to secure business interactions, and it connects with over 180 different desk phone types. It's indeed an excellent RingCentral alternative.
Trusted globally, LogMeIn had around 2 million customers and operated by 3,500 staff in 2021. Its parent firm also invested in Citrix GoTo Jive Communications, and the Grasshopper virtual phone system
3. Microsoft Teams
Microsoft Teams primarily competes with RingCentral by providing workspace chat and video meetings. Teams has an edge above RingCentral in terms of compatibility with other products, such as Outlook, Office 365, and Azure.
What's more, the company introduced real-time interpretation during videoconferencing in 2022 that helps remove language barriers for communications. This function is possible, thanks to their cloud-based interpretation and translation tool, Interprefy, that interfaces with Microsoft Teams.
Interestingly, there are over 75 million Microsoft Teams users daily to simplify communications between businesses both inside and outside. In 2021, Microsoft had employed 182,268 people and earned $143.02 billion in sales.
4. 8×8 Inc.
8×8 Inc lets you have reliable and secure daily flow communications whether for individuals or business purposes. 8×8 Inc products include contact center, video, mobile, cloud-based voice, and unified communications.
In 2020, we saw the release of 88's CPaaS, which uses programmable apps and APIs to ease communications in work-from-home situations. It makes 8×8 Inc. a decent rival to RingCentral.
Revenue for 8×8 Inc. rose by 19.3 percent to $532.3 million in 2021.
5. Zoom Meetings
Millions of people and organizations used the Zoom platform to cope with the 2020 global pandemic. Since then, Zoom Meetings made a revenue of 55% growth in 2021 with 6,269 workers.
No doubt, Zoom gives a user-friendly, flexible, and secure communications platform for individuals, enterprises, and small businesses. Zoom provides an unpaid plan with a 40-minute duration and room for 100 people.There's also a paid subscription to upgrade for more members, and more time.
Most people like Zoom because of its simple-to-use whiteboarding, chat, and files sharing functions. The program is used easily on both computers and mobile devices.
The unpaid subscription of Zoom is a great alternative for RingCentral for small organizations
and individuals and
6. Dialpad Talk
Dialpad Talk is a cloud-based phone system that enables communications for teams across devices. It has four main interacting products such as Dialpad Sell, Dialpad Talk, Dialpad Support, and UberConference.
With Dialpad Talk, users can message, voice mail, and video call with call transcription in real time. It also gives perfect communication services for organizations. You can build up sales call centers, web conferencing, and VoIP business phone services. This is what makes Dialpad an alternative option compared to RingCentral.
Dialpad Talk employed 895 staff members and had recurring income of $125 million during the 2021. In December 2021, the business grew $170 million, increasing its estimated value up to $2.2 billion.
7. Cisco
Cisco is a giant tech company offering innovative software-defined networking, cloud, and security solutions for businesses. Cisco's seamless video meeting tools makes it an important rival to RingCentral.
To increase meeting efficiency, Cisco has released more than 400 Webex improvements and features. These functions help Cisco offer reliable business communication solutions.
For the purpose of enhancing Webex Events in 2021, Cisco purchased Sedona Systems and Socio Labs. The greatest RingCentral substitute for big businesses is Cisco Webex.
Around 76,000 people worked for Cisco in 2021, and the company made $49.3 billion in sales.
8. Twilio
Twilio is a globally trusted communication platform that allows businesses to connect to their customers with the target market easily. Twilio is a cloud-based CPaaS platform with a completely customizable API.
Additionally, Twilio's features include chat, text, audio, email, and video. This provides organizations with the freedom to interact with customers in a more unique way.
Over 208,000 active client accounts are now active with Twilio. Even innovatives companies like Uber, Airbnb, Lyft, and Yelp also utilize Twilio platform.
Twilio reported a 61% increase in revenue to $2.84 billion in 2021 with 7,867 employed workers.
SendGrid, Electric Imp, Segment, and Zipwhip were added to its product lineup in 2021 after being purchased for $850 million.
9. Vonage
Domino's Pizza, Siemens, Zipcar, Glassdoor, and DHL are just a few of the more than 114,000 developers who use Vonage. Through the platform of Vonage, users make over 5 billion of APIs each year. It's indeed an industry leader for API solutions.
Vonage offers a full solution that integrates voice phone, SMS, group chat, mail, social networking, and online meetings. On both mobile and desktop, Vonage is easy to set up, adapt and snap to scale.
Vonage Business Communications (VBC) enables conversations worldwide across devices.  There are more than 1600 carriers in 200 countries that utilize the Vonage API solutions.
This company reported $1.4 billion in sales and had 2,400 employees in 2021. Revenue from communications rose by 22% to $1.12 billion.
10. Nextiva
Over 100,000 businesses all over the world are using the cloud-based communications software that Nextiva delivers. The company's Nextiva Office technology addresses the telephony requirements of businesses with many office locations.
With Nextiva, businesses can manage all conversations and engage with customers and teams with one powerful solution. Nextiva helps businesses improve their customer interactions with service tools, analytics, automation, and AI.
The business brings in about $250 million a year in sales. They secured $200 million in its initial outside investment round in 2021, which was coordinated by Goldman Sachs.
Nextiva will utilize the $200 million it received with Goldman Sachs in 2022 to improve AI and automation, increase speed development inside its digital service, and broaden its reach internationally.